These warm Lightroom presets can instantly set a cozy and dramatic mood to images. Many of these produce vintage aesthetics for a timeless look, but each one still has a unique style. We recommend that you try these many approaches to a warm look, ranging from natural sunlight to the more dramatic orange filters.
All the presets that we have in this list go beyond a simple adjustment in color temperature. We just love how they also vary in brightness and tonal intensity. As with all presets with a distinct color motif, you can use these as Instagram filters that will set a unifying look across multiple shots or an entire feed.
You can download these presets on Adobe Lightroom mobile (DNG format) and desktop (.XMP and .LRtemplate). They are easy to use and will speed up or photo editing process. If you need help with the presets, you can always check our handy guide to learn how to install Lightroom presets.
The presets below are grouped according to style or category. This will help give you an example of how to use the warm look. You can also get more ideas by going through our before-and-after images.
Warm Vintage Lightroom Presets
Here are the vintage presets that can instantly make your photos look much older with their warm tints. They also have film accents, often in texture and tone, to make the entire aesthetic convincing and much more attractive.
Warm Retro
Best for: Diffused Lighting
Style: Soft, Matte, Retro
Warm Retro is one of our popular presets for Lightroom here on PresetLove. It adds elegantly blended warm tones to create a charming look. It creates the vintage aesthetic by producing brighter but slightly muted tones. Highly recommended!
Vintage Frame
Best for: Outdoor, Travel, Natural Light
Style: Warm, Muted Tones, Warm White Border
Vintage Frame is probably the most vintage-looking free preset in this collection because of its added border. With this effect are the unmistakable warm faded tones of old film.
1970s
Best for: Versatile, Indoor and Outdoor
Style: Yellow Tones, Old Film, Cinematic
1970s free preset brings back the 1970s home video effect to your photos by adding rich yellowish hues to undersaturated colors. It also sets the tone curve to recreate that nostalgic aged film look.
Old Yeller
Best for: Versatile, Indoor and Outdoor
Style: Vivid, Yellow Tint, 80s
Old Yeller free preset recreates the yellowish yet vibrant 80s look. Your photos will instantly have that retro charm, with balanced tones and a nostalgic atmosphere.
Warm Vintage
Best for: Indoor and Outdoor
Style: Yellow and Brown Tint, Amplified Contrast, Deep Tones
Warm Vintage free preset coats photos with yellow and elegant brown tones to recreate the vintage aesthetic. What sets this preset apart are its deep contrasting tones that look even more stunning with darkened highlights.
Time Faded
Best for: Versatile, Indoor and Outdoor
Style: Soft Tones, Light, Yellow Tint
Time Faded free preset produces a warm old film look. It tints images with soft yellow hues to create its vintage look and feel. It also has light tones to complete the nostalgic mood.
Warm Orange Fog
Best for: Outdoors, Travel, Natural Light
Style: Muted Tones, Orange Tint
Warm Orange Fog free preset coats images with a deep orange tint. We love how its warm tones blend so well with the muted, low-contrast, aesthetic.
Lunar Park
Best for: Outdoor, Colorful Scenes
Style: Warm Bronze Tint, Vibrant
Lunar Park is a free preset that's just perfect for outdoor photos that have a lot of warm tones. It adds some brown tones to accentuate the 80s vintage aesthetic.
Type 100
Best for: Outdoor, Natural Light
Style: Yellow Tint, Instant Camera Look, Detailed
Type 100 free preset has a beautiful yellowish overlay that makes photos look like they were taken using old instant cameras. It also brings out the texture of the scene to reinforce its definition.
Aged Film
Best for: Outdoor, Diffused Lighting, Natural Light
Style: Warm Browns, Muted Highlights, Clear
This Aged Film free film preset applies a vintage blend of warm temperature, brown tonal accents, and greenish tint. The result goes well with its undersaturated hues and balanced tones.
Sweet Fade
Best for: Outdoor, Diffused Lighting, Natural Light
Style: Low Contrast, Warm Color Temperature, Muted Tones
Sweet Fade, as its name suggests, creates a faded or muted look. This free preset convincingly makes shots look vintage, mostly because of its thorough tonal adjustments. Its warmth looks so much like that of some old films.
Rustic Vintage
Best for: Outdoor, Natural Light
Style: Dim, Muted, Faded, Yellow Tint, Purple Tonal Accents
Rustic Vintage free warm vintage preset makes your photos look like they were taken using a vintage film camera. It uses custom color and light settings to create muted yet moody tones.
Grain It Up
Best for: Outdoor, Landscapes, Natural Light
Style: Dark Tones, Moody, Grungy, Brown Tint, Crisp Details
Grain It Up is a warm moody preset that creates dramatic tones and fine film grains. It creates a vintage grungy look with its dark tones and crisp textures.
Bow Tie
Best for: Outdoor, Portrait, Natural Light
Style: Faded Tones, Warm Color Temperature, Some Green Tint
Bow Tie free preset uses a mix of colors to create its warm aesthetic. Although it is mostly yellow, it also has some green and light pink in its tones. All of these blend well with its faded look.
Cloud
Best for: Indoor and Outdoor
Style: Soft tones, Matte, Golden Warm Tones, Muted Highlights
Cloud free preset can create a convincingly vintage look in images because of its soft, muted, tones and golden warmth. This filter blends so well with all colors, too.
Warm Film Presets
The next few presets here try to emulate the timeless look of analog photography. They are not necessarily vintage, just specific to a camera type or film emulation. They have different ways to process warm tones, hence unique aesthetics. Try to experiment on several of these film presets for your shots!
All Gold Everything
Best for: Versatile, Indoor and Outdoor
Style: Soft, Golden Warmth, Muted Highlights
All Gold Everything free film preset that brings the beautiful warm tones of the Kodak Gold ISO200 film to your digital photos. Its sunny gold glow and the magenta-tinted shadows produce a vintage look without distorting colors.
Kodak Funtime
Best for: Well-Lit Scenes, Natural Light
Style: Retro, Warm, Light, Instant Film
Kodak Funtime is a free classic film preset that gives photos the charming retro film effect of Kodak's single-use camera. It adds a warm layer of nostalgia as it brightens any scene.
Viva 665
Best for: Indoor and Outdoor, Natural Light
Style: Warm Brown, Vintage Tones
Viva 665 free preset produces a beautiful retro look and feel by coating images with a delicate brown tone. Even if it's distinctly vintage in style, it does not wash out tones. It is great how it retains so much depth of the original shot.
Warm Weather
Best for: Natural Light, Outdoor
Style: Natural Warmth, Vibrant, Detailed
Warm Weather is a free preset that produces warm saturated tones. It is actually inspired by the Kodak Ultramax 400 film and even incorporates the film's settings in its tone curve. We love how the preset keeps the warm effect natural, which is ideal when optimizing lighting in a photo.
Color Cream Wash
Best for: Versatile, Indoor and Outdoor
Style: Soft, Faded, Creamy Warmth, Matte
Color Cream Wash is a charming warm and faded film preset that you can get for free. We love how it recreates the look of old film, and how it sets its own light and soft aesthetic. Every shot will instantly look cozy with this preset.
Superia 400
Best for: Daylight Photography (Versatile)
Style: Balanced, Vivid Tones
This Superia 400 free preset applies a bright Superia film aesthetic, like the 400-ISO film that it recreates. It has vivid tones and some stylistically fine film grains.
Yellow Dream
Best For: Diffused Natural Light, Outdoors
Style: Vintage, Warm Motif, Yellow Tones
Yellow Dream free warm film preset produces warm vintage colors and soft but accentuated tones. We like using it to add a nostalgic and stylish aesthetic to photos. It especially looks so classy on portraits.
Warm Wedding Presets
These wedding presets have cozy, expressive, and even romantic feel to their warmth. You will love how these bring out and heighten emotions. They can definitely set the right mood for any scene.
Pastel Lovestory
Best for: Indoor and Outdoor Portraits
Style: Warm Browns, Balanced Tones
Pastel Lovestory is a free preset that adds elegant brown tones to images for a dramatic feel. Its effect is great for making portraits more expressive, especially on wedding and engagement photos.
Divina Lolla
Best for: Versatile, Indoor and Outdoor
Style: Bright, Warm Tones, Brown Accents
Divina Lolla free preset combines the warmth of yellowish color temperature and some brown tones. Because of these adjustments, you can get the warm aesthetic without losing depth. The preset also brightens images by moderating dark regions.
The Bouquet
Best for: Indoor and Outdoor, Portraits, Venues
Style: Bright, Warm, Light and Airy
The Bouquet is designed to enhance indoor and outdoor wedding photos. Its warmth is tinged with some cool tonal accents that blend so well and create a romantic feel. We also love how it instantly lightens the atmosphere of any portrait or scene.
Warm Light and Airy Presets
The mix of warm and light and airy is the most elegant of aesthetics. If you are trying to nail that look and feel, you must try these presets. There's just something about this look that makes it so inviting and always in fashion.
New Year's Party
Best for: Indoor and Outdoor, Holiday Photos
Style: Bright, Warm Color Temperature, Some Magenta Tones
New Year's Party free preset captures the look and feel of a New Year's celebration and even of the entire holiday season. It has elegant warm tones thanks to its light magenta accents. This preset will produce a brilliant yet soft look each time.
Smart Warmer
Best for: Portraits, Fashion, Outdoor Photography
Style: Gentle warm hues, Soft tones, Moderate matte
Smart Warmer free preset gently warms your entire image while keeping skin tones naturally radiant. We love how it brightens and lightens to reveal more details and give off a cozy feel.
Christmas in April
Best for: Versatile, Portraits or Landscapes
Style: Bright, Warm Color Temperature, Green Accents
Christmas in April free preset can give photos a warm and festive feel all year round, even in gloomy seasons (and shots). It enhances colors and applies some moderate warmth to images. This is the one to go for if you need a one-click boost in mood.
Warm Golden Lightroom Presets
Looking for golden hour presets? These are the best ones that you should go for. These warm golden presets vary in intensity, so you can try ones that are close to producing natural light, and others that completely transform images into a vivid gold motif.
Cinematic HD Premium Preset
Best for: Outdoor, Natural Light
Style: Warm Golden Browns, Deep Warm Hues, Balanced Tones, Clear
Cinematic HD is a premium warm preset that applies a through color motif. It adjusts the color accordingly so they blend well with the primary aesthetic. Greens transform into golden hues realistically, as seen in the golden hour.
Graphic Tee
Best for: Indoor and Outdoor, Portraits, Natural Light
Style: Clear, Light, Warm Pastel Tint
Graphic Tee is a free and elegant preset that looks exquisite on portraits and landscapes. It has a bright yet balanced look that's suitable for a lot of headshots and outdoor photography.
Golden Look
Best for: Portraits, Fashion Photography, Well-Lit Photos
Style: Golden Tones, Vivid, Defined Midtones
Golden Look free preset infuses images with gorgeous gold tones. It captures the dramatic feel of the golden hour. We love its well-defined tones that make shots look vivid. Even better, its soft orange tint looks amazing on skin tones.
Drama Queen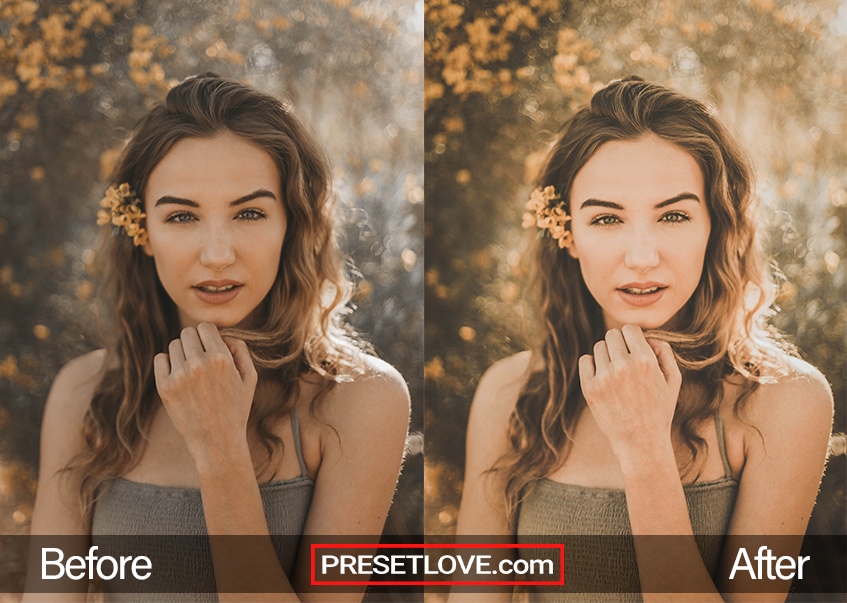 Best for: Outdoor portraits, engagement and couple shoots, travel
Style: Rustic, Boho, Warm Browns
This rustic Drama Queen free Lightroom preset has an incredibly elegant and warm glow. Its aesthetic is gorgeously rustic! Its warm boho style, too, just looks incredible on portraits. The overall warmth makes the entire image look so dramatic.
Honey Taste
Best for: Versatile, Indoor and Outdoor, Portraits
Style: Intense Warmth, Near-Sepia, Vivid
Honey Taste free preset does apply honey-like golden tones across images. It's matched with vivid tones and clear details. What we love most is its combination of the classic monochrome and the bold moody aesthetic.
Warm Family Portrait Lightroom Presets
Nothing like a warm aesthetic to highlight the atmosphere of home and being with family. These warm and cozy presets can definitely help set the feel while drawing out expressions and emotions.
Family Day
Best for: Family Portraits, Children
Style: Warm, Clear, Vivid
Family Day free preset visually creates the warm look and feel of being home. It is designed to make family portraits expressive and even more heartwarming. We just love how its golden color motif highlights expressions and emotions.
Family Pet
Best for: Indoor and Outdoor, Pet Portraits
Style: Warm, Clear, Bright, Vivid
Family Pet free preset is one of our popular ones on Pinterest. If you need a preset for your pet that has cozy, homey, tones, then this is the perfect one for you! This looks even more stunning if your pet has lustrous warm colors.
3 Home Sweet Home Presets
These 3 Home Sweet Home preset pack is all you need to create that vibrant and cozy aesthetic. Its gorgeous homey style is so versatile that you can even use it on portraits, weddings, couple shots, travel, and many more.
Warm Urban Presets
These warm urban presets stand out and take a different approach. While most urban presets have cool tones, these mostly produce warm ones. See how you can still have a dramatic modern look in yellows, oranges, and browns.
Urban Warm
Best for: Portraits, Travel, Urban Scenes
Style: Clear, Warm, Bright
Urban Warm is a beautiful free preset to use if you want a warm look and feel on your urban shots. This is also great for travel photos especially if they feature historical architecture and culture. You will love how it keeps tones dramatic yet balanced.
Frothy
Best for: Indoor and Outdoor
Style: Amplified Midtones and Textures, Vibrant, Matte
Frothy is a free Lightroom preset that gives photos a vibrant and cozy café feel. It coats images with a warm creamy tint in the highlights, like golden sunlight hues. Its tonal adjustments also support the overall aesthetic by heightening midtones and moderating dark regions.
Warm Travel Presets
This warm travel presets exude a timeless yet historical feel. They look great on photos of foreign cities or those that feature culture and architecture. They can make shots look like postcard images.
Holidays in Roma
Best for: Outdoor, Natural Lighting
Style: Deep Yellow-Orange Tint, Vibrant, Cinematic
Holidays in Roma free preset creates a classic and cinematic aesthetic. This travel preset has a way of evoking those cinematic warm filters that help portray the cultural ambiance of a place. The result you get will always capture the rich and welcoming atmosphere of Rome.
Vintage Architecture
Best for: Historical Architecture, Travel, Urban
Style: Warm color temperature, Tinted Tones, Desaturated
Vintage Architecture free preset creates a vintage feel in photos of architecture by applying several adjustments in warmth. In addition to the warm color temperature, it also tints its tones with warm hues. It even adjusts luminance accordingly to complement its lightly desaturated aesthetic.
Le Louvre
Best for: Travel, Urban, Architecture
Style: Light Cool Tones, Saturated Warm Colors, Vivid
Le Louvre free preset creates a historical and timeless feel by creating a custom color motif. In addition to its beautiful vivid warmth, it also lightens tones to give them a cozier and romantic atmosphere. We especially love its expressively vibrant look.
Warm Beach Presets
These warm presets look incredible on beach photos because of their custom color tweaks. They all give off a relaxing atmosphere, making them great as summer presets as well. Many of them creatively transform the color of water, sand, and sky. Notice how these create a warm motif differently, and how they process tones to set the right mood.
Tropical City
Best for: Tropical Landscapes, Beaches, Coasts
Style: Warm, Vivid, Orange and Teal
Tropical City free preset makes use of the popular orange and teal cinematic motif, but adjusted specifically for tropical landscapes, beaches, and coasts. It has a unique blend of warmth that fully captures the tropical atmosphere.
Getaway
Best for: Outdoor, Beaches, Natural Light
Style: Bright, Vibrant, High Contrast
Getaway free preset has a several custom settings for its hues and amplifies warm colors. What you get is a vibrant and sunny aesthetic that looks incredible on outdoor vacation photos.
Airy Summer
Best for: Vacation photos, Travel, Beach scenes
Style: Light Tones, Orange and Teal Pastel, Warm Orange Tint
Airy Summer free preset has a warm take on the airy aesthetic. What we like is its strong color motif that is perfect for summer and other vacation scenes. Notice how it tweaks cool tones to match its warm orange tones.
A Summer Affair
Best for: Outdoor, Natural Light
Style: Bright, Sunny Warmth, Clear, Balanced Tones
A Summer Affair free vacation preset brings out the lively summer feel in your photos. They will come out bright and warm, with rich hues that look great on skin tones.
Summer Solace
Best for: Outdoor, Travel, Beach
Style: Bright, Warm Color Temperature, Magenta Tonal Accents, Film
Summer Solace free preset creates a warm matte look that's similar to classic analog films. Its rich colors and soft tones also give images a matte style.
Summer Memories
Best for: Outdoors, Beaches, Travel
Style: Vibrant, Warm, Purple Tonal Accents
Summer Memories free preset creates a beautiful effect that mixes warm color temperature and purple tonal accents. The resulting aesthetic is just so cozy, even dreamy. This preset's unique and creative approach will surely grab attention.
Sunny Days
Best for: Outdoor, Portraits, Travel
Style: Warm Radial Filter, Vibrant, Sharp, Saturated Cool Hues
Sunny Days is a free preset that focuses on the subject. It has a warm radial filter that applies what looks like a warm gleam of sunlight at the center of the image. It also produces appealingly vibrant tones and cool-toned accents.
Summernoon
Best for: Outdoor, Travel, Beaches
Style: Warm Brown, Light Green Tonal Accents, Matte
Summernoon free preset warms images using warm browns in the highlights, which it accentuates with light greens in the shadows. The result is almost like film. What makes it even more attractive is its stylish matte look.
Summerscapes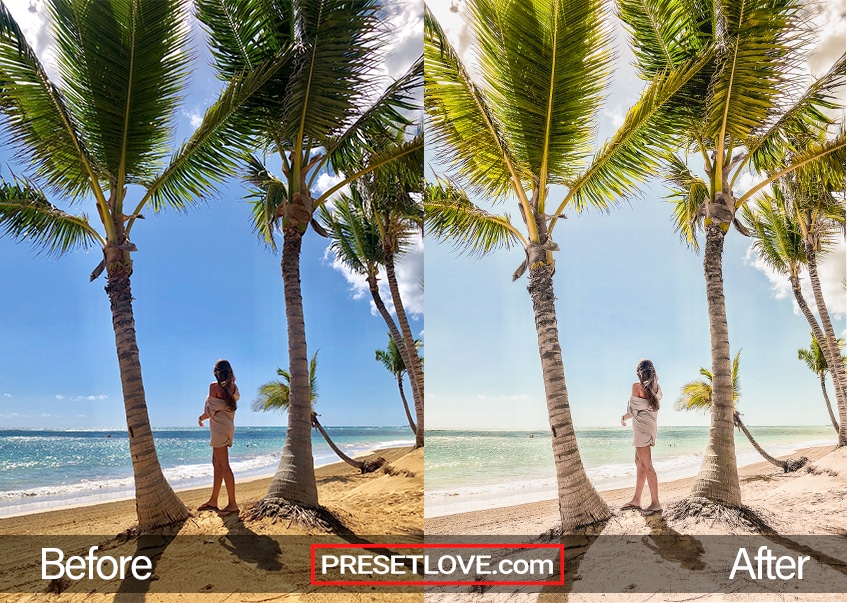 Best for: Beaches, Outdoor, Travel
Style: Bright, Warm, Vivid, Light Cool Tones
Summerscapes free preset transforms blue tones to gorgeous shades of teal, which defines its warm tropical look. The aesthetic includes vibrant tones and an overall matte look.
Summer HiLights
Best for: Outdoor, Beach, Travel
Style: Sunny Warmth, Matte, Blue Tonal Accents
Summer HiLights free preset creates its summer aesthetic by blending warm color temperature, magenta tint, and some blue tonal accents. These all come together to create a unique and relaxing feel.
Sunset Bay Premium Preset
Best for: Beach Photos, Coasts
Style: Warm Sunset Hues, Matte Tones
Sunset Bay premium preset applies a professional color motif that replicates sunset hues. It calibrates warm colors to be more orange, and cool colors more aqua. The result is always so stunning and expertly done.
Summer Glaze Premium Preset
Best for: Beaches, Coasts, Travel
Style: Warm Orange, Matte, Balanced Tones, Orange and Teal
Summer Glaze premium Lightroom preset gives vacation photos a stunning tropical orange and teal treatment. It also glazes your images with sweet warm tones and a matte finish. What we find most amazing is how it keeps the entire scene looking natural, even with its custom color motif.
Citrus Premium Preset
Best for: Beach Photos, Outdoor, Coasts
Style: Warm Yellow Tint, Airy, Warmer Colors
Citrus is a premium Lightroom preset that coats images with a yellow tint that looks natural enough to be like sunlight. It further adds a nice vacation feel with its airy tones. What we love most are its color adjustments that expertly pull hues closer to the warm spectrum.
6 Sunshine Lightroom Presets
These 6 Sunshine premium presets look incredible because of their warm, summer feel. They will brighten, transform blues and yellows, and tan skin tones without overdoing it.
Warm Presets for Nature Photography
We just love the vibrance and natural warmth of these nature presets. They can enhance your photos of wildlife, plants, and landscapes by bringing out their colors, textures, and adding a layer of sunlight.
Spring Flowering
Best for: Outdoors, Landscapes, Flowers, Greenery
Style: Bright, Yellow-Green Tint, Vibrant
Spring Flowering free preset makes nature photos come to life even more. It has beautiful yellow-green warm tones that not only accentuate sunlight but also add a fresh feel. This preset really tries to bring out the vibrant atmosphere of spring.
Exotic Trip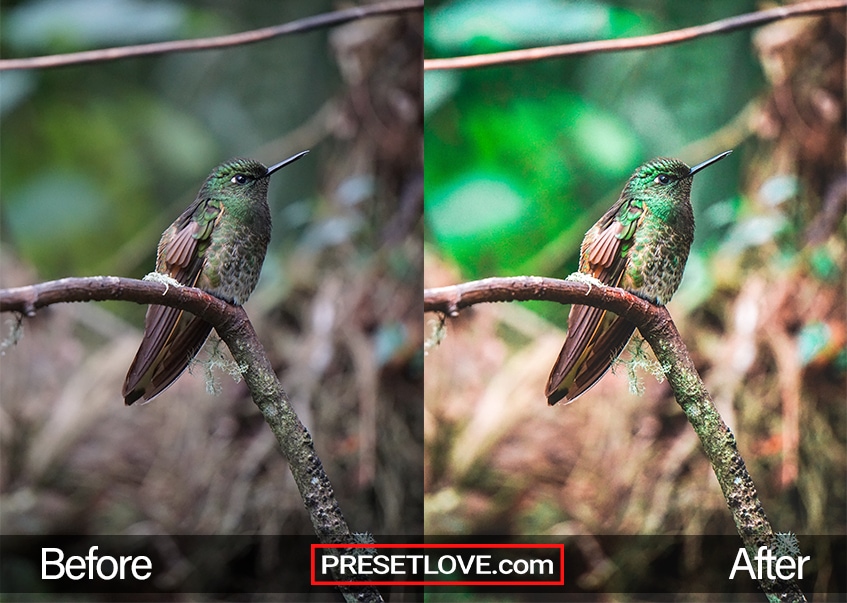 Best for: Landscapes, Nature, Wildlife
Style: Bright, Vibrant Colors, Clear
Exotic Trip free preset will help you bring out the warm and vivid radiance of nature. It brings out colors and enhances tones to make the entire scene as vibrant as possible.
Warm Soft Matte Presets
The subdued tones of soft matte meet the cozy atmosphere for warm tints. If you want a gentle pastel look, you should download these warm Lightroom presets.
Yoga Sunrise
Best for: Outdoor, Natural Light, Diffused Lighting
Style: Soft, Bright, Warm Pastels, Matte, Soft Midtones
Yoga Sunrise free preset is one of the most elegant in the collection. It has this pastel warm tint that brings out a cozy and serene feel. It does replicate the colors of sunrise, after all. We also love how it reinforces colors rather than muting them.
Soft Flatlay
Best for: Indoor, Flat Lays, Food
Style: Soft Matte, Pastel Brown Tones
Soft Flatlay free preset gives every flatlays a warm and inviting look. It makes photos look sweet and cozy with its soft brown tones. The unsaturated matte aesthetic also adds a touch of elegance.
5 Warm and Cozy Presets
This pack of 5 Warm and Cozy presets have a soft, airy, and sweet aesthetic that's versatile for many types of photography. You will love the matte look plus the elegant pastel hues.
Warm Moody Presets
We love how warm and dramatic these moody presets are. They have bold tones that grab attention, and elegant warm hues that make shots instantly stylish.
Pastel Warm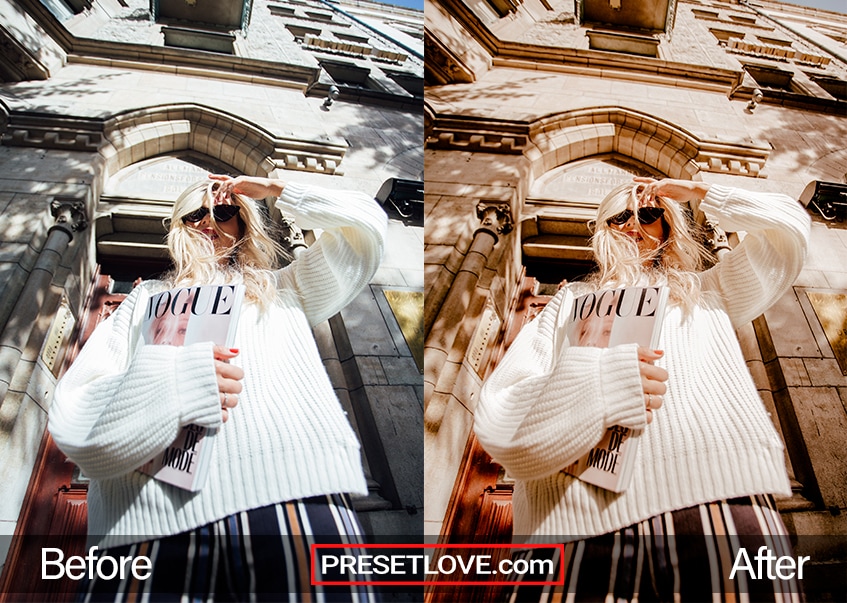 Best for: Outdoor Portraits, Fashion
Style: Warm, Moderate Contrast, Unsaturated
Pastel Warm free preset really has a stylish aesthetic. It gives photos a softer and warmer look by applying pastel brown tones in shadows. We also love how it adds some gorgeous magenta accents throughout an image.
ConGRADulations!
Best for: Versatile, Indoor and Outdoor, Diffused Lighting
Style: Dark, Moody, Vibrant, Bold Tones, Detailed
ConGRADulations is a free preset designed to be dramatic and moody enough to celebrate life's achievements. It has deep warm tones, vibrant colors, and crisp details. It will definitely highlight the joyful atmosphere in your photos.
The Old Road
Best for: Outdoor, Open Spaces, Urban Spaces, Landscapes, Travel
Style: Light Yellow-Green Tint, Bright, Contrasting Tones, Detailed
The Old Road free preset has a warm color temperature mixed with some green tint. The result is a light but moody warm overlay. This serves as a nice backdrop for its deep contrasting tones and carefully sharpened textures.
Warm Cinematic Presets
What comes to our mind when using these cinematic presets are the movie scenes with yellow or orange tints. This usually happens in films when portraying a sudden change in setting, or maybe for a flashback. You can totally use these presets for those purposes, or simply to make your photos look like dramatic movie stills.
Warm Cinematic
Best for: Well-Lit, Diffused Lighting
Style: Warm Magenta, Undersaturated, Soft Tones
Warm Cinematic free preset softens tones in images and layers them with a cinematic magenta tint. This creates a light but dramatic effect on any portrait or scene.
California Sunset
Best for: Outdoor, Travel, Natural Light
Style: Vibrant, Warm Brown Tonal Accents, Sunset Orange Hues, Lighter Blues
California Sunset free preset has attractive sunset orange hues, light blues, and vibrant tones. Its unique color motif can instantly, and dramatically, make photos look cinematic.
Southern Drawl
Best for: Outdoor, Travel
Style: Soft Tones, Warm Orange Tones, Vibrant
Southern Drawl is a free preset that uses warm orange accents in tones to make any photo look cinematic. It also softens tones to complete the classic matte aesthetic. Even with the overall soft motif, colors still remain beautifully vibrant.
Eyecandy
Best for: Indoor and Outdoor, Urban, Portrait
Style: Warm Color Temp, Light Green Tint, Tonal Accents
Eyecandy free preset creates a vintage movie aesthetic by blending a warm color temperature and light green tint. It also has complex tints in tones while subduing them. The overall effect is a classic look with clear definition.
Warm Black and White Presets
Even black and white can have warm hues, too. These monochrome tints help add drama to any shot, especially in the absence of a full-color spectrum. These warm black and white presets will help you set an artistic and polished look in just a few clicks. These are all ideal for professional photographers.
Warm All Over
Best for: Portraits, Wedding and Engagement Photos
Style: Warm, Monochrome, Rich Tones, Classic
Warm All Over is one of our most expressive free black and white presets available. It has a rich look enhanced by elegant warm tones. It works well on portraits and special event photos like weddings.
B&W Infrared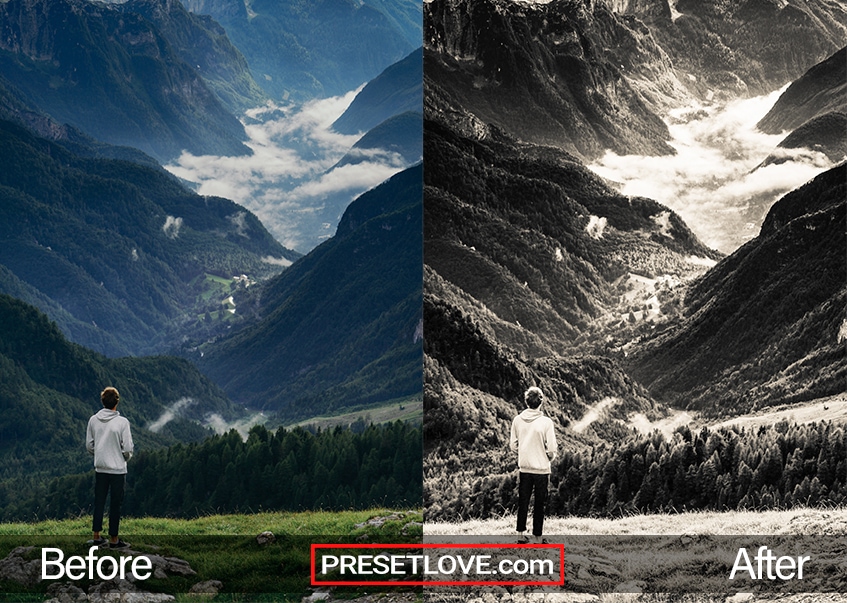 Best for: Outdoor Scenes, Detailed Photos, Landscapes
Style: Deeply Toned, Brilliant
B&W Infrared preset is a free simulation of black and white infrared photography. It produces warm monochromatic images that are also bright and deeply toned. You get the exact look when shooting with an infrared filter.
B&W Berkeley
Best for: Portraits, Natural Lighting, Landscapes
Style: Vintage, Sepia Tones
B&W Berkeley free preset applies a warm retro film aesthetic to digital images. It replicates the look of old film but without the unnecessary grain. We just love the soft rich tones that make shots expressive even without color.
Golden Shadows
Best for: Portraits and Landscapes
Style: Warm Monochrome, Clear, High Contrast
Golden Shadows warm black and white preset looks so expressive on portraits and landscapes. Its unique blend of tonal intensity and warm accents creates a sophisticated style. It also makes the most of details to further add drama to the shot.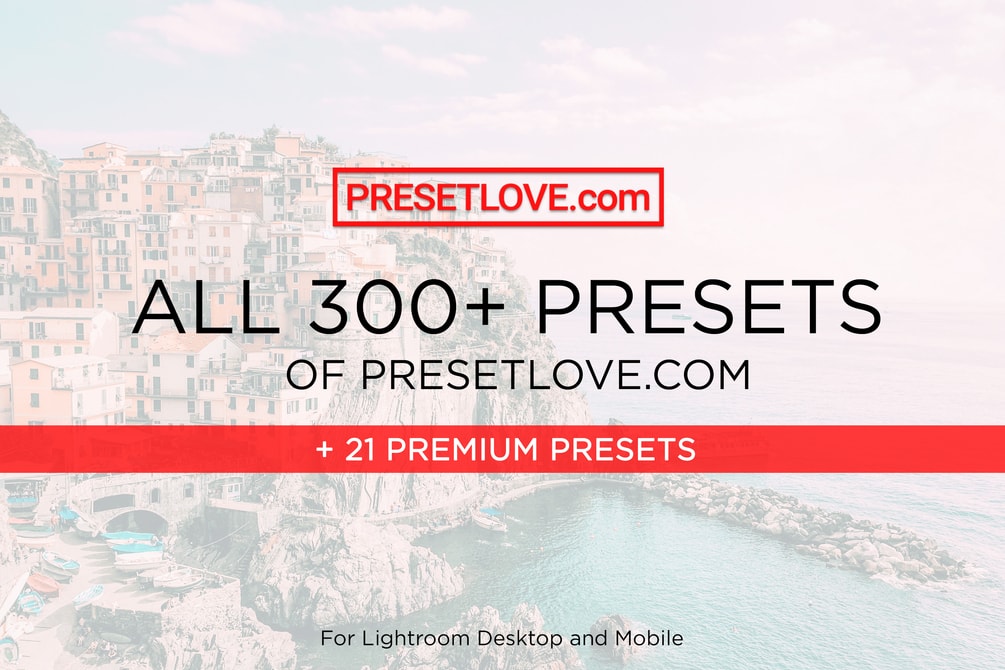 Save time and get our Preset Bundle! ⭐
Do you need more warm presets? How about our entire collection of 300+ free presets? You can get all of them in one go + 21 bonus premium presets. This is our best offer and biggest preset collection that you can get for all types of photography.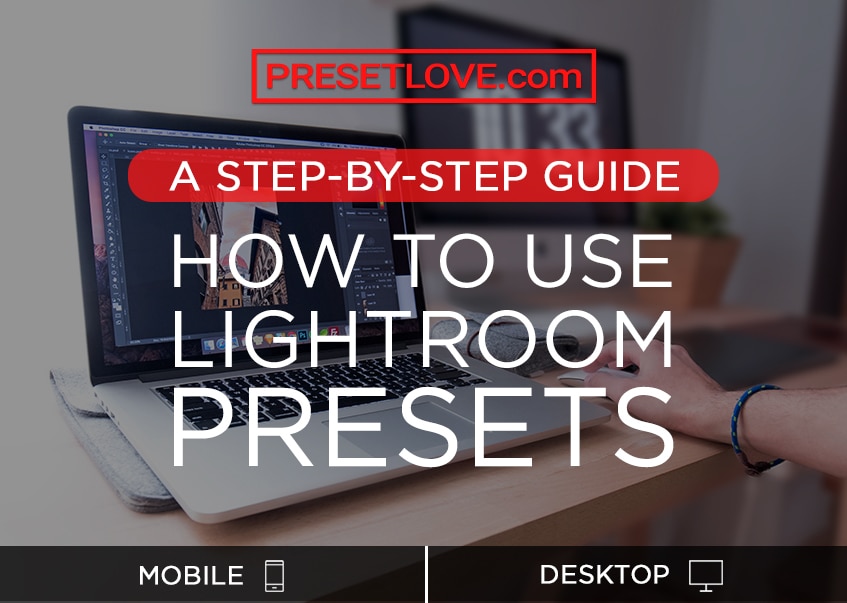 Need Help Installing Presets?
We prepared a comprehensive guide for you. This will teach you how to use Lightroom presets to easily enhance your photos. We'll show you how to download and install DNG preset formats for the Lightroom mobile app, and XMP for Lightroom CC and Lightroom Classic.