Summerscapes free Lightroom preset softens and adds warm summer tones to images. It also transforms the blue hues to light teal, for a soft and tropical feel. Because of its unique aesthetic, the preset is ideal for beach and other vacation photos.
Collection: Summer Presets, Warm Presets, Beach Presets
Best for: Beaches, Outdoor, Travel
Style: Bright, Warm, Vivid, Light Cool Tones

You can also try this preset as an Instagram filter! You can use it as a cohesive filter, especially if you share a lot of travel photos. It sets a stylish and cozy visual identity.
Amplifies Light and Tone
Sunny Days. To create its sunny motif, Summerscapes fills the image with light by increasing exposure. It then warms the color temperature to replicate sunlight. As a result, we can see more of the elements in the shot.
The preset complements this look by also boosting sharpening and contrast. These two combine to draw out as much detail as possible. Sharpening refines textures, while the contrast increase helps intensify tones.
The After photo in the example above is much brighter. You can, therefore, use this preset to correct exposure levels, as you can see above. If you find the result too brilliant, simply reduce the exposure level as needed.
Creates a Matte Look
Moderate Tones. To add a cinematic touch, Summerscapes moderates the intensity of tones. It first optimizes them using the tone curve, then adjusts the lightest and darkest regions using the highlight and shadow sliders. These enhancements also take into account the previous increase in exposure.
As a result of these tonal settings, you get matte bright whites and gentler shadows. These also preserve as much texture as possible. You can examine the result in the After photo above. Compare the white surfaces, the pavement, and the shadows
Reinforces Midtones
Defined Elements. Even with its soft warmth, you can easily notice that Summerscapes retains a lot of depth. This is thanks to its vivid tones. The preset even reinforces this effect by increasing clarity. As a result, midtones look crisper. This simple adjustment adds definition to the entire photograph.
Look at the details of the After photo. See how defined the elements are; they seem to pop more. Examine the vibrant green leaves, the textures on the beach, and the dramatic clouds.
Refines Color Saturation and Luminance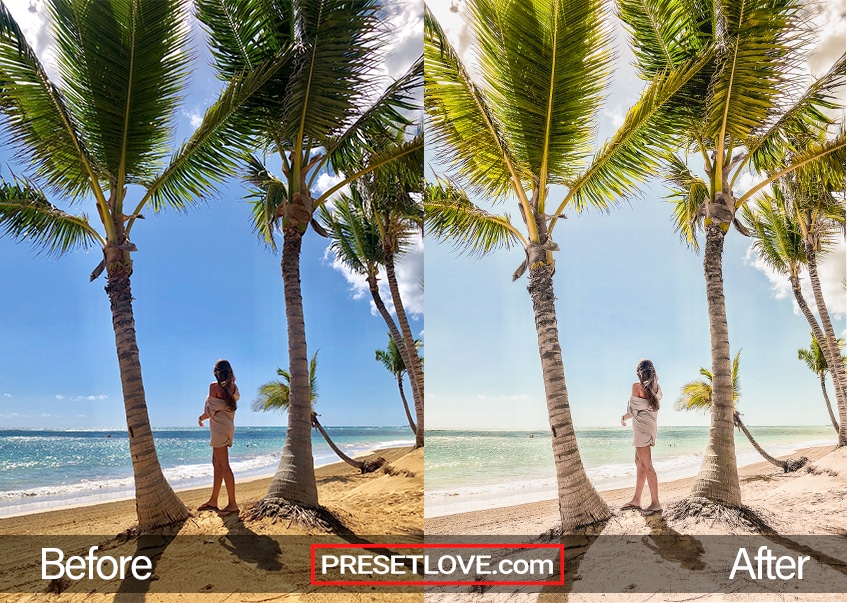 Deep Blues. The preset further sets its signature look by finely adjusting the color saturation and luminance levels. It focuses mostly on the color blue which, after all, defines a beach scene. Summerscapes increases its saturation but lowers its luminance. The effect then blends with the previous adjustments in color temperature. What you get from these adjustments are elegant aqua waters and skies. In contrast, Summerscapes desaturates orange hues. This setting mainly enhances skin tones and beach sand.
As you can see in the travel photo above, these color adjustments give the entire preset a light and airy look. Its elegant style also beautifully captures the tropical atmosphere.
Summerscapes is for Lightroom Mobile, Desktop and…
Like all our Lightroom Presets, you can absolutely use Summerscapes as is, right out of the box. With any preset, you might need to make adjustments to accommodate your specific camera, settings, lighting, and subject matter.
Entirely Adjustable
Designed for Adobe Lightroom for PC, Mac, and Mobile
Includes Lrtemplate and XMP preset formats for Lightroom CC and Lightroom Classic desktop apps
Includes DNG preset format for the free Lightroom mobile app
Applicable to both RAW and JPG images
100% Free Preset Download
Need help with the presets? You can visit our guide to learn how to install Lightroom presets.
Free Lightroom Preset by PresetLove.com