Airy Summer is a free Lightroom preset that has been designed to give your summer vacation photos a stylish look and feel. It accentuates some delicate pastel hues and gives a soft and airy effect. What you get is a low-contrast aesthetic that is both elegant and timeless.
Collection: Summer Presets, Light and Airy Presets, Travel Presets, Soft Matte Presets, Warm Presets, Beach Presets
Best for: Vacation photos, Travel, Beach scenes
Style: Light Tones, Orange and Teal Pastel, Warm Orange Tint
This preset looks great as an Instagram filter! If you want a warm color motif with the popular airy look, this is the preset to go for. Looks awesome as an aesthetic for your feed.
Try our similar Premium preset called Sunset Bay!
It has incredible rich warm orange and aqua tones.
Charms and Softens with Pastel Hues
Pastel Matte. The After photo above exudes more visual and emotional warmth. This Airy Summer preset not only brightens the image, but also warms the overall mood, most especially in portraits. Notice how the filter draws the attention to the subject's light-hearted expression; we can now see more of the woman's face and features. To complement this liveliness, the preset also coats the photograph with charming tangerine and teal hues. Combined with its matte texture, Airy Summer is sure to captivate audiences. Try using it on your summer portraits and other vacation photos on Instagram.
Warms and Brightens Photos
Warm Light. The most noticeable effect of this preset is its warm color temperature. It is not only an adjustment in the temperature slider, but also a combination of improvements in highlights, whites, and exposure. These come together to produce an effect that simulates a hot and humid summer. The tangerine hues give a sweltering feel, while the desaturated look makes the scene seem light and airy. You can use this preset on outdoor spaces, especially beaches and other summer destinations.
Desaturates for a Matte Effect
Flat Matte. You can notice how Airy Summer desaturates warm colors to give an understated matte look. In the above example, the intensity of the red shirt and the door is reduced yet brightened — there is less redness but more light. This is achieved with a decrease in saturation and a boost in luminance. You therefore get warm colors that pop less yet diffuse more. With these improvements, you will be able to express more of the moment's lightness and warmth in your photos.
Boosts Aqua Tones for Bluer Sea and Sky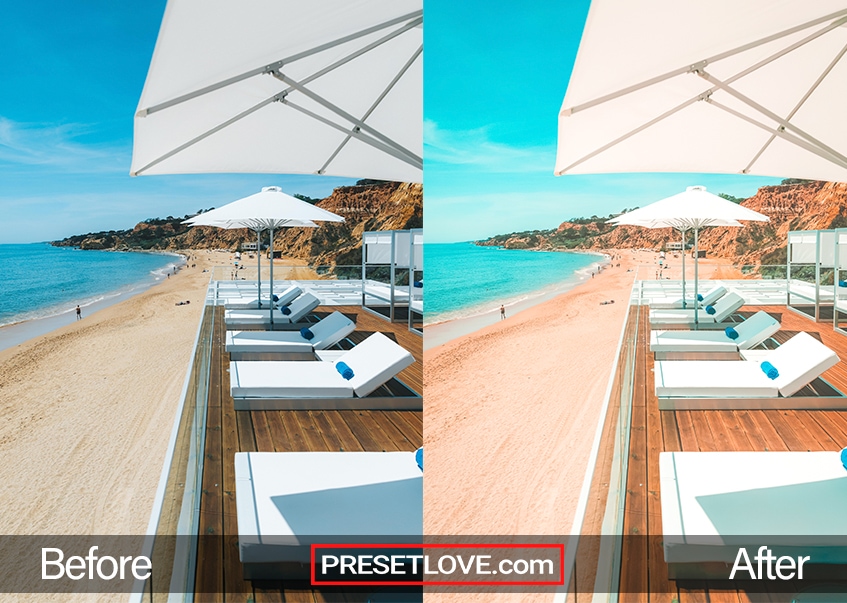 Bright Blues. See how different the sky and water are between the Before and After images above. With the Airy Summer preset, there is a boost in aqua tones that give both sea and sky a brighter and enchanting look. Blues are more saturated and made so much more appealing. Not only is the color enhanced, but also the clarity: you can see more of the wispy clouds and the waves.
Gives a Unique and Stylish Look
Uniquely Stylish. Although it is desaturated and in matte, Airy Summer does not sacrifice the details within the photo. There is even an increase in clarity and sharpening. You can see this in the After photo above: the textures of the woman's jeans, the rocks, and the overlooking urban scene are more defined. Lastly, the preset solidifies and completes the look with some vignetting to frame the scene.
Airy Summer is for Lightroom Mobile, Desktop and…
Like all our Lightroom Presets, you can absolutely use Airy Summer as is, right out of the box. With any preset, you might need to make adjustments to accommodate your specific camera, settings, lighting, and subject matter.
Entirely Adjustable
Designed for Adobe Lightroom for PC, Mac, and Mobile
Includes Lrtemplate and XMP preset formats for Lightroom CC and Lightroom Classic desktop apps
Includes DNG preset format for the free Lightroom mobile app
Applicable to both RAW and JPG images
100% Free Preset Download
Need help with the presets? You can visit our guide to learn how to install Lightroom presets.
Free Lightroom Preset by PresetLove.com