These spring Lightroom presets produce the correct color, lighting, and tonal contrasts. Your photos will get a fresh and clean aesthetic that's perfect for the vibrant look and feel of spring. They look great on flowers, landscapes, and even blooms that you keep indoors.
We chose these presets based on their aesthetic and how much they draw out the atmosphere of spring. You will mostly get lively punchy colors, moderate saturation, and rich tonal contrasts. Overall, after testing them on a lot of photos, we just love how vibrant, light and airy the results are after using these presets.
All the presets in this list are available for Adobe Lightroom mobile and desktop. If you need help using them, refer to our guide to learn how to install presets.
Free Spring Lightroom Presets
Spring Flowering
Best for: Plants, Flowers, Colorful Fields, Landscapes
Style: Bright, Natural Warmth, Vibrant Colors, Clear Tones
Spring Flowering free preset creates the spring vibe by making photos warmer, more vibrant, and subtly tinted in green. Its warm look is much like the morning sun. Tones are clear and crisp.
Macro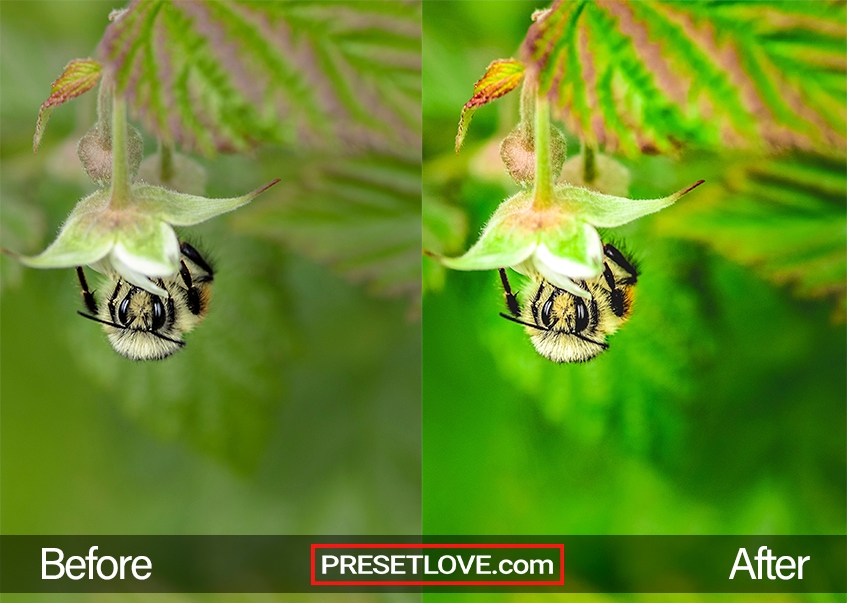 Best for: Macro Photography, Insects, Flowers, Zoomed-in Details, Outdoor
Style: Vibrant Colors, Clear, Crisp Textures, Balanced Tones
Macro free Lightroom preset refines extreme close-up or outdoor macro photography. This will help accentuate details, boost colors, and deepen tones. You can expect beautiful vibrant colors with this one, especially the greens.
Perfect View
Best for: All Landscapes, Outdoor Photography
Style: Bright, Clear, Bold Matte, Detailed
Perfect View free preset is a versatile one for outdoor photos. All landscape shots look vivid and crisp with it. This can definitely make your nature shots look lively and fresh — just perfect for springtime.
Green Greens
Best for: Fields, Greenery, Gardens, Outdoor, Landscape
Style: Clear, Rich Greens, Balanced Tones
Green Greens free spring preset that brightens and heightens green hues — does exactly what its name suggests. It also amplifies details and some dark tones to add depth and definition. This looks amazing on photos of landscapes and flowering fields.
Classic Bright
Best for: All Landscapes
Style: Natural, Bright, Clear, Warm (Like Sunlight)
Classic Bright free preset makes outdoor photos brilliant like sunlight. We love its natural light effect that also makes the entire scene look dramatic. It also accentuates colors and tones just right, while keeping everything looking natural.
Blue Sky Dream
Best for: Fields, Blue Skies, Diffused Natural Light
Style: Saturated, Vivid Blues and Greens
This free preset is the ultimate vibrant landscape and nature preset. Blue Sky Dream is one of our most popular, and it's handy too. Use it to correct brightness and add some life to overcast or dim shots.
Exotic Trip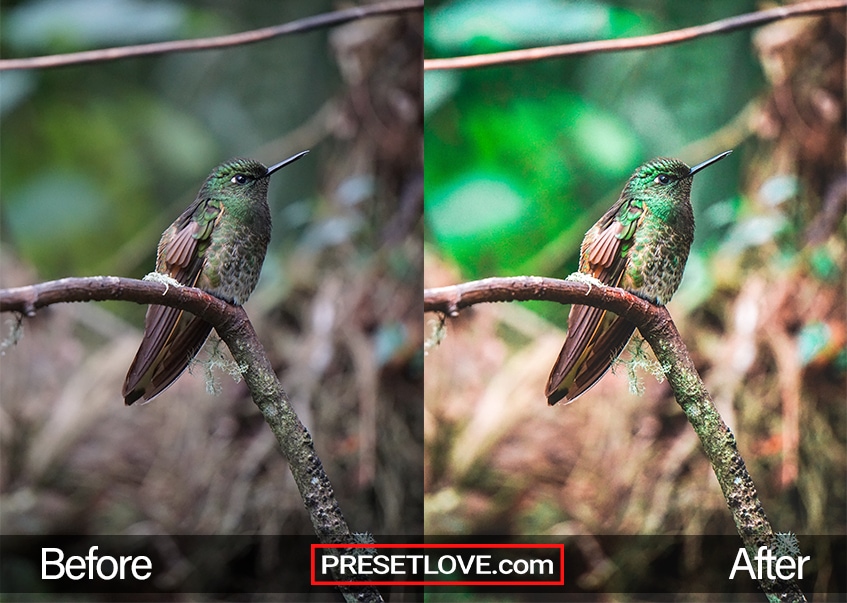 Best for: Landscapes, Nature, Wildlife
Style: Bright, Vibrant Colors, Clear
Use this free Exotic Trip preset if you want to add some exotic or tropical feel to your spring photos. We calibrated its colors to produce vibrant but natural colors, and deep tones. As a result, you get punchy, stunning, hues and brilliance.
Butterflies
Best for: Outdoor, Natural Light
Style: Pastels, Vivid Violet Hues
Butterflies free preset is the best spring preset to use if you are looking for something colorful. It has pastel magentas and violets that add a dramatic feel to photos. We just love how well the preset also enhances colors and tones.
Premium Spring Presets for Lightroom
4 Lilac Mint Presets
These 4 Lilac Mint pastel spring presets by KIIN create beautiful and stylish photos! The color motif is incredible: from sherbet lemon and aqua blues to mint green and lavender-field lilac. This preset collection is a must-have if you want an aesthetic that looks fun and professional. It is also ideal for professional photographers doing portraits, family, children, weddings, and maternity photography.
300+ Preset Bundle with 21 Exclusive Premium Presets
Get all spring Lightroom presets and many more!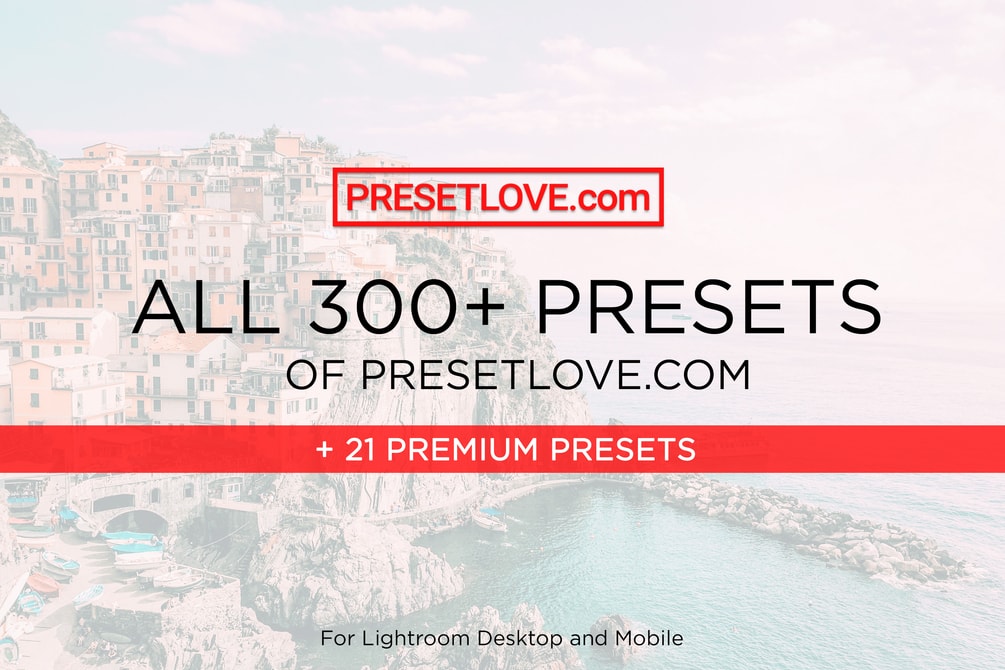 To make things much easier and save time, why not get all 300+ free Lightroom presets on this site in one go! After all, the more presets you have, the more looks you can experiment with. Get this best preset bundle if you are looking for a look that's uniquely yours.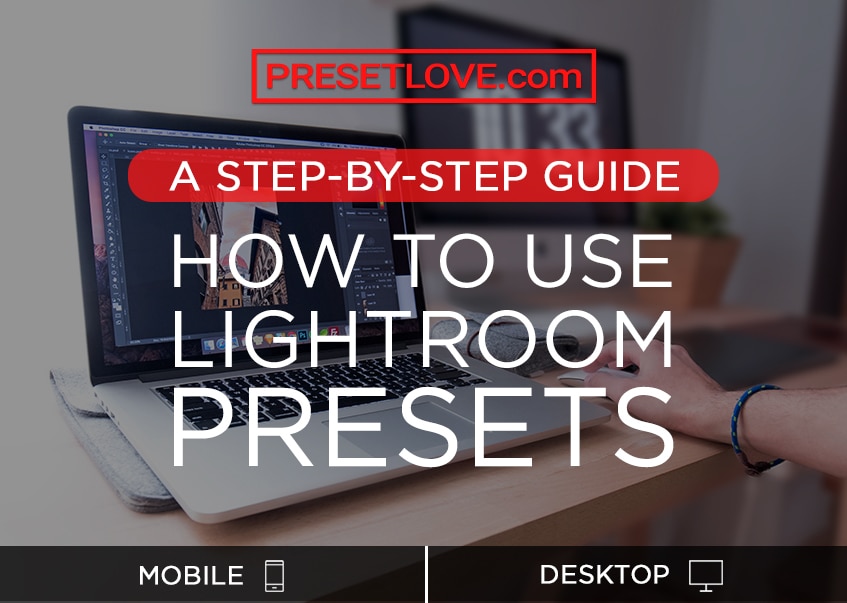 If you need help with Lightroom presets on mobile and desktop, you can always check our guide to learn how to install Lightroom presets. It includes instructions on how to use the DNG formats for the Lightroom mobile app and XMP for Lightroom CC and Lightroom Classic.