You can download these nature Lightroom presets for free and use them to instantly enhance your outdoor shots. Each preset professionally optimizes the essential elements of nature photos. In just a few clicks, these can help you fix and improve brightness, colors, tones, depth, and texture.
In this list, we're going to highlight the aesthetic of each preset and suggest how to use it. You can go through them for ideas or jump on ahead and download as many as you want or even all presets. Simply add the presets to your Adobe Lightroom mobile or desktop, and try each style on your photo. Feel free to experiment and explore.
From these presets, just choose one that helps define your shot and personal style. You can then apply its aesthetic to several of your shots. This will give you the cohesive look that you want in your feed. After all, they do make great Instagram presets.
Here are the best free Lightroom presets that you can get now for nature photography.
Nature Presets for Lightroom – Free Download
Flora Falls II Moody Waterfall and Woodland Lightroom Preset
Best for: Water Falls, Rock Formations, Forests
Style: Deep and Rich Greens, Accentuated Shadows
Flora Falls II free nature preset creates a dramatic woodland and waterfall scene. It can also easily transform any shot that is full of greenery. You get rich vivid tones, deep greens, and clear details. We just love how artistically blended the tonal contrasts are. The result would always look fresh and majestic. This high-quality preset is ideal for professional photographers.
Wildlife Preset for Animal Portraits and Nature Photography
Best for: Outdoor Shots, Wildlife, Landscapes, Nature Photography
Style: Natural Warmth, Vivid, Detailed, Balanced
We specifically designed this Wildlife free preset for wildlife photography. You can expect enhancements in both tone and color that still look beautifully natural. It draws out colors and textures without overdoing it. We also love its warm tones that elegantly accentuate sunlight.
Macro Photography Lightroom Preset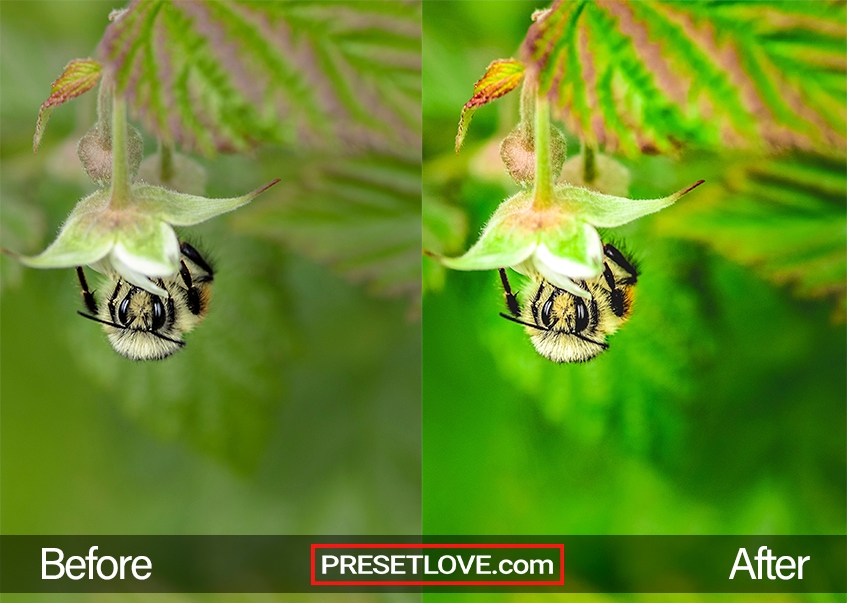 Best for: Macro Photography, Insects, Flowers, Zoomed-in Details, Outdoor
Style: Vibrant Colors, Clear, Crisp Textures, Balanced Tones
Macro photography free Lightroom preset draws out the intricate details of a macro, zoomed-in, subject. The preset will help you optimize tones, colors, and textures, just as you would see it up-close or better. It also adds some natural sunlit brilliance to your image.
Spring Flowering Lightroom Preset for Plants
Best for: Plants, Flowers, Colorful Fields, Landscapes
Style: Bright, Natural Warmth, Vibrant Colors, Clear Tones
Spring Flowering free Lightroom preset for plants makes them look so fresh and vibrant. It helps bring out the colors and reinforces clarity. We just love this preset on flowering plants, especially because of how vivid all the hues become. This preset does add the feel of spring to any nature photo.
Underwater Fauna Free Underwater Preset
Best for: Underwater Photos
Style: Brilliant, Clear, Vibrant Detailed
Underwater Fauna free Lightroom preset helps you fix and enhance underwater photos. After all, it can be tricky to get the lighting and colors right when photographing sea creatures. This preset will help make every shot look stunning.
Beak Lens Animal Lightroom Preset
Best for: Pets, Wildlife, Natural Light
Style: Detailed, Brightens, Vivid Colors
Beak Lens free preset looks best on pets and wildlife photography. You can easily draw out the tiny details of an animal's fur, feathers, and other characteristics. We also like this preset for its unique blend of tones that adds character to the entire shot.
Butterflies Colorful Pastel Presets
Best for: Outdoor, Natural Light
Style: Pastels, Vivid Violet Hues
Butterflies free preset is the best nature preset to use if you are looking for something colorful. It has pastel magentas and violets that add a dramatic feel to photos. We just love how well the preset also enhances colors and tones.
Perfect View Nature Landscape Preset
Best for: All Landscapes, Outdoor Photography
Style: Bright, Clear, Bold Matte, Detailed
Perfect View free nature landscape preset looks stunning on images of fields and various terrains. It adds brightness, vibrance, and clarity to really recreate perfect views in your shots. We love the overall crisp and vivid results.
Green Greens Lightroom Preset for Greenery
Best for: Fields, Greenery, Gardens, Outdoor, Landscape
Style: Clear, Rich Greens, Balanced Tones
Green Greens free preset for greenery does its job well at making greens look fresh and vibrant. It brightens and deepens green hues and adds depth to the entire landscape.
Exotic Trip Tropical Nature Preset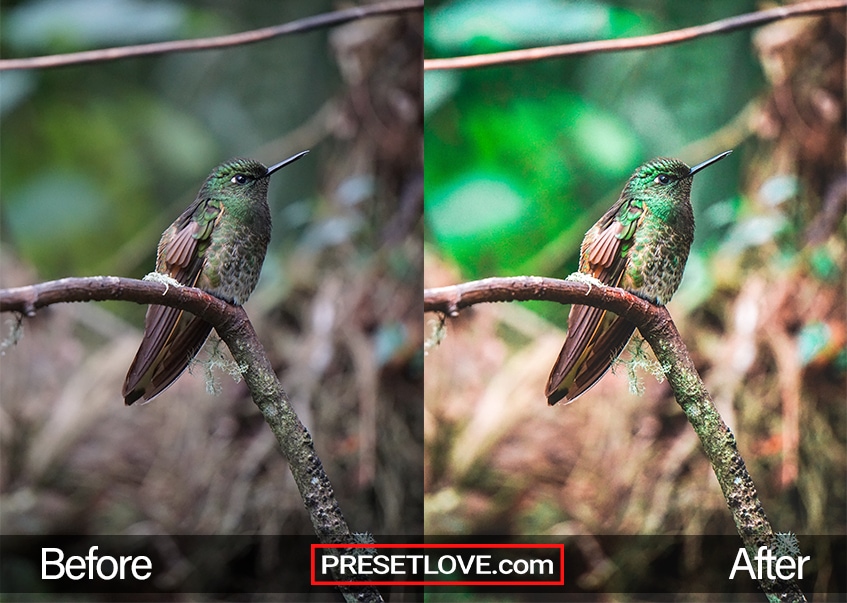 Best for: Landscapes, Nature, Wildlife
Style: Bright, Vibrant Colors, Clear
Exotic Trip free preset adds some pop to landscape photography, including jungles, waterfalls, beaches, and tropical islands. It amplifies the aqua and green tones to images for them to come alive. We really love its vibrant colors and sunny look and feel.