The Butterflies Preset is a free Lightroom preset that is best used in nature photos such as butterflies, birds, flowers, trees and plants. This adds a natural beauty and innocence in an image by bringing out and accentuating beautiful light and colors.
This butterfly on cat picture has a visible increase in orange saturation after the butterflies preset is applied. This is more obvious on the cat's hair and the butterfly's wings. The yellow luminance in this photo is also decreased. You can see the teal color has mostly disappeared entirely.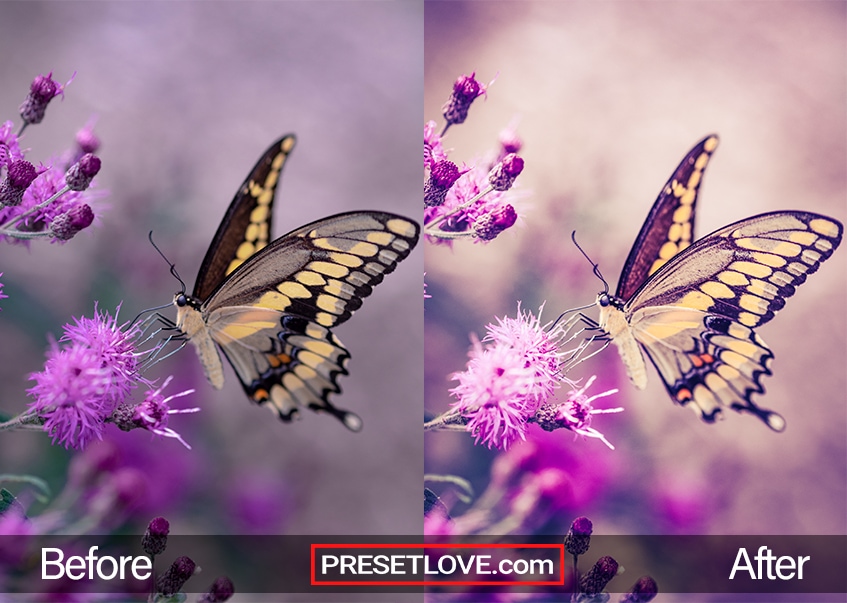 The butterflies preset decreases the vibrance in the color of the flower and lavender background in this swallowtail butterfly image. Again, the yellow luminance is also decreased as seen in butterfly's wings. The color of the purple flower has increased whites.
This preset also decreases the green saturation in photos like in this sun rays image. The magenta and purple colors become more vibrant and brighter.
Another effect of the butterflies preset on photos is that is increases sharpening and adds vignetting as seen in this purple tree picture. The shadows are increased while the highlights are decreased.
You can absolutely use Butterflies as is, right out of the box. With any preset, you might need to make adjustments to accommodate your specific camera, settings, lighting, and subject matter.
Entirely Adjustable
Compatible with Lightroom 4, 5, 6 and CC
Performs with both PC, Mac, and Mobile
Applicable to both RAW and JPG images
100% Free