Despite winter's freezing temperatures, we cannot deny how magical the season looks, and how it makes us look forward to the holidays. Among all four seasons, however, winter is the least colorful. Lighting can also be tricky.
It can, therefore, be challenging to make photos interesting when they are mostly of snow. They can be monotonously white. If you are a photographer, you already are aware that it requires skill to get nuanced tones in your photographs.
We are here to help: your winter photos do not have to be dull. You can even easily try different looks using Lightroom presets.
Check out this list of handy winter presets for Lightroom that you can try for free. Download as many of them as you want and experiment on various winter scenes, from portraits to landscapes, whether indoor or outdoor.
All these are available for both Adobe Lightroom mobile and desktop! If you need help with the presets, be sure to check out our handy guide to learn how to add presets to Lightroom. We'll show you how to use DNG preset formats on the Lightroom mobile app, and XMP on Lightroom CC and Lightroom classic desktop apps.
❄ LOOKING FOR OUR WINTER PRESET PACK? ❄
It contains all PresetLove.com Winter presets,
PLUS 10 Premium winter presets!
Click here to check it out.
FREE Winter Lightroom Presets
Winter Light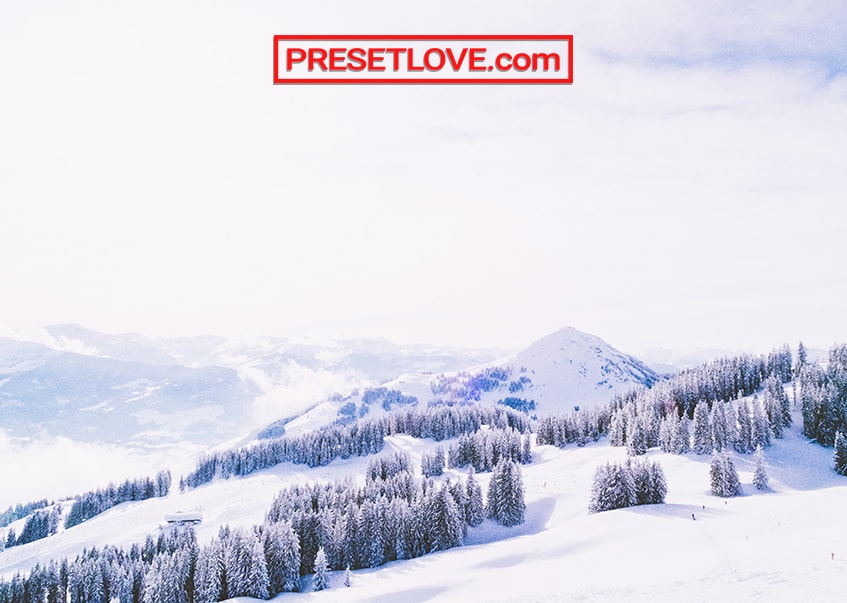 Best for: Outdoor, Natural Light, Snowy Landscapes
Style: Violet-Magenta Shades
Winter Light gives your winter photos a magical feel. It accentuates cool hues and adds some violet-magenta. This effect incredibly helps add definition to the scene and create a cozy winter motif.
Warm Winter Colors
Best for: Snowy Landscapes, High Key Photography
Style: Cozy Warmth
Warm Winter Colors adds a touch of warmth to your winter photos. It brings landscapes to life with complex colors and rich tones. As a result, images will look cozier and more inviting.
Winter Holidays
Best For: Indoor, Outdoor, Snowy Landscape, Diffused Lighting
Style: Cool Blue Color Temperature
Winter Holidays makes photos appear even colder. If you want to accentuate the whites and amplify the chilly winter feel, then this is the preset to use. It is great for outdoor landscapes and portraits.
Winter Sports
Best for: Action and Winter Sports Photography, Outdoor, Snowy Landscape
Style: Crisp blue hues, Vibrant
Winter Sports is perfect for action and winter sports photography as it adds a gritty, sharp look to images. This preset helps in neutralizing light and adding clean, cool colors to photos. It works best in a cold, chilly, and snow-filled setting.
Snow Day
Best for: Outdoor, Winter Landscapes, and Cityscapes
Style: Warm, Undersaturated, Retro Film
Snow Day gives a light and airy feel to winter photos, making them look like they're shot using film. It produces light muted tones with a classic sunlit look. It makes any winter scene magical and serene.
Snow Season
Best for: Outdoor, Winter Landscapes
Style: Muted, Light, Soft
Snow Season helps emphasize the cold dreamy feel of wintertime. Its gentle cool tints emphasize frigid temperatures, while its fine adjustments in tone also create a festive atmosphere.
Princess
Best for: Outdoor Winter Portraits, Landscapes, Indoor
Style: Bright Whites, Brilliant
Princess preset is designed to make winter photos lively. It adds some warm tones and make mostly white snowy scenes look more interesting. Use this preset if you want brilliant and festive images.
Gray Winter Day
Best for: Winter Landscapes and Urban Scenes, Outdoor
Style: Deep Gray Tones, Bright Whites, Soft Colors
Gray Winter Day draws out the gray tones in winter photos and amplifies cool colors to add definition. These effects blend well with the high contrast tones and moderately saturated colors. All of these come together to create a dramatic winter photo.
White Snow
Best for: Winter Landscapes, Outdoor, Travel
Style: Soft Aqua Hues, Muted Tones
White Snow preset creates a calm atmosphere with its layer of aqua tones. It also adds a soft yet dramatic effect. We just love how magical its aesthetic looks on any winter scene.
FREE Christmas Lightroom Presets
These presets are guaranteed to produce festive photos. If you want to emphasize the holiday spirit, use these warm and cozy presets. They are perfect for indoor celebrations. Try them on photos of your gatherings with family and friends.
Christmas
Best for: Holiday Photos, Family Portraits, Indoor, Outdoor
Style: Warm, Vivid Hues
Christmas gives your holiday phots a warm and festive feel. It produces rich hues that accentuate a cozy, joyful, atmosphere, much like how Christmastime is at home.
Christmas Mood
Best for: Outdoor, Well-Lit Places, Colorful Scenes
Style: Vivid, Colorful, Moderately Warm
Christmas Mood brings out the festive and jolly fell of Christmastime. It makes the most of the season's vibrant colors and the winter season's snow. This can help make your photos look lively and even more memorable.
Christmas in April
Best for: Indoor, Outdoor, Holiday Photos, Landscapes, Diffused Lighting
Style: Bright, Warm, Colorful
Christmas in April creates a colorful look and festive feel in pictures, regardless of the season. Its warm and vibrant aesthetic can completely, and instantly, transform April showers into bright and cheerful images.
Family Day
Best for: Family Portraits, Children, Indoor, Outdoor
Style: Bright, Warm, Vibrant
Family Day is perfect for your holiday family portraits. It captures the warm cozy atmosphere of home. Its adjustments are also optimized for portraits and skin tone. You will just love its natural aesthetic that moderately brightens and enhances color.
Premium Winter Presets
Winter Premium Preset Pack by PresetLove – 10 Presets for Winter
If you want more winter presets, consider our Premium Winter Preset Pack. It contains 10 professionally designed winter presets that you can preview here. As a bonus, the bundle also contains all the winter presets available at PresetLove.com!
5 Winter Wonderland Presets for Mobile and Desktop
This Winter Wonderland preset pack will make your winter photos consistently cozy and magical! We absolutely love its clean snowy whites and warm airy accents. If you are going for a stylish aesthetic, this pack is a must-have. It produces also very polished looks that many professional photographers may like.
10 White Xmas Presets for Mobile and Desktop
These 10 White Christmas Presets gives a warm winter feel with its blush tones and clean whites. This is the perfect set for your indoor and outdoor holiday photos! We love the professional results every time.