Spring Flowering is a free Lightroom preset that was designed to visually make photos come to life. It is, after all, like spring: images become warmer, more vibrant, and subtly tinted in green. It is ideal for nature photography, or for scenes captured under natural light.
Collection: Warm Presets, Nature Presets, Spring Presets
Best for: Plants, Flowers, Colorful Fields, Landscapes
Style: Bright, Natural Warmth, Vibrant Colors, Clear Tones
The After photo gives an impression that it was captured under a well-lit and lush field. It is significantly greener and livelier, brighter and more vibrant. The contrasts in the image are increased along with the highlights.
The color temperature is warmer in the After photo. Notice how it is now layered with yellow and green hues. You will notice that there is an increase in saturation; the little girl's pink shirt pops more in the After photo, and the shades of her hair are more defined.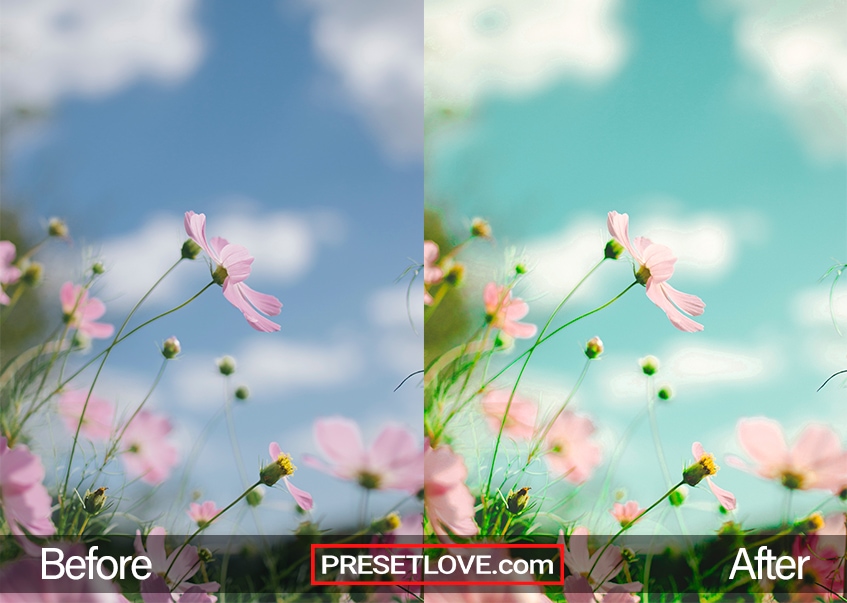 The image above demonstrates how this preset adds more contrast and saturation to shades of green. The flower stems are in a brighter and more vibrant hue. The flowers, too, are somewhat yellower. Notice how the sky is lighter and tinged with green in the After photo, making it seem that the image was captured in a sunnier setting.
The flower petals have become brighter as the preset increases whites in the above image. The green leaves are more vibrant, and their veins more emphasized. Shadows are made less intense, too, to make the resulting photo appear more luminous.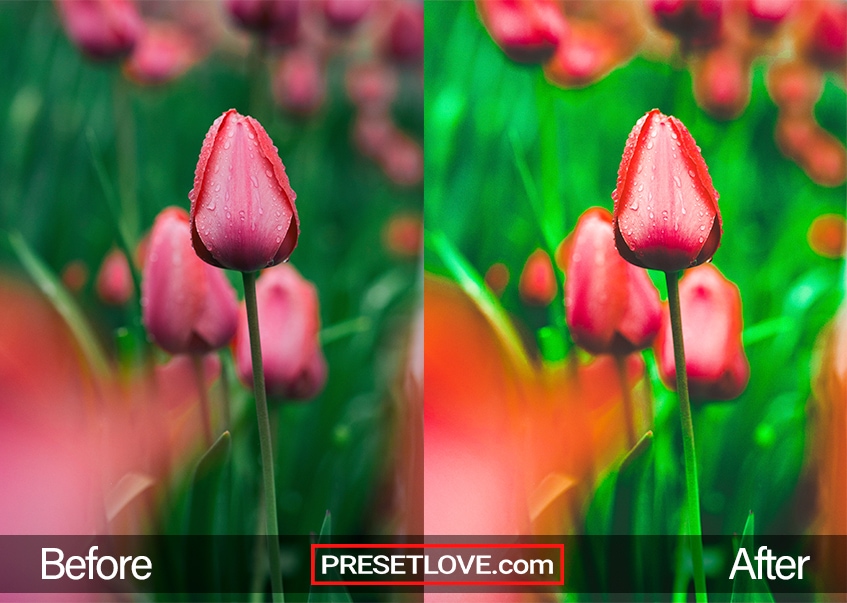 The increase in contrast, sharpening, and saturation makes the misted tulip look fresher and radiant. Notice how vibrant its red petals have become, and how defined the dewdrops are — made even more stunning with the greener backdrop.
This free preset was also designed for floral photography, given that blooms mark the season of spring. There is an increase in the luminance of purple and magenta tones along with warm hues (as demonstrated in the previous photos above). See how the flowers in the After photo transformed: they have become brighter, richer, and strikingly appealing.
You can absolutely use Spring Flowering as is, right out of the box. With any preset you might need to make adjustments to accommodate your specific camera, settings, lighting and subject matter.
Entirely Adjustable
Compatible with Lightroom 4, 5, 6 and CC
Performs with both PC, Mac and Mobile
Applicable to both RAW and JPG images
100% Free