Macro free Lightroom preset refines extreme close-up or outdoor macro photography. It is perfect for nature and wildlife photography as it helps reveal details and texture that might not be easily seen with the naked eye.
Collection: Nature Presets, Spring Presets
Best for: Macro Photography, Insects, Flowers, Zoomed-in Details, Outdoor
Style: Vibrant Colors, Clear, Crisp Textures, Balanced Tones
We curated a set of photos below to show how this Macro lightroom preset performs in photographs featuring insects and flowers. In this way, we can see how the preset is used in tiny detailed subjects, as well as how it reinforces the depth of field.
If you are into taking pictures of wildlife and plants, try this preset out! This will surely help you bring out the unique compelling features of your subjects.
Brightens Up Macro Subjects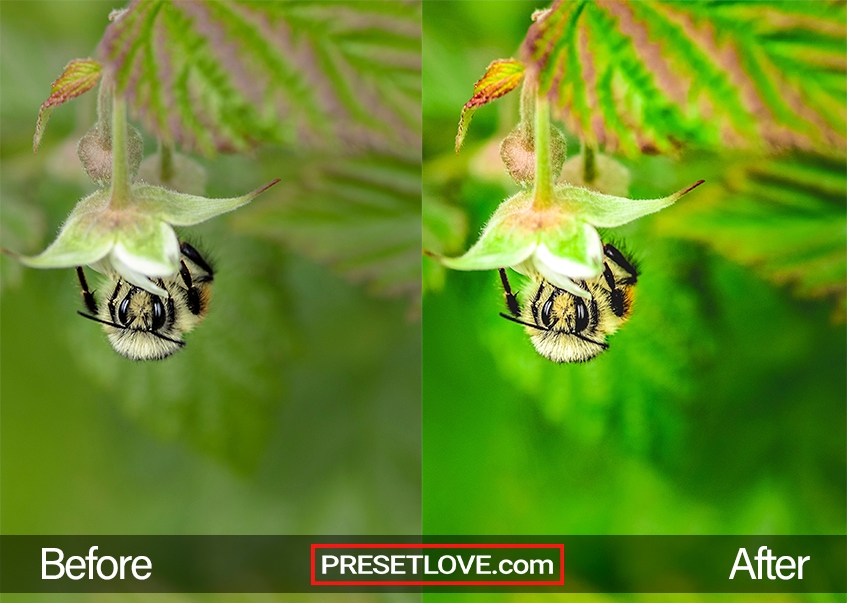 Lush Greens. In the sample image above, you can see how the After photo instantly appears brighter. You get more vivid and pigmented tones as the preset amplifies vibrance, color saturation, and luminance. This eliminates dullness for a clearer brighter overall look.
If you look closely, you can see how we increase orange, yellow, and green color luminance to enhance the color of the leaves and make the orange details pop. The bee's yellow and black colors are heightened, consequently also revealing more details and color. With these adjustments, the preset is able to give the photo a more refreshing and clean look. Simply observe how the green tones add to the brightness of the overall image.
Emphasizes Colors and Intricate Patterns
Vivid Details. The preset tweaks its color settings by increasing its warm tones. This is evident in the orange-colored elements as Macro transforms them into a deeper crimson shade. In the After photo above, notice how the wings of the butterfly also now reveal its pattern in a variety of orange and brown tones. There is also a heightening of texture and contrast all over.
Because of these color and detail enhancements, you can also use this preset on other types of nature photography. We also have this Wildlife Lightroom preset if you want one that's specially designed for enhancing features of wildlife, animals, and other creatures.
Red Orange Tones. Once again, the example above shows you how this Lightroom preset for nature and outdoor photography illuminates warm tones. Looking closely, the colors of the flowers are intensified, turning into darker and deeper tones. The tiny details of the butterfly's wings are also more evident through the brighter whites and orange details for a more illuminated look. The green elements in the photos such as the stems and leaves have also increased in brightness and color saturation, giving a fresh look all throughout.
When photographing flowers and small plants, you can also consider our Lightroom preset for flowers. We love using that one for small blooms and capturing the morning dew.
Adds Clarity to Refine Minute Details
Sharpened Details. The image above is quite amazing, as you can almost see all the parts and details of the beetle's face. Observe how the Macro preset increases sharpening and noise reduction levels. It produces crisper, finer, details for a clear and bright look. As you can see above, the After image shows and highlights the tiny specks on the beetle's face as well as its coating. The leaves it is trying to eat also gain a brighter color, complimenting the black tones of the bug. The preset frames the focus on the beetle by also adding a vignette in the background to concentrate and frame the important details.
Macro preset is for Lightroom Mobile, Desktop, and…
Like all our Lightroom Presets, you can absolutely use Macro as is, right out of the box. With any preset, you might need to make adjustments to accommodate your specific camera, settings, lighting, and subject matter.
Entirely Adjustable
Designed for Adobe Lightroom for PC, Mac, and Mobile
Includes Lrtemplate and XMP preset formats for Lightroom CC and Lightroom Classic desktop apps
Includes DNG preset format for the free Lightroom mobile app
Applicable to both RAW and JPG images
100% Free Preset Download
Need help with the presets? You can visit our guide to learn how to install Lightroom presets.
Free Lightroom Preset by PresetLove.com