Macro is a free Lightroom preset that adds extra details to extreme close up, outdoor macro photography. This preset is perfect in taking details, texture, landscapes, portraits, wildlife and nature images. It lets you see the things in an image that might not be able to see with the naked eye. The macro preset exaggerates the depth of the field.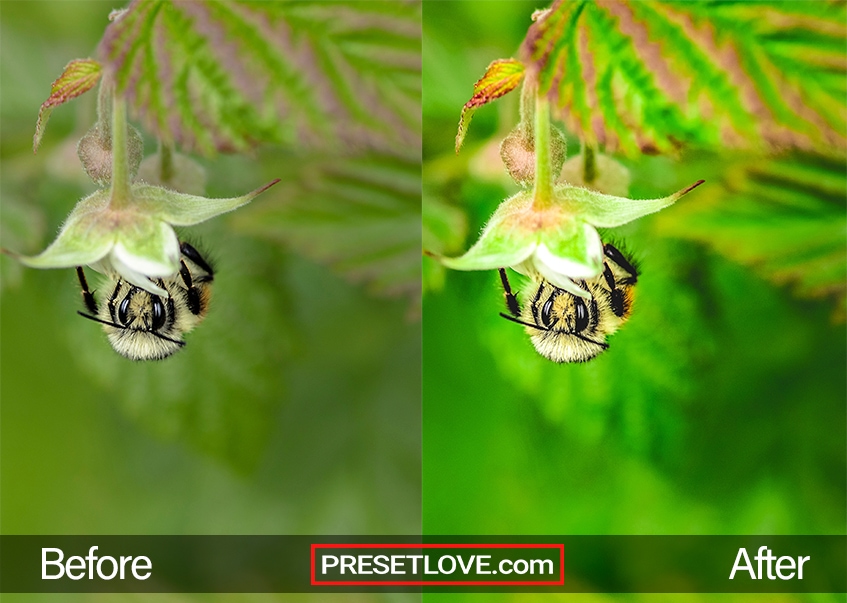 In this bee on flower image, the macro preset increases orange, yellow and green color luminance. The after photo therefore looks brighter as the clarity, vibrance and saturation is increased.
The photo of this rose butterfly is very detailed as you can see on its wings. The warm temp, shadows and whites are all increased as shown in the after photo. The color of the orange flower looks vibrant.
This beetle picture is amazing as you can see almost all parts of the insect's face. The macro preset added some vignetting in the background. It also increased sharpening and some noise reduction.
The macro preset again increases the orange, yellow and green color luminance in this perfect mantis image. The colors of the flowers have increased in brightness while the green saturation is decreased.
You can absolutely use Macro as is, right out of the box. With any preset you might need to make adjustments to accommodate your specific camera, settings, lighting and subject matter.
Entirely Adjustable
Compatible with Lightroom 4, 5, 6 and CC
Performs with both PC, Mac and Mobile
Applicable to both RAW and JPG images
100% Free
This Free Lightroom Preset was last updated on January 22, 2020
THREE MORE GREAT PRESETS
by Memzy
by PresetLove.com
by Forrest Lane