Lightroom presets are a great way to speed up photo editing. They are a lot of fun too! You can easily experiment on different looks and apply them uniformly across images. These also make it possible for you to set a signature look, especially if you have a blog or a growing Instagram following.
We handpicked the best and free Lightroom presets that you can download now. You can also go ahead and browse all the presets on our website! We currently have over 350 free Lightroom presets, in different styles and for all types of photos.
If you want to save time, you can also just go ahead and buy our complete Lightroom preset collection here. You can even get all 350+ presets in one go, plus 21 bonus professional Lightroom presets!
Be sure to check out this guide if you want to know how to install Lightroom presets in Adobe Lightroom (Lightroom CC, Classic, Mobile). It is easy! We'll show you how to do it for both mobile (DNG preset format) and desktop (XMP preset format) so that you can always have them ready to use on your app's preset panel.
Most of us take a lot of photos of people, aka portraits! Our assortment of portraiture and selfie Lightroom presets for portraiture and selfies can assist you in capturing the best possible expression from your subject. With a variety of styles available, you can effortlessly create a specific look and ambiance. From subtle enhancements to more unique aesthetics, such as bright and breezy or somber and brooding, we've got you covered. You're sure to find the ideal preset for every type of portrait, each of which will provide you with professional-quality results. Take a look at our different types of portrait presets below.
A Hazy Portrait enhances the natural look of your portraits so that they look stunningly clear. It can diminish the haze in your photos and make tones look rich. You will always get a professional look with this free lightroom preset.
Portraiture I is a top portrait preset. It has a dramatic and polished aesthetic that looks incredible on headshots and close-up portraits. If you want bold tones and vivid details, this is the portraiture preset to use. This free preset is ideal for professional photographers.
Home Portrait is one of the best portrait presets that you can use indoors. It optimizes light so you can reveal more of your subject. Its balanced and clear tones look amazing on family portraits and selfies.
We have many more portrait presets that you can choose from. Just click the button below to preview and get them.
You can easily transform your shot into HDR or High Dynamic Range by using these HDR presets. These will make the process so much easier for you. You won't have to take more photos in different exposure and stitch them together. You can expect a broad and bold tonal range, vivid textures, and crisp details.
Our HDR free Lightroom preset is all you need to amplify every photographic element and create a dramatic look. It is a one-click HDR wonder. This is definitely the preset for you if you want to make the most of your shot's textures and tones. It also has a subtle warm accent that elevates the overall look.
HDR Scape free Lightroom preset gives urban, street, and landscape photography a stunning HDR look. We especially love the clear high-contrast tones and crisp textures. It gives images an immersive and modern aesthetic too.
One Click HDR free preset combines the look of HDR and film. You get vivid colors and defining tones, along with the matte style of analog film. It is great to use if you want a creative mix of classic and modern aesthetics.
There are more HDR preset types for you to choose from. Simply click the link below to view and download all of them.
These brown Lightroom presets can add a touch of elegance to any photo. You should consider their cozy aesthetic if you are going for a warm and gorgeous look. These presets can definitely, and instantly, set a look on an Instagram feed, or even in just a set of event photos. Just look at these brown presets as examples:
This Coffee Break free lightroom preset looks stunning with its vivid browns. It also artistically desaturates some cool tones to give the warm hues more room as accents. We just love how well it does an amazing job at setting a warm yet attention-grabbing color motif.
The One preset looks amazing as it combines the analog film aesthetic and cinematic brown tones. It also sets a specific color motif that creates a unique and sophisticated look. Colors just look more cohesive in a photo, and even across multiple shots. If you are looking to set a warm visual scheme, you should definitely consider this professional brown Lightroom preset.
This Pastel Lovestory looks beautifully romantic. Its rich tones completely make images look expressive and dramatic. You should consider using such brown presets on couples' portraits to give them a touch of elegance and a cozy warmth. We just think that this style brings the emotions out so well.
We have many more brown presets that you can explore across all types of photography. To view them all, simply click the button below.
We strongly advise that you use skin tone presets for Lightroom when processing portraits. These will help you quickly preserve and enhance skin tones. Best of all, you get a polished and professional look that's perfect for influencers, beauty blogs, and print publications.
Alice free preset has a bright and sunny style that makes skin tones look like they glow. It has smooth cream hues that enhance and adds a fresh look to your photos.
Clean Face applies clean and clear adjustments to portraits, and it is the best preset to use if you want conservative enhancements to skin tones. We love how it also optimizes lighting to brighten up the subject's expressions.
We have even more professional presets in this collection that works gorgeously on a lot of skin tones. Check them out in the link below.
You can easily process your outdoor photos using these stunning landscape presets for Lightroom. These will help you enhance the beauty of nature and any type of scenery you come across. We have presets that can help you make the most of colors, those that sharpen textures, and some that set a specific motif. These examples below will give you an idea and help get you started:
This Landscape preset is the one we designed specifically for, as the name suggests, landscapes. It has incredibly rich colors, tones, and details. This is our go-to for most of our shots. We sometimes use it as is or tweak depending on the photo's demands. It is the most straightforward in the collection and the first one we look for when editing scenery.
Coastal Breeze preset sets a breathtaking and artistic motif on landscape photos. It blends undersaturated greens and warm browns. It completely transforms any scenery with its unique take of the light and airy style.
Tropical City is the orange and teal preset for summer. We designed it especially for photos of landscapes, beaches, and coasts, wherever your vacation takes you. It is easy to love its blend of colors and vibrant aesthetic.
Arctic Silver artistically enhances the look of mountain landscapes. Its bright almost-monochrome regions give off a cool feel. It exquisitely sets an icy motif using elegant silver tones, with warm hues as striking accents.
We have a lot more stunning landscape presets! Click the button below to check them out.
Our nature presets for Lightroom are designed to bring out the natural colors and textures of flora and fauna. Many of them produce rich and vivid tones that significantly add definition to the image. In just a few clicks, these can help you fix and improve brightness, colors, tones, depth, and texture. Explore different kinds, like these below:
Spring Flowering free lightroom preset for plants makes them look fresh and vibrant. It helps bring out the colors and amplifies clarity very well. We love this preset on flowering plants, especially because of how vivid the colors turn out. It will always add the feel of spring to any outdoor photo.
Underwater Fauna preset fixes and enhances underwater photos. You won't need to worry much about tricky lighting and colors when shooting underwater. This preset will help make every shot look stunning with reinforced tones and brilliant colors.
We specifically designed this Wildlife free preset for wildlife photography. It enhances colors, tones, and details while retaining a natural look. We love its warm tones that accentuate sunlight, and the dramatic matte film look that creates a professional documentary style.
Nothing beats the classic look of analog film. It really is amazing how you can now simulate the aesthetic on digital photos, so easily with Lightroom presets. This compilation of film presets for Lightroom ranges across different types of film, and some even replicate distinct processes or techniques. If you are looking for this artistic look, you have to check out this growing list. Here are some examples from it:
Kodak Funtime gives photos the charming retro film effect of Kodak's single-use camera. It helps add a layer of nostalgia and fun to your photos with its warm and light hues.
1985 recreates the subtle magenta tones and pastel blues of 1980's films. It makes them look timeless and cinematic in one go. Even with its subdued tones, the preset still produces rich colors and balanced tones.
Warm Retro adds elegantly blended warm tones to create a stunning timeless look. Like most vintage photos, the preset produces brighter but slightly muted images. Its soft aesthetic adds to its unique appeal.
We have more film presets for you! Just click the link below. We've got vintage and various film emulations.
Black and white photography is timeless and evocative. Colors are replaced by shades of gray and its focus turns to other photographic elements. But did you know that you can still get different looks? Light and dark regions can vary in range and intensity, along with textures and other details. The monochrome aesthetic can be tinted, too! Try out these handpicked black and white presets and see for yourself:
Vintage BW is a monochrome preset with beautiful brown tones. These accents set it apart from other black and white presets, making it more expressive and compelling.
B&W Orange Filter transforms colored images into high-contrast black and white. It has brilliant and bold tones as it replicates the look of a photo shot through an orange lens filter. This preset just makes it easier for you to get the iconic analog aesthetic over to digital images.
B&W Berkeley produces a retro film effect that is perfect for all types of photographs, including portraits. It has rich tones and clear textures that make images look refined and professionally done.
There are just so many looks that you can do with black and white. Check out more of these presets by clicking the link below.

Vintage Lightroom Presets now make it easy to make photos look like you shot them using an old film emulation. You can get that nostalgic grainy look, elegant unsaturated colors, and soft tones — even the unique frame that would sometimes come in developed prints. Take a look at these free vintage presets to get a better idea:
Check out this unique preset look. Vintage Frame is probably the most vintage-looking free lightroom preset in this collection not just because of its washed-out style, but mostly for its added border. It just is an instant way to transport your shots back in time.
Vintage Architecture produces a vintage aesthetic on architectural or real estate photos by applying several adjustments in warmth and tone. We love its blend of tints especially on photos of classic designs. It is definitely a must-try it on travel photos that feature historical structures! We love how the matte style also adds to the elegance.
Vintage Garden Lightroom preset has bright undersaturated tones that remind us of old gardening books. It is exactly what it produces: classic colored prints in iconic matte style. As the name suggests, it is perfect for photos of gardens, nature, and landscapes.
We actually have a lot of vintage-style Lightroom presets that you can choose from, across all types of photography.
Preview and download more in the link below.
Modern presets will easily create a stunning contemporary look on your photos. Expect bold aesthetics like vibrant colors, deep contrasts, crisp textures, and a clean look. The presets here may also include some special effects that make photos even more exciting. Check some of them out:
That's right, this Matriculated preset is inspired by The Matrix. What can be more modern and futuristic than that? This cool preset creates its signature look with a tint of electric green. We love this effect on tech shots or scenes with an industrial, or virtual, theme.
This cool Night Leaks preset creates a modern look by adding a colorful visual effect. It actually reminds us of a prism light, like a rainbow glow for your images. We especially love it on urban night scenes because of how the effect looks against street lights.
Our Red Dawn I preset transforms night photos into futuristic red monochrome. This modern look is so fun to play with! It can completely alter the mood of your shots and make even make them look like sci-fi movie stills. So eerie and dramatic.
You can download and play around with more cool modern presets in the page linked below.
Our selection of Food Presets is useful for both casual and professional photographers! They are great for Instagram feeds, food blogs, menus, and product shots. Using these will help you showcase all these elements when photographing dishes, desserts, and various culinary feasts.
Our fee Food preset makes food photos bright and colorful. The result is always so mouthwatering! We love how it adds some warmth to make the dish or dessert even more appetizing to eat. The result is always a stunning visual feast.
Kitchen Magic free lightroom preset draws out the delectable colors of food, fruits, vegetables, spices, and other culinary ingredients. What sets it apart is the bright and airy look and feel that it instantly applies to photos. It's perfect for indoor use! You can also expect your photos to have vibrant colors and cozy warm tones.
Grand Finale preset does what it says: it makes a grand finale out of dessert photos. Its color and tonal enhancements somehow make food pictures look sweeter and tastier. It does a great job at brightening an entire scene.
This light and airy aesthetic is probably the most popular right now on social media, especially on Instagram and Pinterest. No wonder some describe it as the influencer look. It is ideal for bloggers because of its versatility and clean style. It is useful and just simply beautiful. You can use these light and airy presets regardless of what type of photography you do, or what you post about online. Take these presets as an example:
This Bright White preset simply gets things done. Need a look that's bright, clean, and with neutral whites? This is the essential preset for that. This will help you correct shadows and even out some tones.
The Light and Airy look is also ideal for travel photos. Take this Santorini White preset, for example. It transforms both the look and feel of an image. You get the relaxed, laid-back, vacation vibe, and the clean and bright aesthetic.
We have several other types of light and airy presets. Just click the button below to see more of them.
This collection of travel presets features varied styles depending on the scenery you capture or the aesthetic that you're going for. You can find stylish blogger presets here, some tropical warmth, and vibrant ones that can really make landscapes pop as they should. Look at these presets, for example:
Beach Day extracts the natural colors of beaches and coasts. It makes water and sand look rich and vivid, with deep blues and orange. It is the preset to go for if you want to fully bring out the photo's summer vacation vibe.
Drone Eye is specifically designed for aerial photography and vast landscape views. It has a unique matte look that work beautifully with its deep midtones. It can be used on all types scenery. You can always get a clear and rich photo with this preset.
There are many more travel presets for you to check out, including light and airy and dark and moody.
Click the button below to see more and get these presets.
There is so much to capture in every newborn photo. You would have to accentuate a baby's delicate features while retaining an air of tenderness. To make the shot even more effective, many photographers also apply a soft motif, usually with subtle pastel tones. You can explore various approaches using these versatile presets for newborn photography. Look at these examples:
The Newborn preset beautifully enhances the features of babies and their delicate expressions. It adds soft pink and violet tones to create a tender look and feel.
New Life gives newborn and children photos a light and airy aesthetic. It softens tones and adds a lovely touch of pastel pink. It enhances babies' features very well.
We have other presets that you can use for newborn photography! Try to get all these looks. You can view them in the link below.
Minimal white presets are best used on product and high fashion photography. You may also use it indoors if you want to balance out lighting and neutralize color temperature. Whatever you use it for, it is the most professional look that you can go for — you just can't go wrong with it. There's a reason why it's a popular look on influencer blogs and Instagram feeds. Take a look at what these presets do, for example:
This Indoor Bright preset creates clean and bright whites in any indoor space. Check out the animated Before-After photo above and pay attention to how it cleans up warm tones in the image. It can just produce an instant magazine-like quality in any indoor image!
Bright White preset, as the name implies, brightens photos and gives you brilliant whites. It is not a simple correction in exposure; it corrects tones and helps reveal as much detail as possible. This can help you save some shots, too! Best of all, it also sets a unified look across all your photos with its added warmth.
This Porcelain preset creates a professional look that's perfect for blogs. Not only does it even out whites, but it also stylishly blends soft colors and tones. It is the type that can create a theme or cohesive look for Instagram feeds and pins. Because of its unique motif, you can definitely use it to set a signature look online!
We have several professional white presets that you can explore. You can try them on products, portraits, real estate, events, and just on any photo that can make use of clean whites.
Urban and street photography needs a distinct, modern, style. The tones need to be bold, the aesthetic vivid or dark, and the colors vibrant. The aesthetic may vary but the atmosphere usually remains dramatic or moody. It doesn't have to be too complicated, though. With this of urban photography presets, you can instantly add character to your shots. Here are some examples:
Urban Cool boldly intensifies cool hues by tinting shadows and increasing contrast. It also applies thorough adjustments in color to make street and urban scenes look vibrant, modern, and moody.
Street Blue is the ultimate dark and urban preset. It has all the elements that you may want for your street photography: stark tones, vivid colors, and dramatic or moody feel.
Urban Life creates a modern aesthetic by accentuating dark regions and sharpening details. It creates a bold, even industrial, look and feel. This is another urban preset to use when going for a dark style.
You can try on even more styles for your urban or street photography. View more of our urban presets in the link below.

These sports Lightroom presets will easily help you enhance visual elements in your sports photography. These vibrant and dramatic styles can make action photography look more dynamic and bursting with energy. Use these preset collection if you want to make your sports photography exciting and professional.
Sport Lightroom preset takes you into the action by giving images vibrant colors and high-contrast tones. You get shots that look so much more exciting. We love how it looks outdoors, especially on game fields, because of how it processes blue, green, and orange hues.
Winter Sports preset is, as its name suggests, specially designed for winter sports photography. It makes shots so much more dynamic and engaging by amplifying the cool, cold, hues. You will also love how it extracts warm colors as accents. This preset will certainly make any winter sport shot look athletic and lively.
Go on and turn your photos into movie stills using Lightroom cinematic presets, in just a few clicks! These can boost the mood of any portrait using film-like or cinematic tone filters. Just like in the movie, you will find different styles for various scenarios and photography types. To give you an idea, we have these stunning ones. among several others:
Here's one of our favorites. This free Cinematic preset looks incredible on urban scenes. You can also use it on photos featuring detailed spaces. It's so dramatic that it's perfect if you want to create a thrilling and mysterious vibe. The overall dark look, with undersaturated colors, creates a dark and moody scene that's just perfect onscreen.
Cinema Stock 1 has a classic retro film style that recreates the look of vintage cinema so well. This free lightroom preset will also help you recreate classic movie scenes because of its signature magenta tint and tender tones.
Warm Cinematic free lightroom presets has beautiful warm magenta tones that recreate classic cinema colors. You get the soft retro tones that always set a cinematic atmosphere, without making the shot look overly soft. We love how it preserves depth and softens just enough to make the photo more dramatic.
We have many more cinematic presets to offer, and many are free! Just click the button below to see more.
Soft Matte Lightroom presets are also described as light and airy. This aesthetic is gaining popularity among bloggers because of its stylish and sophisticated look and feel. Many of these are versatile and are great for several types of photography. You can apply them on photos of flat lays, portraits, fashion, interiors, children, newborn, and so on. What makes this style special is how it can transform the atmosphere of any image. See the examples below and go try them for yourself!
We designed Airy Summer preset to create a stylish summer look using soft tones and pastel hues. If you want a look that combines the trendy Orange and Teal and Light and Airy aesthetics, you'll definitely love this preset.
Hazy Pop is a great light and airy portrait preset. It has a nice balance of brightness and softness. We love how it instantly reveals the subject's features while adding a gentle aesthetic that makes the photo more expressive.
Pastel Warm is a special soft preset because of its pastel browns in the shadows. It makes images warm and tender. We particularly love how it brings out the aqua tones in photos, too. Its unique and stylish look is enough reason to download it. We highly recommend this beautiful free lightroom presets.
Explore more soft or light and airy looks by checking out our collection in the link below.
There are various aesthetics for wedding Lightroom presets, mostly dependent on the wedding motif itself and/or the photographer's style. Regardless of the look that you're going for, it is important to keep it consistent across all shots. It is therefore important to set a theme. You can go for these different looks:
The Boho Preset gives wedding photos a classic look with such expressive warmth. We absolutely love the brown tones of this preset that harmonize well with muted colors which also give the image a gentle look and feel. The entire aesthetic just makes the shots even more expressive. Perfect to use if you're a wedding photographer!
You just can't go wrong with an elegant style for a wedding, and this is exactly what the Elegant Wedding preset is for. You can easily, elegantly, enhance the natural features of your images. This preset will help improve the scene's lighting and also has a light matte texture that can make shots look cohesive. This is a great preset to use if you're a wedding photographer!
There are more aesthetics that you can choose from for your wedding and engagement photos. See more using the link below.
It is now easy to get a professional look in fashion photography using fashion presets for Lightroom. Wonder what makes a successful and attractive influencer look? Take a look at these presets. Professional photographers and bloggers designed these presets: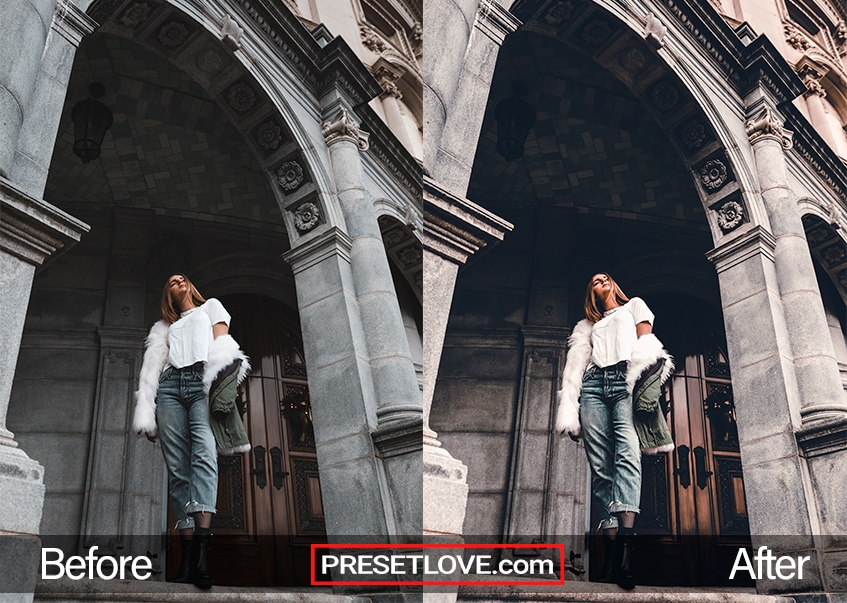 Our signature Fashion preset enhances tones and adds some chic pink-violet tones. It accentuates depth and textures, too, so that you can't miss any detail on outfits and style.
With this Cinematic 2 preset, you can have both the drama of movies and the stylish aesthetic of fashion presets. The resulting aesthetic is simply gorgeous and moody: the warm accents, the balanced lighting, the matte finish, and the elegant hues.
Street Blue creates a dark and moody aesthetic that's ideal for modern urban fashion photos. It has great contrasting tones and fine gritty textures. You won't miss details using this preset, and you get the bold look when featuring casual or rugged outfits.
You can explore more presets in different styles for all types of fashion photography in the link below.
Moody Lightroom Presets are known for their dark and dramatic aesthetic, usually with bold tones and broad contrasts. Many of these presets go further by setting a unique color motif, which gives images an even more mysterious feel. We love how this style can be applied across all types of photography — whenever you need to bring out some edge or dramatic flair. Here are some looks that go with it:
The popular Orange and Teal motif has long been considered as an artistic cinematic aesthetic. It has also become popular for bloggers and influencers because of its theme. It is a classic look that has always been a favorite. We think you will also love its deep contrasting tones that accentuate a lot of details.
This Highway Trip Lightroom preset does an exceptional job in making landscape photos look dramatic. It is meant to enhance the atmosphere of the scene and set a mood. Even a simple photo of a highway can turn into something so compelling and moody. It has nice crisp tones and details and a warm and cozy vibe.
We have many more moody presets in varying styles, across several types of photography. Just click the button below to see more of this look.
Real estate photography can be tricky, especially when capturing interior design and lighting. Most of the corrections are done later on. To speed up your editing workflow, we put together these presets that can correct settings and help set an inviting atmosphere. You can use these real estate presets for both interiors and exteriors, to make your listing stand out from the rest. Take a look at these presets, for example:
Indoor Bright is an essential real estate preset. This will brighten any room, correct white balance, and soften harsh shadows. You will get neutral whites, even lighting, and more details overall. Best of all, it makes any room look so inviting and cozy.
This Quiet Street preset can help you set the look and feel when photographing exterior real estate. It accentuates colors, tones, and details, so you get to feature as much of the property as possible. This style can definitely help you enhance your house our building's curb appeal.
We have more real estate presets that you can go through. Simply choose a preset that looks best on your property and design. You can view and download them in the link below.

These are the night Lightroom presets that will help you in your night photography. These are just great at optimizing lighting, colors, and tone. You get to bring out as much of the scene as possible even under low light conditions. You can also easily notice that some of them even take advantage of the dark aesthetic to amplify the naturally dramatic mood.
Northern Lights free night Lightroom preset enhances the beautiful colors and tones of the aurora. This will also make it easier for you to capture nature's magical light display as you see it: luminous colors, vibrant hues, and dynamic tones. This is definitely a preset to keep if you photograph this phenomenon often.
We designed Night Music Time night concert preset specifically for indoor and outdoor performances. You can easily notice how it brightens the scene like an additional spotlight but without the harsh brilliance and shadows. The preset also creates a matte look with tinted tones to add a cozy feel.
B&W Nights is a bold and gorgeous black and white Lightroom preset. Its bold high-contrast tones are ideal for nighttime photography! It is amazing on night urban scenes with a lot of light sources, like street lamps or headlights.
Our spring presets help you get the right color, lighting, and tonal contrasts on your nature shots. Your photos will get a fresh and clean aesthetic that's perfect for the vibrant look and feel of spring. These look great on flowers, landscapes, and even foliage or blooms that you keep indoors! Just see what these sample presets can do:
Spring Flowering gives photos the spring vibe by making them warmer, more vibrant, and subtly tinted in green. We love how its warm look is much like the morning sun. Tones are clear and crisp, and the overall clean look that you get is always refreshing.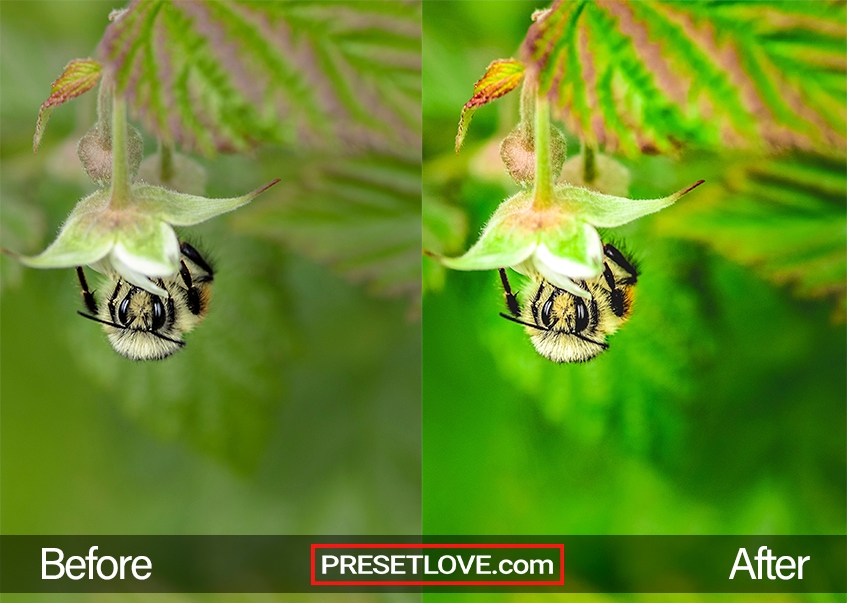 Macro preset refines extreme close-up or outdoor macro photography. This will help accentuate details, boost colors, and deepen tones. You can expect beautiful vibrant colors with this one, especially the greens.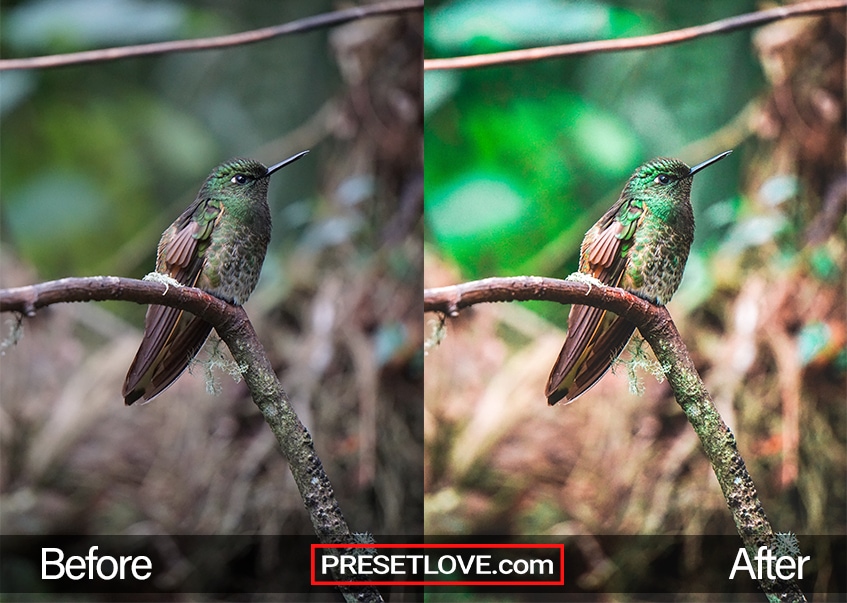 Use this Exotic Trip preset if you want to add some exotic or tropical feel to your spring photos. We especially love it on birds. This will always help you enhance natural colors and deepen tones. As a result, you get punchy, stunning, hues and brilliance.
You can get more Lightroom presets for the spring season in the link below.
You should use these warm Lightroom presets to set a cozy and dramatic mood to images. This look spans multiple styles for all types of photography. You can find them in different variations and moods as well! Just look at these presets below, for example:
All Gold Everything is one of the most stunning free film presets in this list that brings the beautiful warm tones of the Kodak Gold ISO200 film to your digital photos. We love its sunny gold glow and the magenta-tinted shadows. They all come together to create the classic analog film look. It is such an elegant retro aesthetic.
The vibrant golden aesthetic of this Golden Look preset can really grab attention. Its bold tones and unique color motif is simply stunning. We really like how it captures the dramatic feel of the golden hour, plus how amazing these tones look on skin tones.
As you can imagine, there are many more warm presets that you can explore. Be sure to check them all out in the link below.
These fall presets enhance the colors of autumn in any photograph. They will make you appreciate those elegant browns and orange accents. Some of these presets even set a motif with these colors and blend them with other styles, like film. In a single click, they can make any scene look and feel as cozy as autumn itself. Try these ones out:
We designed the Autumn preset for fall, hence the name. It draws out those beautiful hues of autumn, all the rich browns and oranges. We also optimized it for outdoors by balancing tones and amplifying clarity.
Autumn Fields preset creates its own film look by using the colors of fall. Its tones are subdued to emphasize autumn's cozy feel. It also adds an air of nostalgia with its matte aesthetic. If you like soft styles, this is the fall preset to use.
Autumn Vintage takes fall's aesthetic even further by adding the signature look of vintage film. Colors and tones look artistically faded, as though taken using an old analog camera. Choose this preset if you want your shot to look timeless.
You can choose from more artistic fall presets in the link below.
It can be tricky to set a cool look and feel on winter photos. You usually get a lot of white regions because of all the snow. Thankfully, these winter presets for Lightroom got you covered. You can easily regulate tones, optimize brightness, and even set a mood. Take a look at these and see how each uniquely visually interprets the winter and holiday atmosphere:38 Best Winter and Christmas Lightroom Presets
Winter Holidays adds a cool look and feel to winter scenes. It works beautifully on snowy landscapes, making them look more vibrant and feel colder. Its blue hues produce such a festive atmosphere as well.
Winter Light is the most magical winter preset that we have. Its violet-magenta tones add to the ethereal feel, especially if your shot shows a lot of snow and sky. It also beautifully blends with the golden hues of the afternoon sun.
This Snow Season takes an artistic approach by adding some green tint to winter images. This adds some warmth to any cool scene, without having to resort to the harsher yellows. This gives photos a festive and magical feel.
If you are looking for more winter or holiday presets, be sure to click the link below for more.
Get All the Presets at Once! ⭐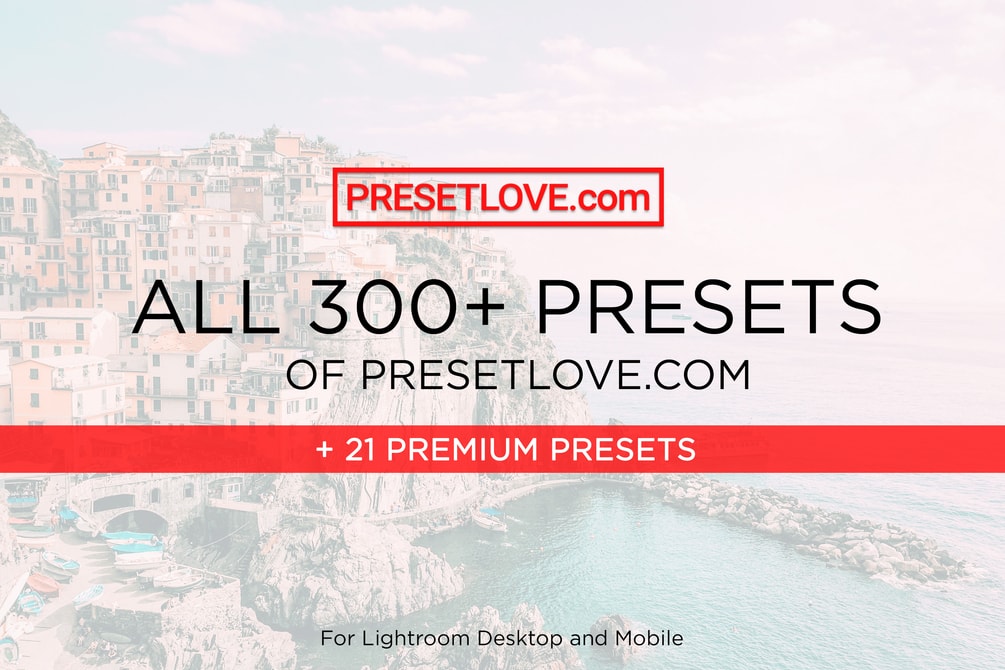 Get all our 300+ free presets plus 21 Bonus Presets when you purchase our Premium Bundle! All can be used on Lightroom mobile and desktop.