It is now easy to make photos look professionally dramatic in Adobe Lightroom, but even easier if use moody Lightroom presets. These are the presets that can instantly help you deepen tonal contrast and strategically mute some colors. They can also give you that attractive dark look. You can easily and constantly nail the bold yet balanced look and feel.
These presets are especially useful if you maintain a blog or Instagram account. With so many influencers, it is important these days to have a specific and uniform look for your feed, and moody presets can definitely help you with that. You'd get a bold signature look that can make your photos more memorable to followers.
For this, we recommend that you also download Lightroom mobile presets so that you can post and quickly edit even with just your phone. Or if you want something more specific, you can check out our best Lightroom presets for Instagram.
If you need help with Adobe Lightroom presets, you can learn how to add presets to Lightroom using our guide. We'd walk you through downloading and installing DNG preset formats on the Lightroom mobile app, and XMP for Lightroom CC and Lightroom Classic.
Here are the dark and moody Lightroom presets that we recommend for you! They still vary in styles and intensity, so pick whatever you think works best for your photos.
Moody Urban Presets
Street Blue
Best for: Cityscapes, Street Photography, Urban Portraits
Style: Dark, Stark Tones, Crisp Details, Dramatic Colors
Street Blue is one of the darkest and moodiest free urban preset that we have. Its modern looks almost industrial. We love how this can make street and urban photography edgy enough to grab attention.
Urban Life
Best For: Street Photography, Urbanscapes, Detailed Photos
Style: Modern, Dark, Textured, Metallic
Urban Life is a free and detailed preset that adds a tinge of modern drama. It has a deep silver aesthetic that sets its dark and moody feel. It looks amazing on urban photography, including portraits.
Urban Cool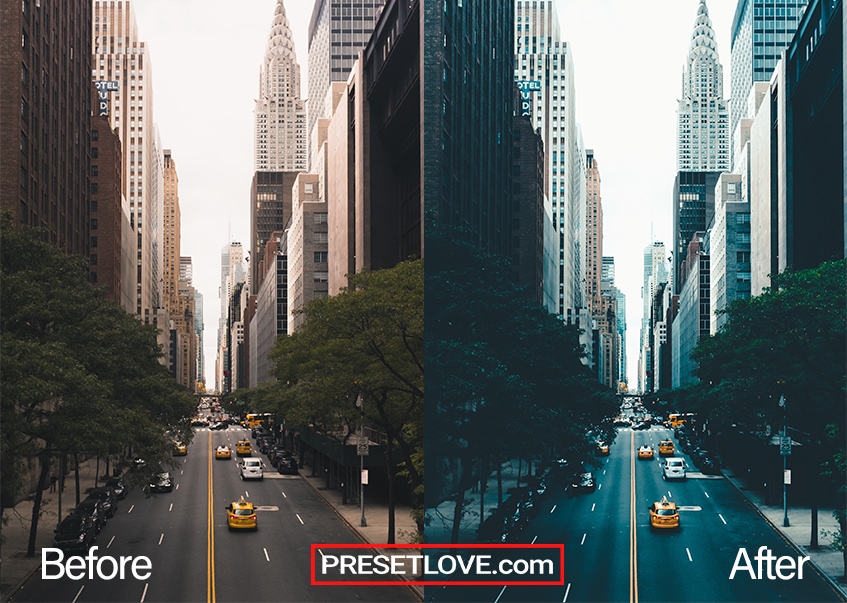 Best for: Street Photography, Cityscapes, Outdoor Portraits
Style: Blue hues, Clear and Bold Tones
Urban Cool is our most popular free urban preset! It creates a lot of drama using intense yet balanced tones and cool blue hues. We highly recommend this preset for its stunning color motif.
5 Moody Lightroom Presets
These Moody premium presets produce dark moody tones, deep blues, and beautiful tan skin tones. We recommend these for holiday photos, beach bloggers, and urban scenes! This is definitely the aesthetic you should go for if you want your Instagram feed to have an attractive moody look and feel.
7 Fitness Presets for Lightroom
This Fitness premium set is perfect for gym photos! These will help enhance skin tone and the overall look of your muscled and toned body. The tones are accentuated just enough to emphasize depth and create a moody feel. Its unique dark aesthetic will effortlessly help you set the right look and feel in just a few taps.
Moody Cinematic Lightroom Presets
Orange and Teal
Best For: Urban Scenes, Travel Photography, Instagram
Style: Orange and Teal Motif, Cinematic Tones
Orange and Teal free preset is the most popular in our collection, an all-time favorite among our users. It is an artistic and modern take on everyone's favorite orange and teal motif. It always makes photos dramatic, moody, and cinematic. A must try!
Orange and Teal PRO
Best for: Urban Portraits, Urban Scenes, Travel Photography
Style: Balanced Orange and Teal Tones, High Contrast
This Orange and Teal PRO is our premium cinematic take on this popular color motif. It looks amazing on colorful urban street scenes, plus it looks gorgeously dramatic on urban portraits. If you are looking for an artistic yet moody aesthetic, then this preset is for you.
Cinematic
Best for: Outdoor Scenes, Urban Portraits, Street Photography
Style: Dark, Desaturated, Crisp Tones, Sharp Details
This free Cinematic preset is unique because of its dark unsaturated tones and crisp details. It reminds us of movies with dark color motifs that create a mysterious or suspenseful atmosphere. You can definitely use this aesthetic if you want to make your shots so dramatic and expressive.
Moody Lightroom Presets for Portraits
Movie Star
Best for: Indoor and Outdoor, Fashion Photography, Portraits
Style: Retro, Analog Film, Cinematic, Warm
Movie Star is such a gorgeous portrait preset that blends a dark moody look and classic aesthetic. It has dramatic tones that are versatile enough for both indoor and outdoor shots. You will love its unique color motif and overall expressive and timeless style.
Portraiture I
Best for: Headshots or Closeups
Style: Dramatic, Dark, High Contrast
Portraiture I free portrait preset highlights adds stunning definition as you see on magazines and digital publications. It has deep, dark, yet balanced tones that can make any portrait or selfie look incredibly dramatic. This is also one of the most professional in this preset collection. And it's free!
Dark Dreams 1
Best for: Portraits, Outdoors
Style: Contrasting Tones, Dark and Vivid, Matte
Dark Dreams 1 is a powerful free preset that sets a beautiful dark and moody look on portraits and various scenes. It also has a matte look that makes it even more artistic. It can make images look bold or edgy without altering them too much.
Dark Desire
Best for: Urban Portraits, Outdoors
Style: Muted Cool Colors, Warm Accents, Moody
Going for a unique look? Dark Desire free preset can transform images by greying out some cool colors. This instead makes warm hues pop more, including skin tones. This works best if you have a blue background, even the sky. It is a great artistic approach to this moody aesthetic.
Moody Landscape Presets
Flora Falls II
Best for: Water Falls, Rock Formations, Forests
Style: Deep and Rich Greens, Accentuated Shadows
Flora Falls II free preset never fails to produce breathtaking results when applied to nature photos like waterfalls and rocks. It produces deep greens that make plantlife look alive and flourishing. If you want a moody look and somewhat wild feel, try this preset out.
Highway Trip
Best for: Travel Photography, Detailed Landscapes, Outdoor
Style: Textured, Bold Tones, Dark
Highway Trip free preset is, as you can tell from the name, designed for your road trip shots. It intensifies the tones and details of different views, including the highway itself. It also adds a dark aesthetic for a dramatic and moody atmosphere.
Volcanic Ash
Best for: Mountain Landscapes, Rough Terrain
Style: Dark, Desaturated Colors, Moody
Volcanic Ash premium is the darkest and most dramatic landscape preset that we have in our collection. It is drastically different from the ones that we have grown used to. This preset artistically strips photos away of most colors and replaces them with blacks and grays. Warm colors primarily decorate the image, bold against the dominant monochromatic tones. We recommend this artistic color processing to professional photographers.
300+ Preset Bundle with 21 Exclusive Premium Presets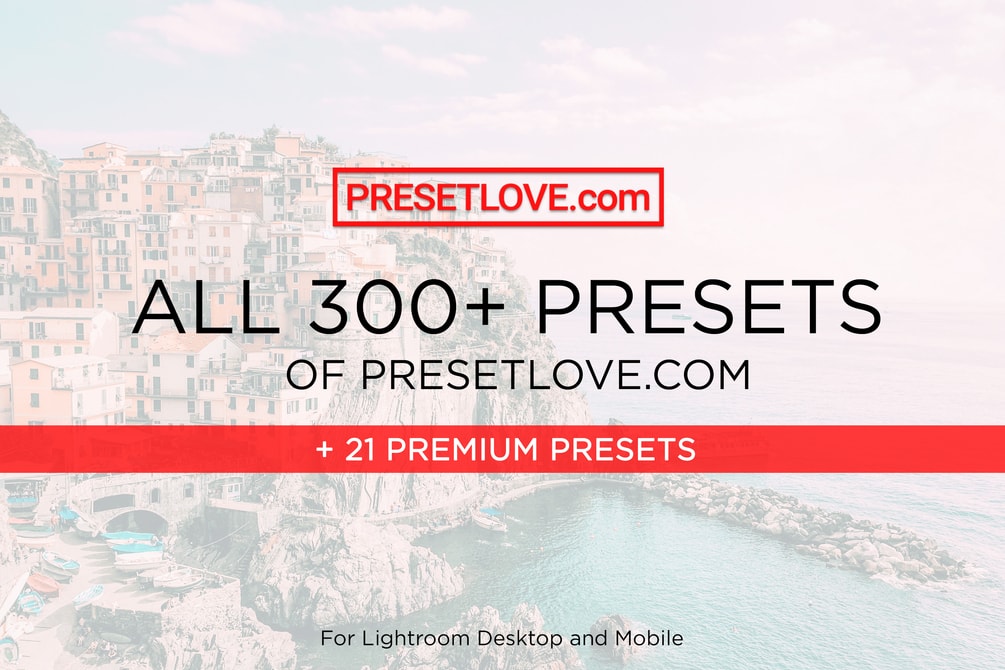 To make things much easier and save time, you can get all 300+ Lightroom presets in one go! After all, the more presets you have, the more looks you can experiment with. If you are trying to come up with a signature look, this is the best preset bundle for you.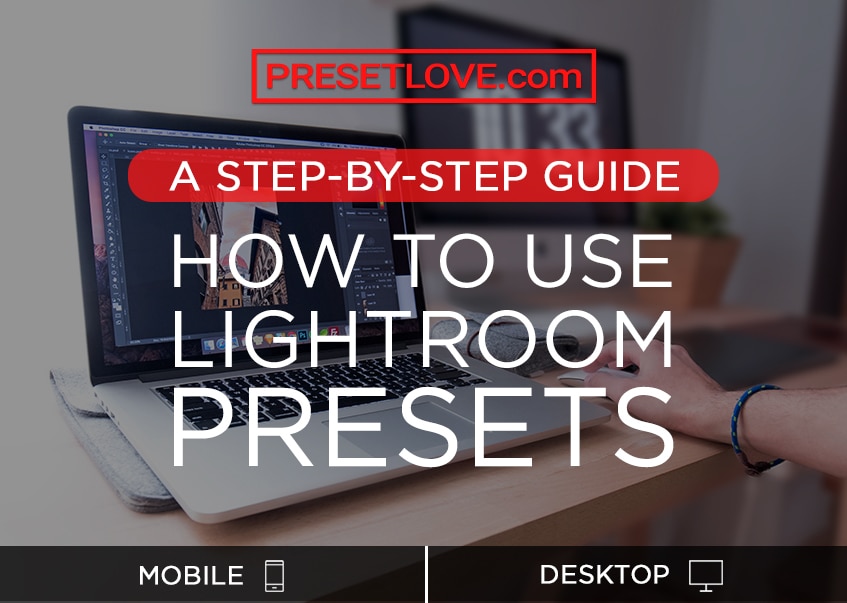 If you need help with Lightroom presets, you can always check our guide to learn how to install Lightroom presets.