The Light and Airy aesthetic is one of the most popular looks right now on social media, like on blogs and Instagram. That is why we created these presets for Lightroom to make this attractive look easy to use. After all, it is already easy to use thanks to the numerous light and airy presets for Lightroom. You may also know it for its bright and natural style that keeps colors soft and elegant. It usually comes with diffused but brilliant lighting, without harsh dark tones. The entire look is simply easy on the eyes, always cozy and inviting.
So if you are going for a clean look, this is definitely the aesthetic that you should go for. First of all, it is undeniably stylish. Secondly, it is versatile for so many types of photography, like portraits, product shots, fashion, travel, newborn, and several others. It is especially handy if you are active on social media even when just using your phone: snap a photo, add the light and airy presets to your Lightroom mobile, and you're just a tap away from transforming your images.
If you need help using the presets, be sure to check our guide to learn how to add presets to Lightroom mobile and desktop. You can also check out our Preset Bundle if you want to get all our available looks.
The presets below all fall under the light and airy category but each remains unique in some way. Notice how they look when applied to multiple images!
You got to love the cohesive look and professional feel. Try it! You can start with these free presets:
FREE LIGHT AND AIRY PRESETS
Bright White
Best for: Indoor and Outdoor
Style: Bright, Light, Warm
Bright White is one of our go-to presets whenever we want to create a sunny, daylight white look. We love how it retains some warm tones in its brilliance. This effect, combined with a matte texture, creates such a nice and cozy feel.
Indoor Bright
Best for: Interiors, Real Estate, Product Photography, Flat Lay
Style: Neutral Whites, Brilliant, Clear Tones
Indoor Bright is ideal for a lot of indoor photography, especially if you are shooting products or interiors. The preset neutralizes harsh light in any photo so you won't get those stark yellow or blues that often pop from artificial lighting. We recommend this preset for the look and its handy lighting fix.
Santorini White
Best for: Travel Photography, Mostly White Scenes, Instagram
Style: Neutral Whites, Vibrant Tones
Santorini White produces the cool whites that Santorini is known for. What makes this preset special is how it also produces a warm and charming feel. This is great if you want a more modern take on your predominantly white or high-key image.
Bright Wedding
Best for: Versatile Wedding and Engagement Photos
Style: Bright, Soft Warmth, Vivid Colors, Matte
Bright Wedding beautifully sets the mood in wedding and engagement photos. You can count on its bright look and soft warm tones. Its soft aesthetic does a great job at amplifying mood in both indoor and outdoor settings.
Airy Summer
Best for: Vacation photos, Travel, Beach scenes
Style: Light Tones, Orange and Teal Pastel, Warm, Soft matte
Airy Summer is a warm take on the airy aesthetic. What we like is its strong color motif that is perfect for summer and other vacation scenes. Notice how it tweaks cool tones to match its nearly orange tones. It's like the popular orange and teal urban look, but warmer and in matte.
Fantaisy Pastel
Best for: Outdoors, Portraits
Style: Lavender, Light, Bright
Fantaisy Pastel free preset adds a light layer of pink and lavender to your photos. It slightly increases warmth and blends some magenta to achieve this unique pastel look. We especially love how it makes images look cozy and expressive.
PREMIUM LIGHT AND AIRY LIGHTROOM PRESETS
High Key
Best for: Mostly White Photos, High-Key Images, Product Photography
Style: Clean, Neutral Whites, Soft Colors
High Key helps you get clean neutral whites in your photos. You get balanced whites and gentler dark tones. To complement the resulting airy look, the preset also softens some colors without fading them too much. The overall aesthetic is stylishly elegant, perfect for travel, fashion, and product photography.
Porcelain
Best for: Interiors, Product Photography, Flat lay, Instagram
Style: Soft Whites, Brown Accents, Light Pastels
This Porcelain preset creates a professional look that's perfect for blogs. Not only does it even out whites, but it also stylishly blends soft colors and tones. It is the type that can create a theme or cohesive look for Instagram feeds and pins. Because of its unique motif, you can definitely use it to set a signature look online!
Soft Radiance
Best for: Fashion, Interiors, Real Estate, Portraits
Style: Clean Whites, Warm Tones, Matte
Soft Radiance is one of our professional presets that you can download and use for a lot of photos. Although it is ideal on interiors with a lot of whites, it also works well on any other indoor photography. It stands out because of its warm accents and matte look. If you want understated elegance, this preset is a must-have. Plus it's totally a memorable look.
Pastelscapes
Best for: Beaches, Vacation Photos, Outdoor
Style: Warm Pink, Pastel Hues, Soft Tones
Pastelscapes is a unique premium preset that adds stylish pastels to your photos. It uses these tones to soften the look of images and add a dreamy look and feel. These romantic hues work so beautifully on natural light.
PREMIUM LIGHT AND AIRY MOBILE PRESETS
4 Airy and Bright Mobile Presets
Here are the essential Airy and Bright presets that look incredible on any blog or Instagram feed. These are perfect for brightening your images and creating a professional feel! This set of 4 light and airy presets works well with fashion, food, family, newborn, interior, wedding and couple shots.
12 White Lightroom Mobile Presets
This is the ultimate White preset pack for your fashion and travel photography! You can count on it to produce bright whites and soften unwanted shadows. Its clean aesthetic will also help you draw out the details and colors in your photos. Best of all, this pack is designed to accommodate many types of photos, so it's easy to apply to all the images of your Instagram feed!
9 White BG Product Photography Mobile Presets
These 9 White BG presets are designed for all your product photography needs. You no longer need to tweak every detail just to get the right brightness and ultra clean whites. Use these if you want to produce stunning flat lays with white or light backgrounds.
5 Soft Lightroom Mobile and Desktop Presets
The Soft Lightroom preset collection will give your images a very airy and natural look. These presets will lighten greens and blues, accent red tones, and will give your images a soft dream-like look! We love using this on shots outdoor, of family, portrait, fashion, indoor, travel, lifestyle, and even wedding. The pack is just perfect for professional photographers who do a lot of events outdoors.
5 Champagne Mobile Presets
Champagne presets will give your photos and even entire Instagram feed the popular influencer look! This pack will help you transform images in a few taps with its classic minimal aesthetic. You can even use the added black and white preset to add some drama to your shots. Try them all and see what you can come up with!
300+ Preset Bundle with 21 Exclusive Premium Presets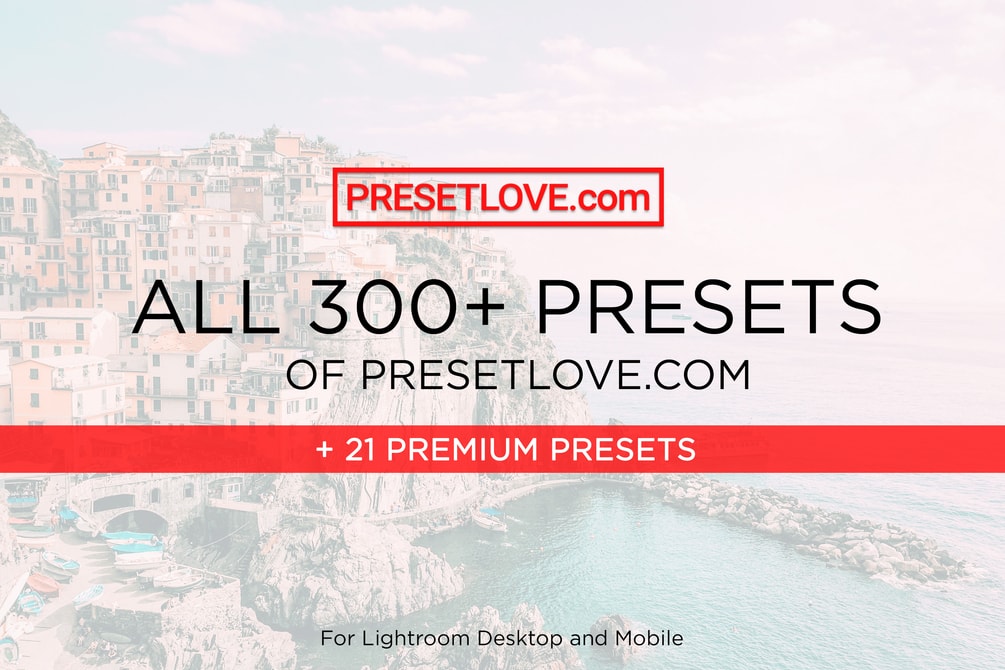 Why not get all 300+ Lightroom presets in one go? The more presets you have, the more looks you can experiment with. If you are trying to come up with a signature look, this is the best preset bundle for you.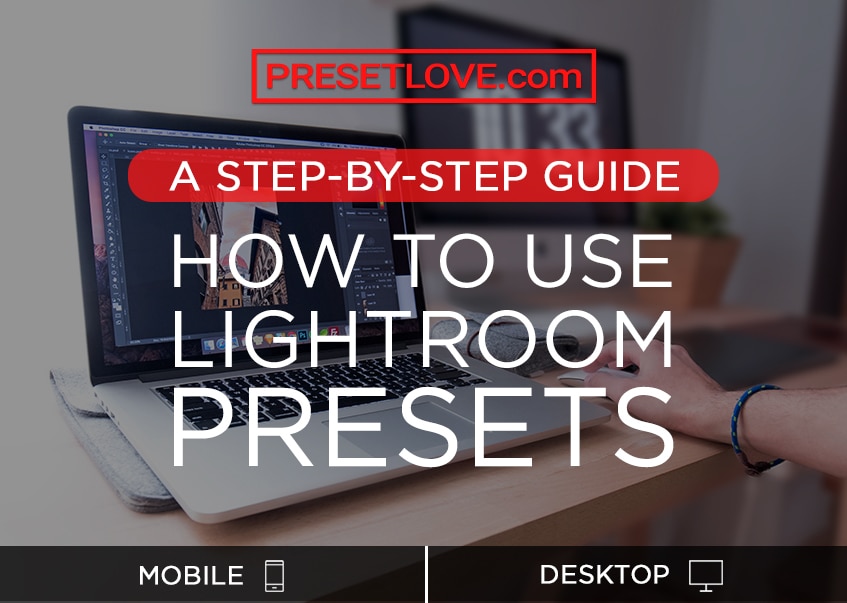 If you need help with Adobe Lightroom, you can always check our guide to learn how to install Lightroom presets. We'll teach you how to use DNG preset formats on the Lightroom mobile app, and XMP on Lightroom CC and Lightroom Classic desktop apps.