Exotic Trip free preset adds some pop to landscape photography, including jungles, waterfalls, beaches, and tropical islands. It amplifies the aqua and green tones to images for them to come alive. We really love its vibrant colors and sunny look and feel.
Collection: Nature Presets, Landscape Presets, Travel Presets, Warm Presets, Spring Presets, Vibrant Presets
Best for: Landscapes, Nature, Wildlife
Style: Bright, Vibrant Colors, Clear
We also designed this preset to enhance the natural colors and tones of wildlife. This is especially stunning on colorful birds. If you have a set of photos that need a tropical flair, try applying this Exotic Trip preset. In one go, you can boost their aesthetic and apply a uniform look. This is exactly why it is great as an Instagram filter!
Sets the Sunny Vibe for Tropical Landscapes
Warm Tropics. To set the warm look and feel, we moderately warm the color temperature and heighten the green tint. This serves as a base for the succeeding color adjustments. These already help set the sunny vacation atmosphere, as you can tell by looking at the After photo. It also adds to the green hues' vibrant amplification. You get lush greens as a result. If you want a preset that specifically enhances greens, we recommend that you also check out our free garden preset.
Optimizes Tones for Landscape and Wildlife Photography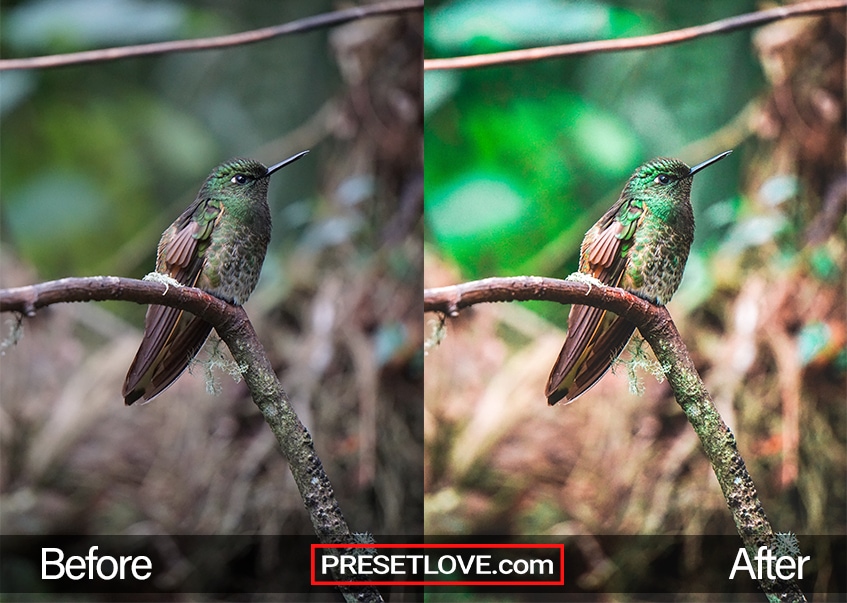 Balanced Tones. We want to optimize the light and dark regions so that we can complement the preset's bright sunny aesthetic. We do these by adding light to tonal regions at varying levels. The brightening is quite obvious in the example above.
Another reason behind this setting is to reveal more details that are often hidden behind harsh shadows or highlights. In the After photo above, you can see how these adjustments reveal much of the bird's color and patterns. They also add some luster to the bird's gorgeous plumage.
Brings Out the Vibrant Colors in Landscapes
Vibrant Hues. Colors are essential to the preset's look. You can already tell at first glance that the colors are boosted in terms of vibrance and saturation. We think that this effect beautifully sets the tropical feel and adds a lively mood. In this particular example, compare the colors between the two photos, especially the green trees and the vivid blue sea. Among our presets for nature photography, this one is the most colorful and brilliant.
Enhances the Mood by Reinforcing Sunlight
Brilliance. To go with the preset's style, we also increase the luminance levels. This means that we make some colors stand out by adding more light to them. Then, to make sure that we do not wash out details, we also increase the sharpening levels. You can observe the result in the vast and clear sky and water in the above example. All of these effects come together to make the scene more vivid and inviting.
Exotic Trip is for Lightroom Mobile, Desktop, and…
Like all our Lightroom Presets, you can absolutely use Exotic Trip as is, right out of the box. With any preset, you might need to make adjustments to accommodate your specific camera, settings, lighting, and subject matter.
Entirely Adjustable
Designed for Adobe Lightroom for PC, Mac, and Mobile
Includes Lrtemplate and XMP preset formats for Lightroom CC and Lightroom Classic desktop apps
Includes DNG preset format for the free Lightroom mobile app
Applicable to both RAW and JPG images
100% Free Preset Download
Need help with the presets? You can visit our guide to learn how to install Lightroom presets.
Free Lightroom Preset by PresetLove.com