Exotic Trip preset free Lightroom preset adds some pop to tropical and landscape photography including jungle, waterfalls, beaches, blue waters and islands. It amplifies the aqua and green tones in natural images for them to come alive.
The after photo of white beach has increased warm temp and some green tint. The colors of the trees are obviously brighter and the water color turned bluish green from dull blue.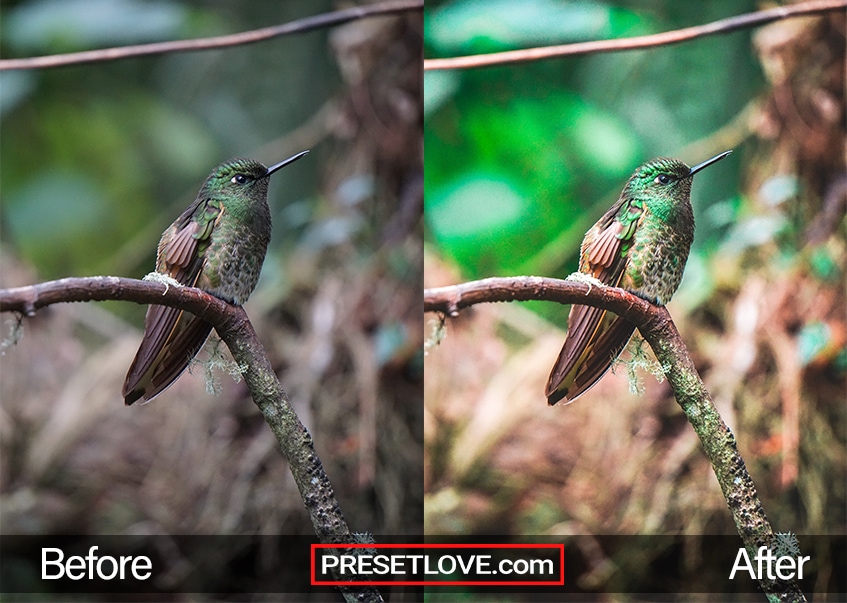 The Exotic Trip preset increases lights, darks and shadows in this humming bird photo. The green color luminance is increased as seen in the color of the bird and the background green leaves.
This tropical island looks more alive and summer-y as the exotic trip preset increases shadows, whites, clarity and vibrance. It also increases the aqua and blue colors saturation and luminance in this image.
This paradise photo makes you want to go on vacation right away as the after-image colors have increased luminance and sharpening. The preset added green tints on this picture which makes it more vivid and inviting.
Finally, in this waterfalls photo, the exotic trip preset created S-type curve tone with upper shadows. As the warm temp, green tint and green color luminance are increased, the water and surrounding trees in this image become more lively and real.
You can absolutely use Exotic Trip as is, right out of the box. With any preset you might need to make adjustments to accommodate your specific camera, settings, lighting and subject matter.
Entirely Adjustable
Compatible with Lightroom 4, 5, 6 and CC
Performs with both PC, Mac and Mobile
Applicable to both RAW and JPG images
100% Free
This Free Lightroom Preset was last updated on January 16, 2020
THREE MORE GREAT PRESETS
by Roz de-Layen Vian
by Amr Tahtawi
by Presetbase