Perfect View free Lightroom preset enhances a photo's colors and tones so that they appear vivid and breathtaking. It produces crisp and punchy colors that are ideal for outdoor photography.
Collection: Nature Presets, Landscape Presets, Spring Presets
Best for: All Landscapes, Outdoor Photography
Style: Bright, Clear, Bold Matte, Detailed
If you are looking for a versatile travel preset, consider using Perfect View. It can be applied to various scenes but it is best for landscapes and urban scenes. Because of its rich and vibrant matte aesthetic, the resulting photos will appear as stunning as postcard images.
Go on and use this preset as a colorful filter for your Instagram photos. It can make an entire feed look cohesive without altering too much in a photo.
Adds a Dramatic Layer of Warm Magenta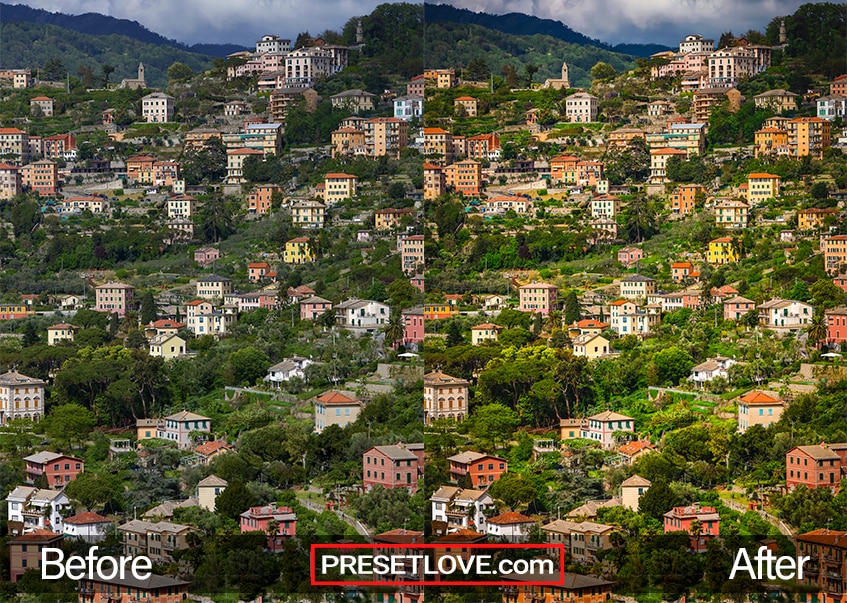 Classic Warmth. The preset creates the base look by blending the color temperature and tint. It first warms the scene and moderately adds a layer of magenta. The blend of these two not only coats the image with a soft and elegant hue but also accentuates both dark and light tones.
To augment the range of colors, Perfect View amplifies the overall contrast as well. In the above After photo, see how all these adjustments come together to create a photo that is rich in color, tone, and detail.
Lightens Tones for a Bright and Detailed Scene
Brightening. This preset applies a classic brightening treatment. What sets it apart is how it handles tones; although it lightens both light and dark areas, it moderates the brightest sections by lowering the highlights. Aside from producing balanced tones, you can notice that it also somehow creates a matte effect.
This finish gives the image a look that is reminiscent of National Geographic photographs but with vibrant colors. This is exactly why it has quickly become one of our favorite nature presets for Lightroom.
Boosts Colors to Create a Vibrant Scene
Color Boost. The most obvious feature of this preset is its bright and colorful style. Perfect View makes sure that you get the most of a scene's colors; your images will look consistently bold and exciting. As you would expect, the preset does heighten the usual color settings: clarity, vibrance, and saturation. Coupled with the contrast boost, you are guaranteed that your photo will pop to life and steal the show.
Enhances the Colors of Nature
Majestic Landscapes. Of the two images above, the After photo is undeniably more attractive. While the previous adjustments boost colors, this more complexly tweaks each. The preset, therefore, adjusts the hue, saturation, and luminance of every hue, especially those commonly found in nature.
It increases the saturation of green, aqua, and blue — the three most common colors in a landscape photo. It then illuminates the rest of the scene by increasing the luminance of yellow, green, purple, magenta, and orange. On the other hand, to create deep turquoise water and sky elements, the preset lowers the luminance of aqua and blue. You can examine how all these complement each other in the above After photo.
We also have a garden Lightroom preset that enhances greens like no other. Use it if you want to really make the plants and trees pop. If you want even more colorful effects, try our most colorful nature preset.
Refines Textures and Details
Professional Polish. Perfect View applies some finishing touches to draw out more of the photo's elements. It sharpens and reduces noise throughout the image. You can appreciate more details this way, like the bell tower's texture above. Textures are, after all, important when photographing both cityscapes and landscapes. If you are
Lastly, notice the moderate vignetting that the preset applies. This acts like a simple frame that draws attention to the subject or the entire scenery.
Photographer Reviews
Rjay photographs scenic views in his travels and captures the culture of every locale he goes to.
"I love traveling. This preset gives the authentic feel and vibrance of the photo."
– rjayatanacio (Instagram)
Here is an image he captured in Macau. See how he uses the Perfect View Lightroom preset:
Perfect View is for Lightroom Mobile, Desktop, and…
Like all our Lightroom Presets, you can absolutely use Perfect View as is, right out of the box. With any preset, you might need to make adjustments to accommodate your specific camera, settings, lighting, and subject matter.
Entirely Adjustable
Designed for Adobe Lightroom for PC, Mac, and Mobile
Includes Lrtemplate and XMP preset formats for Lightroom CC and Lightroom Classic desktop apps
Includes DNG preset format for the free Lightroom mobile app
Applicable to both RAW and JPG images
100% Free Preset Download
Need help with the presets? You can visit our guide to learn how to install Lightroom presets.
Free Lightroom Preset by PresetLove.com