Curating an "aesthetic look" on your social media feed is all the rage in today's day and age, so we created this list of free mobile and desktop lightroom presets that can easily create those aesthetic photos in just a few clicks!
We do know that beauty is in the eye of the beholder, and everyone has their own sense of style and taste, so we included different aesthetic styles and vibes so that everyone can find the preset that speaks to their own preferences.
These presets are very easy to use, but if you're a beginner or you'd like a little refresher on how to use them, check out our guide on how to install Lightroom presets. Trust us, it's easy as 1-2-3! Our instructions will walk you through the process for both Adobe Lightroom mobile and desktop.
White Minimalist Aesthetic Presets – Free Download
Clean Face – Bright and Natural Lightroom Preset
Best for: Indoor Portraits
Style: Bright, Clear, Smooth, Natural
We love how the Clean Face preset enhances your photos in the smoothest way possible! This aesthetic preset focuses on amplifying the photo's hues rather than drastically changing them, keeping your photos, crisp, defined, and slightly brighter. Surely Clean Face is a great minimalist aesthetic preset that can help you curate that perfect IG minimal feed!
Indoor Bright – White and Clear Lightroom Preset
Preset Overview
Best for: Interiors, Real Estate, Product Photography, Flat Lay
Style: Neutral Whites, Brilliant, Clear Tones
We came up with the Indoor Bright preset to cater to any of your indoor photography! The preset balances warm tones, eliminating harsh lighting. You'll absolutely love this preset when used on your home photoshoots cause of its capacity to beautify or liven up your home, travel, and even real estate photos. This light yet minimal aesthetic preset is suitable for both personal and professional use, to create those stunning minimalist aesthetic Instagram filters.


Bright White Free Preset
Preset Overview
Best for: Indoor and Outdoor
Style: Bright, Light, Warm
Looking for a preset that would work well on photos taken with natural daylight? Then you should surely try out the Bright White preset. This preset accentuates your photo's brightness yet retains warm tones. Bright White also tweaks your image's level of luminance and saturation resulting in bright yet smoothly toned matte photos. This is a must preset to add to your white minimalist aesthetic preset collection!


Film Aesthetic Presets
Film Fanatic – Classic Film Aesthetic Preset
Preset Overview
Best for: Outdoors, Bright Scenes
Style: Matte, Soft Colors, Undersaturated
If you're looking for a classic film preset, then The Film Fanatic preset is the one you should use. We love how this preset adds a stylish soft matte texture to your image and subdues its colors and tones to create an overall timeless analog photography look. You should definitely add this preset to your lightroom library, as it's simply a classic!


All Gold Everything – Warm Film Aesthetic Preset
Preset Overview
Best for Versatile, Indoor, and Outdoor
Style: Soft, Golden Warmth, Muted Highlights
Create warm film vintage photos in a second with the All Gold Everything preset! This preset brings out those warm tones of the Kodak Gold ISO200 film to your phone photos. It adds a mixture of yellow and magenta tints to your images without drastically changing your photo's colors. This preset is definitely the one if you're looking for something warm, natural and retro!
TVK Film – Vibrant Film Aesthetic Preset
Preset Overview
Best for: Portraits, Outdoors, Scenes
Style: Vibrant, Contrasting, Cool tones
Looking for something contrasting, cool, and vintage? The TVK Film Aesthetic Preset is the perfect one for you! This free Lightroom film preset easily transforms your images making it seem like you took it from an analog camera. It adds a definition and deep high contrast tones to images to further create that retro film style. Try this preset out on your portraits and outdoor shots for the best results!
Beach Aesthetic Presets
Beach Day
Preset Overview
Best for: Beach Photos, Coasts
Style: Warm, Bright, Vibrant, High-Contrast
Beach Day is a great free Lightroom preset that's pretty much perfect for photos on the beach! The preset enhances and captures your image's warm, aqua, and green tones to create perfect beach aesthetic photos!
Sun Burned
Preset Overview
Best for: Beach Scenes, Coasts, Portraits
Style: Warm, Orange accents, Sun Burned effect
We found the perfect way for you to create retro-inspired beach pics by using the Sun Burned Free Lightroom preset! This Free Lightroom preset gives your photos an analog film look through its simulation of light leaks. So perfect if you're digging that vintage beachy vibe!
Cinque Terre
Preset Overview
Best for Travel Photography, Coasts, Beaches
Style: Vibrant, Film Matte
The Cinque Terre preset is absolutely perfect for outdoor beach and coast photos! The preset is known for its ability to accentuate your beach photos through enhancing your photo's warm and rich hues. This is a great preset to use if you're especially looking for a cohesive yet inviting look all over your Instagram feed!
Cozy Aesthetic Presets
Autumn Skies
Preset Overview
Best for: Landscapes with vast skies, fall tones, and some greens
Style: Warm Browns, Soft Matte
The Autumn Skies free Lightroom Preset perfectly encaptures a cozy, relaxing vibe on your photos through its balance of warm and cool tones. This creates perfect soft autumn hues that create a cozy warm cool climate in your overall photos.
Coffee Break
Preset Overview
Best for: Diffused Lighting, Indoors
Style: Deep Brown, Unsaturated Cool Colors, Vivid Tones
Who doesn't love going to a cozy cafe? Recreate that cozy aesthetic through the Coffee Break Lightroom preset. This preset adds a tint of warm coffee brown hues to your photos, resulting in a subtle sepia effect on your images.
Warmer Tone Curve
Preset Overview
Best for: Outdoor Photos
Style: Warm tones, Natural Sunlight tones
Create perfect cozy golden warm photos with the Warmer Tone Curve Lightroom preset! We absolutely love how this cozy aesthetic preset transforms our photos into this inviting, homey vibe.
Pastel Aesthetic Presets
Kiss Me Tone
Preset Overview
Best for: Outdoor Portraits, Wedding and Engagement Photos
Sylte: Pastel Pink, Soft
The Kiss Me Tone Lightroom preset is perfect to create photos with the pastel aesthetic. The preset adds pastel pink tones to your images, which instantly produces a softer, cooler overall look to your photos.
Pastel Warm
Preset Overview
Best for: Outdoor Portraits, Fashion
Style: Warm, Moderate Contrast, Unsaturated, Soft Matte
The Pastel Warm Lightroom preset creates a soft, warm overall look to you photos through its incorporation of pastel brown tones and shadows, magenta hues and warm tones. Surely this preset will transform your photos into a stylish pastel aesthetic!
Fantaisy Pastel
Preset Overview
Best for Outdoor Photos
Style: Lavender, Light, Bright
If you're looking for a pastel aesthetic preset with vivid purple accents, then the Fantaisy Pastel preset is for you! The Fantaisy Pastel Lightroom preset incorporates a soft pink and lavender overlay to its mix, which results in creating warm, colorful images. This preset truly achieves that unique pastel look.
Get More Presets with Our 300+ Preset Bundle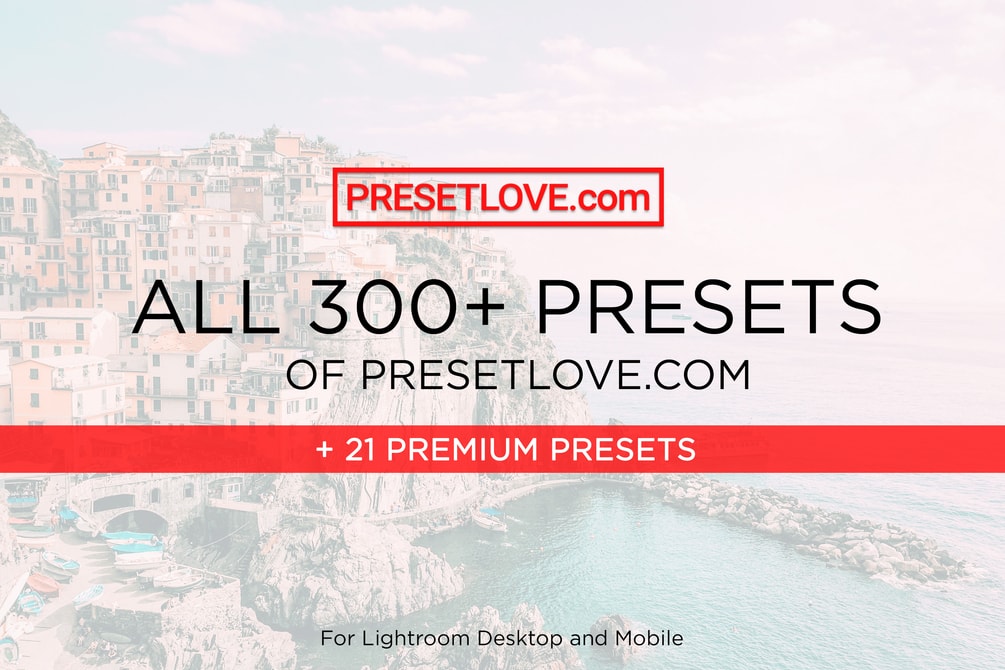 To make things much easier and save time, why not get all 300+ free Lightroom presets on this site in one go! After all, the more presets you have, the more looks you can experiment with. Plus, this comes with 21 exclusive premium presets! Get this best preset bundle if you are looking for a look that's uniquely yours.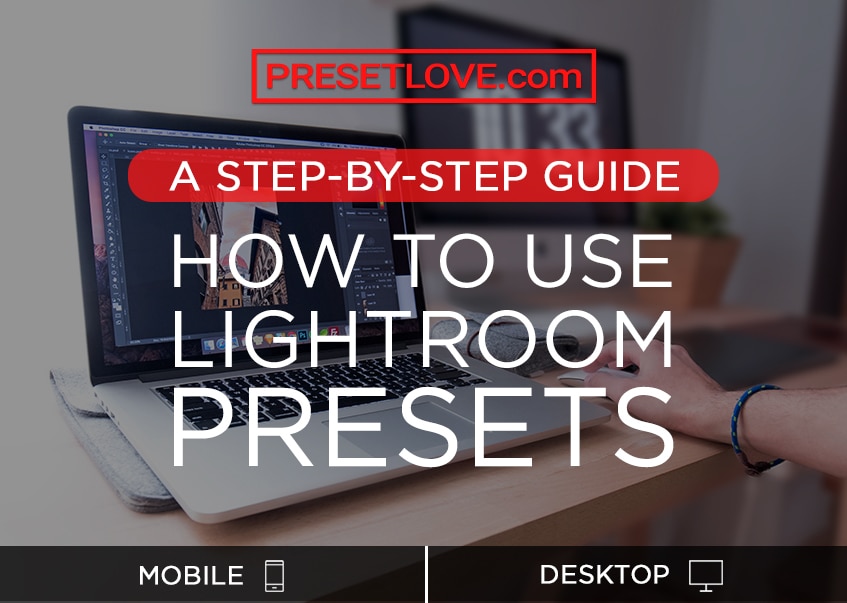 If you need help with Lightroom presets on mobile and desktop, you can always check our guide to learn how to install Lightroom presets. We'll show you how to use DNG formats on the Lightroom mobile app, and XMP on Lightroom CC and Lightroom Classic.