This rustic Drama Queen free Lightroom preset gives photos an elegant and warm glow. Its aesthetic is gorgeously rustic! Its warm boho style, too, just looks incredible on portraits.
Collection: Boho Presets, Warm Presets, Portrait Presets,
Best for: Outdoor portraits, engagement and couple shoots, travel
Style: Rustic, Boho, Warm Browns
This preset is perfect for outdoor photography, too, because it specializes in shots taken under natural light. We just love how balanced its lighting and tones are, so much that this filter enhances the subject's facial features and skin tone. On top of all these is, of course, how it stylishly transforms the mood of an image! It's cinematic, elegant, and simply gorgeous.
Draws Attention to the Subject's Face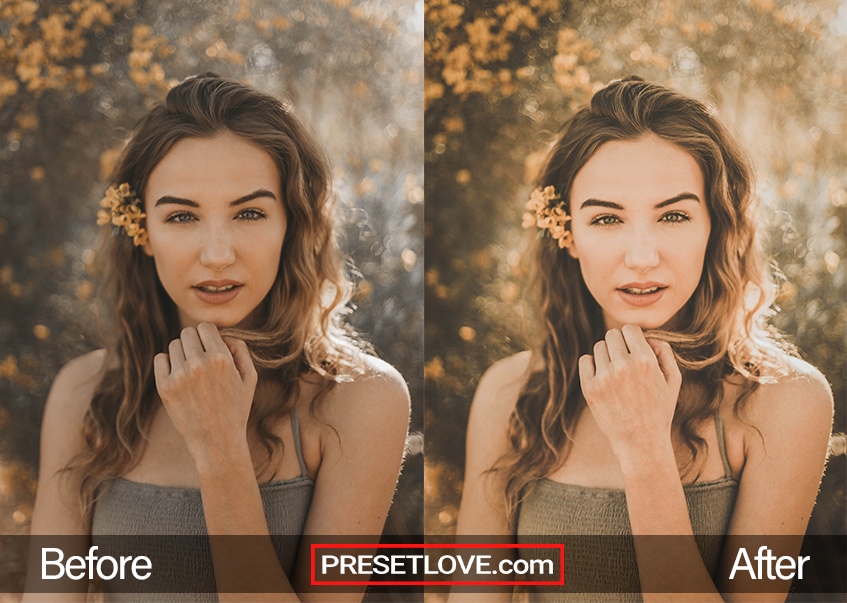 Captivating Subject. The first noticeable effect that the Drama Queen preset applies to any image is its unique warmth. It is a sunset yellow with a tinge of matte brown hues. Together with the boost in vibrance, the After photo now exudes a subtle glow. These effects come together to emphasize the expression of the subject, which makes this preset perfect for portraiture. See how the eyes appear more expressive and how it removes unwanted shadows on the woman's face.
Adds a Cinematic Mood to Your Photographs
Dramatic and Cinematic. You can use the unique tint of this preset to enhance the mood of any image. You can notice from the example above that Drama Queen does accentuate the dramatic atmosphere of a shot. This preset is versatile enough to be used in various scenarios and adapt to the photographer's intentions. It is exactly this adaptability that makes it one of our most popular boho Lightroom presets.
This is similar to the rustic color filters that cinematographers use to establish a visual anchor across movie scenes. You may therefore use it to enhance the atmosphere of a setting or simply give your subject a glamorous look. Although this preset is ideal for outdoor shots, you may also apply it to indoor scenes that call for a classic and elegant warmth.
Brightens and Reveals Details in Portraits
Brighter and Detailed. It balances exposure, highlights, and vibrance to produce an elegant and captivating look. The effect is subtle yet effective. Using it reveals much more of the woman's face and boosts her facial expression. This is important when photographing portraits. After all, its effectiveness will depend on whether the photographer has captured the subject's character or not.
Let us focus on the facial features now: in the After photo, there is greater contrast between the highlights and the shadows. Highlights are decreased to give a softer look, while shadows are boosted to add depth. As a result, the contours of the woman's face are more defined in the After photo.
You can also have milder tones when you use our free Boho Wedding preset. We highly recommend that you try that preset if you want a similar look but softer depth and definition.
Enhances Your Natural Look
Natural Beauty. The example above shows how Drama Queen's matte brown hue enhances skin tones. It works like a soft, smooth, tan and does incredibly well with natural light. This preset is therefore ideal for any portrait, whether professional or casual: from photoshoots to phone snaps of yourself. This preset has frequently been used on photos for Instagram, from beach selfies to various travel photos.
Drama Queen is for Lightroom Mobile, Desktop and…
Like all our Lightroom Presets, you can absolutely use Drama Queen as is, right out of the box. With any preset, you might need to make adjustments to accommodate your specific camera, settings, lighting, and subject matter.
Entirely Adjustable
Designed for Adobe Lightroom for PC, Mac, and Mobile
Includes Lrtemplate and XMP preset formats for Lightroom CC and Lightroom Classic desktop apps
Includes DNG preset format for the free Lightroom mobile app
Applicable to both RAW and JPG images
100% Free Preset Download
Need help with the presets? You can visit our guide to learn how to install Lightroom presets.
Free Lightroom Preset by Silky Presets