Purple Haze free Lightroom preset is a dramatic monochrome with rich violet-magenta tones. It adds drama to the image like no other black and white filters. Its cool tint adds to the contemplative mood and draws out nuances in highlights and shadows.
Collection: Black and White Presets
Best for: Portraits, Landscapes, Diffused Light, Outdoor
Style: Bright, Purple Tint, Balanced Tones
This preset is versatile for any type of photography but will work best on outdoor shots. You can appreciate the tones more under diffused natural light.
You can, therefore, use this for your social media or Instagram travel pictures. Try it as a cinematic travel preset and see how it enhances portraits and landscapes alike.
Adds Drama with Its Violet-Magenta Tones
Dramatic Look. As a monochrome preset, Purple Haze converts and processes the photo to black and white mode. From there, it creates its signature violet-magenta look by tinting it to highlights and some shadows. This serves as the base for the succeeding color adjustments.
Notice how this retains depth and detail. Even in the absence of color, you can still sense gradations because of the complex tones.
Boosts Tones by Increasing Contrast
Deep Tones. To deepen and accentuate tones, Purple Haze also amplifies contrast. You can see the effect in the portrait above. Because of it, the woman's hair appears strikingly darker. This effect also serves as an accent for the cool violet-magenta tint.
Moderates Highlights and Shadows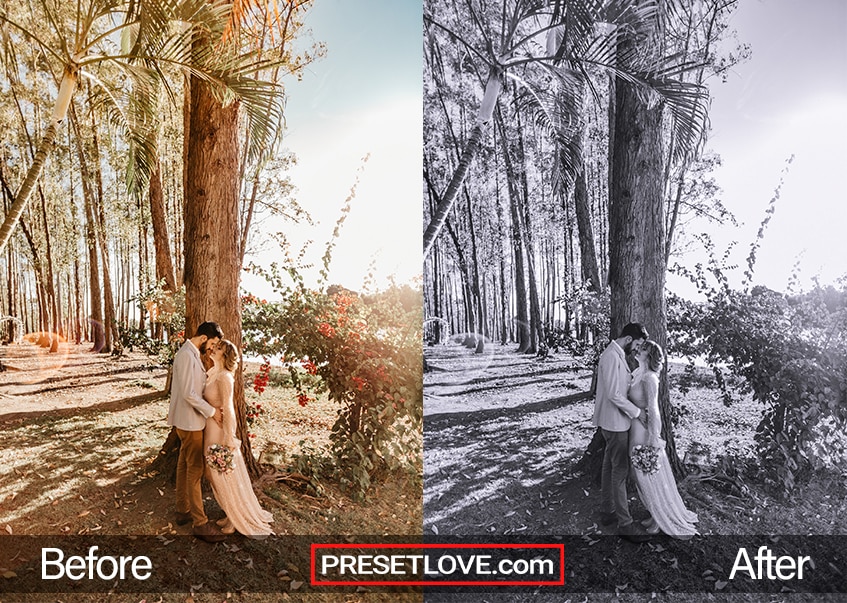 Balanced Toning. Notice how this preset produces an elegant balance between highlights and shadows. This is because both of them are moderated: the preset decreases highlights so that no bright area appears overblown. It further softens shadows as well in the tone curve.
These adjustments help preserve the details even in the brightest and darkest areas of the image.
Look at the photo above. The sky in the after photo looks defined, while the shadows on the trees look deep and crisp without blackening out the grains.
Finely Adjusts Color Luminance in the Black & White Mix Channel
Bright Cool Hues. Purple Haze finely adjusts the black and white mix channel. First, it increases the luminance of purple, blue, and some magenta tones. This enhances the overall cool motif and improves its processing of skin tones. This makes the preset ideal for portraits, as you can see in the stylish example above.
Soft Warm Hues. On the other hand, this dramatic preset decreases the luminance of orange, yellow, green, aqua, and some red tones. This gives the photo richer tones. You may examine how darker the building on the right is because of this adjustment.
Dramatic Film. This preset brings us back to the days of analog film. It is therefore ideal to use this preset stylistically; if you have a photo of a scene, like the urban picture above, use Purple Haze to give it a cinematic treatment.
Doesn't the example now look like an old yet vibrant movie still? You can appreciate many visual elements in this tinted monochromatic image.
Purple Haze is for Lightroom Mobile, Desktop and…
Like all our presets, you can absolutely use Purple Haze as is, right out of the box. With any preset, you might need to make adjustments to accommodate your specific camera, settings, lighting and subject matter.
Entirely Adjustable
Compatible with Lightroom 4, 5, 6 and CC
Performs with both PC, Mac, and Mobile
Applicable to both RAW and JPG images
100% Free
Free Lightroom Preset by Forrest Lane