Fashion is a free Lightroom preset specifically designed for fashion portraits. It stylishly enhances colors by adding pink violet tones and a soft matte finish.
Collection: Portrait Presets, Instagram Presets, Fashion Presets
Best for: Fashion and Travel Photography
Style: Chic, Stylish, Matte with Pastel Tint
Try this preset on your next fashion photo: the casual Instagram OOTD, a blog feature, or even a professional photo shoot. It highlights clothing elements, accessories, and several style attributes. It does wonders on skin tones, too.
The examples below will demonstrate how this preset tweaks colors and fine-tunes details. You will see how this Fashion preset optimizes every element so that you can fully showcase fashion and make a statement, too.
Creates Vibrant Matte Tones
Soft yet Vivid. You can easily notice the warmer color temperature in the After photo above. This creates an inviting mood and a sophisticated feel.
To create this effect, this filter applies several adjustments. First, it decreases saturation and some vibrance for a soft matte look.
See the blue tones in picture above, particularly the door behind the subject. It looks vivid and matte. The added warm and magenta tones gives that door a brighter shade, too.
Adds Stylish Pink Hues
Pink Pastels. You will notice the warm pink tones of the walls in the After photo above. They have soft pastel hues that give a cozy and luxurious ambiance. These mix with other colors, too, and produce a tender look and feel.
Tip: You can take advantage of this effect by having high-key or white backgrounds. You will see more of the powder pink, and it will serve as a nice backdrop to any clothing article you want to feature.
Warms and Highlights Natural Textures
Vibrant Warmth. The previous examples above have demonstrated how this Fashion preset adds a layer of warm pastels on portraits. This next one, on the other hand, shows you how you can apply this special preset on your travel or vacation photos.
Simply put, it is great for outdoor shots!
Look at those vivid colors and crisp details in the After photo. You can appreciate more of the natural textures now. With all these, you can also see the subtle pink-magenta filter and the refined matte texture.
Produces Elegant Grays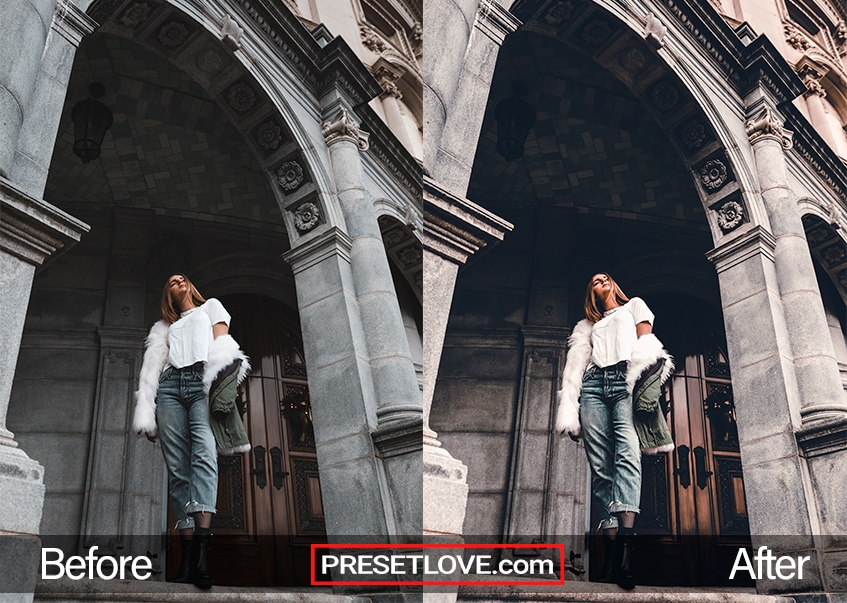 Sophisticated Grays. It is known that grays make an elegant addition to most designs because of its neutrality yet discreet undertones. See how the Fashion preset maximizes this look in the After photo above.
You can see the magenta and pink tones subtly tinting the concrete surfaces. To fine-tune this effect even further, the preset infuses violet tones in the shadows. This maintains depth and helps bring out details even more. Notice how you can notice the folds of the woman's jeans now.
Fashion preset is for Lightroom Mobile, Desktop and…
Like all our presets, you can absolutely use Fashion as is, right out of the box. With any preset you might need to make adjustments to accommodate your specific camera, settings, lighting and subject matter.
If you want more presets like this, you can check out our Lightroom presets for portraits and Lightroom presets for Instagram.
Entirely Adjustable
Compatible with Lightroom 4, 5, 6, and CC
Performs with both PC, Mac, and Mobile
Applicable to both RAW and JPG images
100% Free
Free Lightroom Preset by PresetLove.com