Autumn Vintage is a free Lightroom preset that is perfect in any autumn picture. It gives a tranquil effect on a bright autumn photo by increasing warm tones. It offers exceptional vintage look to any fall motifs, be it falling leaves, or a forest in autumn season picture. This preset emphasizes the warmth in autumn by desaturation and creating an old-fashioned feel in an image.
🍁 Looking for our Autumn bundle? 🍂
It contains all our Autumn presets, PLUS 10 PREMIUM fall presets!
Click here to check it out.
Gives Fall Images a Vintage Classic Look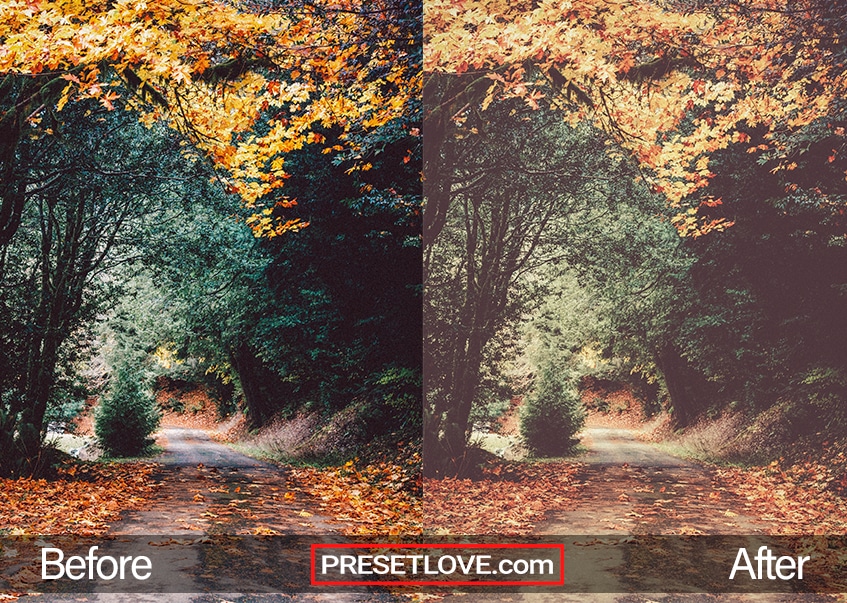 Timeless Autumn. In this photo of a forest in fall, you can observe how the orange and green colors become warmer as the the Autumn Vintage preset increases exposure. It also amplifies brown tones to give the image a classic and timeless look.
See how the After photo now looks older, as though the image was shot and printed decades ago. These adjustments make preset is perfect to use if you want to amplify the nostalgic feel of fall. 
Adds a Charming Old Film Feel

Toned Whites. This Autumn Vintage preset makes a modern photo look like an old film camera, as seen in this coffee-break photo. It brings out the unique style of this modern picture of coffee and books by adding lime tones in whites.
Notice how this preset works well in indoor shots. Imagine using this even for your cozy moments at home or at a cafe. This look can apply on day-to-day captures and will look stunning on any social media or Instagram feed.
Tints Photos with Some Magenta for a Dramatic Effect
Magenta Hues. Another obvious increase in warm tones can be seen in this fall photo. Again, the magenta colors and saturation are both decreased as depicted in the color of the leaves. Lime tones in whites are added as well.
It is this magenta-lime combination that creates Autumn Vintage's unique vintage style. Its matte and muted aesthetic can be used in a lot of scenarios, both for indoor to outdoor photography.
Creates a Nostalgic and Dreamy Atmosphere
Magical Fall. This image of a couple in the woods gives off a warm vintage mood, as the preset improves its vibrance and sharpening. Autumn Vintage does this by applying a custom tone curve with fade effect, as seen in the photo's sunlight and sky. It also added pinky tones in the retro shadows.
Also notice how the magenta and lime tints help produce those golden hues that give fall photos a magical and dreamy feel.
Brings Out Intricate Fall Tones
Warm Hues. Lastly, in this photo of a foggy road, you can notice how the preset significantly warms the photograph. Its subtle lime tones are apparent amidst all that haze; the magenta hues, on the other hand, accentuate the browns. It is similar but not quite at the level of Prohibition preset, as it focuses on fall colors and nature.
Autumn Vintage preset is for Lightroom Mobile, Desktop and...
You can absolutely use Autumn Vintage as is, right out of the box. With any preset, you might need to make adjustments to accommodate your specific camera, settings, lighting, and subject matter.
Entirely Adjustable
Compatible with Lightroom 4, 5, 6 and CC
Performs with both PC, Mac, and Mobile
Applicable to both RAW and JPG images
100% Free
This Free Lightroom Preset was last updated on May 19, 2020
THREE MORE GREAT PRESETS
by Tiffany VK Photography
by Forrest Lane
by Rachel Carter