1985 is a free Lightroom preset that gives photos all the oversaturated magentas and washed out blues from the best 1980's films. It makes them look timeless and cinematic all in one go.
It is versatile enough to use for any type of photography, whether indoor or outdoor. This stylish filter optimizes color regardless of the amount of light in a photo. It can and will apply a full 1985 motif onto any scene.
This can also be used as a thematic filter for your social media accounts like Instagram and Pinterest. They will consistently turn out like vintage movie stills.
Makes Scenes Come to Life
Brightened Captures. The Before photo looks overcast and commonplace. There isn't much about is interesting enough to grab the attention. The composition is good, but it lacks some visual appeal.
On the other hand, with the 1985 preset's adjustments in exposure, recovery, brightness, and contrast, the After photo now looks brighter and vibrant. There is much more life now. The captured scene looks dynamic; it looks more like a movie still now.
In addition to these standard improvements, this filter also adjusts the tone curves to further moderate lights and shadows.
Moderates Light and Dark Tones
Balanced Tones. 1985 preset adjusts lights and shadows in varying levels. To produce the more defined textures seen in the After photo, it moderates highlights and shadows. See how the result is softer and more refined. You can appreciate more of the Eiffel Tower now, with its deeper hues.
As a thematic preset, you can easily notice how it instantly transforms the mood of the image. It now has an elegant retro look, reminiscent of the 80s style. The result now can even pass as an opening scene in a movie.
Adds Vivid Colors in Vintage Matte
80s Retro. The familiar retro look of this preset largely lies in its color motif. While the earlier examples above show how it improves lighting, this one demonstrates its thorough and stylish tweaks in color.
An increase in saturation and a decrease in luminance are responsible for the After photo's transformation. These are specific adjustments to the orange, yellow, aqua, blue, purple, and magenta tones. See how the preset mutes these colors' intensity, yet illuminates them.
Softens Shadows with a Creamy Tint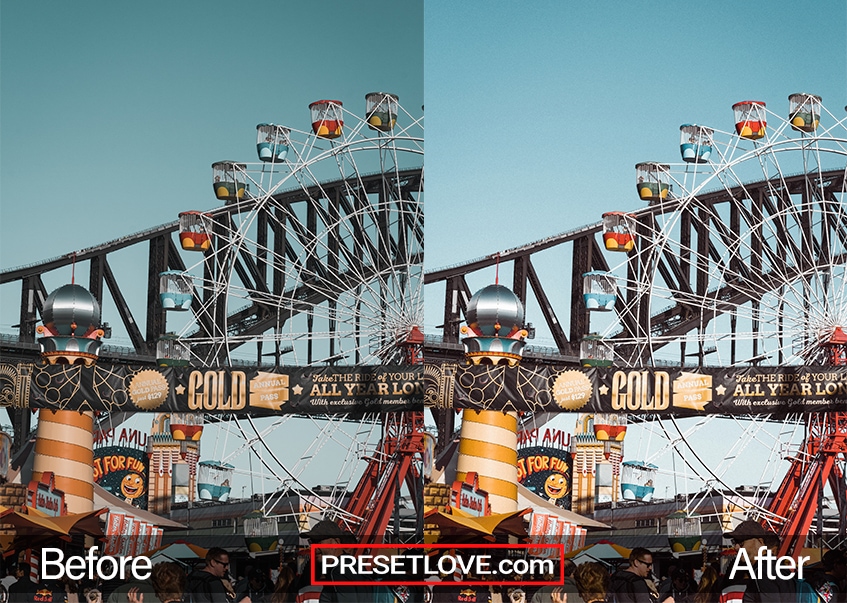 Tinted Shadows. Tinting the shadows adds a lot of character to an image. This is usually the defining aspect in vintage film. In the early days of casual photography, deep blacks were rare. They would look tinted, often with magenta hues.
For this particular film effect, the 1985 preset adds a creamy-pink tone to the shadows. You can see the result in the above After photo: blacks are somewhat softened, less intense. Notice, too, how that little adjustment contributes so much to the vintage feel, like an understated accent.
Lastly, to complete the authentic old film look, the preset adds some grainy texture to the photo.
1985 preset is for Lightroom Mobile, Desktop and...
Like all our presets, you can absolutely use 1985 preset as is, right out of the box. With any preset, you might need to make adjustments to accommodate your specific camera, settings, lighting and subject matter.
Entirely Adjustable
Compatible with Lightroom 4, 5, 6 and CC
Performs with both PC, Mac and Mobile
Applicable to both RAW and JPG images
100% Free
This Free Lightroom Preset was last updated on May 13, 2020
THREE MORE GREAT PRESETS
by Forrest Lane
by Kola
by PresetLove.com