Utah is a free Lightroom preset that enhances landscape elements and applies beautiful classic film tones. Its retro look reproduces the charming style of analog photography. If you want a nostalgic and artistic feel, this preset will apply the right look for you.
Collections: Film Presets, Landscape Presets, Travel Presets
Best for: Landscapes, Outdoor Shots, Travel
Style: Retro Film, Analog, Bluish Tone, Soft Colors
This preset is perfect for outdoor photos, especially those taken under natural light. This is exactly why they look amazing on travel shots.
Because of this unique aesthetic that combines natural hues and artistic film tones, you can use Utah preset as an Instagram filter. It would surely give your feed a professional and cohesive look.
Tints Highlights and Shadows
Classic Film Look. Utah preset produces its signature tones by tinting them. This helps replicate the look that some films produce.
To create this effect, the preset adds a cool blue tone in highlights and soft red in shadows. These blend together to create the softened yet accented hues that you see in the example above.
Utah preset completes the look by adding film grain. Aside from its analog appeal, it also enhances the overall texture of the photograph. You can examine the details more easily in the After photo.
Intensifies Light and Dark Regions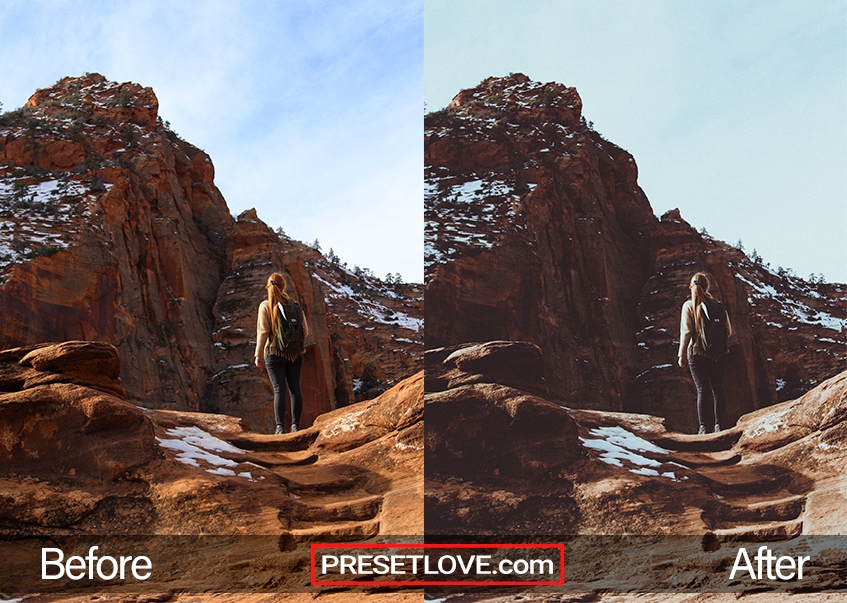 Broader Tones. To emphasize depth and dimension in an image, Utah preset amplifies both ends of the tonal spectrum. It brightens whites and highlights all the more and further darkens blacks. This, therefore, broadens the range of tones in an image.
The resulting tones add contrast and help define landscapes: it underscores elevation, crevices, inclines, and other details of a terrain. You can examine the result of these improvements in the example above.
Softens the Saturation of Colors
Dramatic Colors. Utah completes its aesthetic by tempering the intensity of colors as well. These even help draw out the subtle tints in its tones. It thus lowers saturation levels, especially of red, orange, and magenta.
You can notice the effect the most on terrains and skin tones. The outdoor portrait above demonstrates this well: look at the woman's skin tone, her muted hoodie, and the bolder tones of the landscape behind her. All in all, the preset subdues warm hues to create a neutral and understated style. The resulting images would therefore have stunning cool tones.
Lowers the Brilliance of Red Hues
Deep Reds. The preset further refines a landscape's colors by lowering the brilliance of red hues. It does so by decreasing the color's luminance levels. As a result, Utah preset creates dark and vivid reds. After all, this is the most apparent primary color in earth tones.
Try to examine the photo above to see how these adjustments affect brown tones. The red hues of the landscape look darker and more dramatic now. The moody atmosphere it produces is far more compelling as well. Notice how these refinements in color reinforce the preset's retro film look.
Utah is for Lightroom Mobile, Desktop and…
Like all our presets, you can absolutely use Utah preset as is, right out of the box. With any preset, you might need to make adjustments to accommodate your specific camera, settings, lighting and subject matter.
Entirely Adjustable
Compatible with Lightroom 4, 5, 6 and CC
Performs with both PC, Mac, and Mobile
Applicable to both RAW and JPG images
100% Free
Free Lightroom Preset by Redd Photo