Vintage BW makes new photos look old again by removing bright colors. It is less saturated and often has a flat feel that turns all other hues to black and white. It sometimes adds brown tones in shadows, increasing whites and clarity while decreasing highlights. As a result, you get dramatic tones that produce compelling images.
Collection: Black and White Presets, Vintage Presets
Best for: Portraits, Documentaries, Photojournalism
Style: Bright, Balanced Tones, Brown Accents
Vintage BW preset takes your new pictures back in time, as we demonstrate in the images below. It gives that nostalgic effect. Because of its aesthetic, it is suitable for outdoor photography and even photojournalism. If you want to document events and underscore their significance, this is the Lightroom preset to try.
Monochromatic Vintage Charm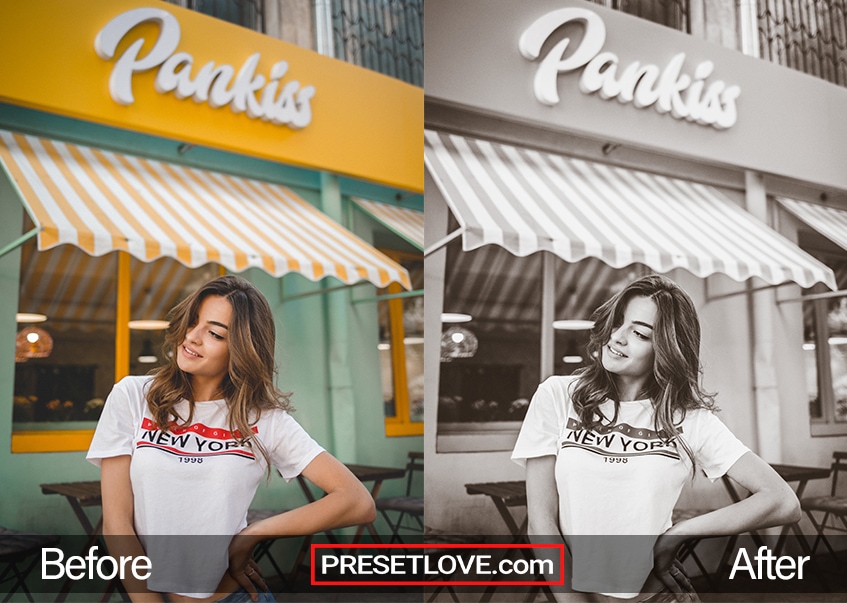 Black & White Retro. In this photo, all colors were omitted deliberately, which gives it a timeless feel. There are also added brown tones in shadows that make the monochrome effect feel more retro.
You can notice this effect on the woman's hair and the shadows of the awning. Because of this tint, the After photo retains a sense of depth in the image. It somehow serves as an elegant accent, too.
Mutes Tones for a Photojournalistic Aesthetic
Soft and Muted. The Vintage BW preset dramatically mutes the bright colors, especially the bronze equestrian sculpture of this Joan of Arc photo in Rue de Rivoli. Only black and white hues are retained. The After photo now gives the impression that it was taken back in the early 1900s. Notice how this style also gives the image a historical significance.
You are only reminded of this photo's modern-day origin because of how well-defined the result is. See how crisp the details are, from the architectural textures to the small bicycle wheels.
Evenly Boosts Light and Dark Tones
Lights and Shadows. Similar to the previous photo, the After image of this photographer looks antiquated as the vintage BW preset relatively treats the colors black and white.
To complement this retro effect, the preset increases both whites and shadows in a photo. In the example above, see the stark whites in the background and the deep blacks of the man's clothing.
Mellows Highlights and Warm Tones for a Timeless Look
Varied Hues. The After photo above shows how the preset desaturates warm tones. The coffee being poured, originally a vivid brown, now has a light and almost silver hues. This adjustment also serves as a subtle accent throughout a photograph.
Notice how the Vintage BW preset decreases the highlights while increasing the clarity of this film. The white mug appears soft and matted, while you can see more details on the tumbler's opening. All in all, this preset makes the most of the elements in any image.
Creates Stunning Portraits
Stylish in B&W. Again, in this above example, the Vintage BW preset removes all other warm tones from the model and the background building, keeping only the sophisticated black and white monochrome hues.
The result that you get will always look crisp, never flat. Vintage BW is one of the most complex monochromatic presets available. Download this free preset now and try it out on your next Instagram upload.
Photographer Reviews
Sabrina Fenster shares her photojournalistic image from the Black Lives Matter protest in Vancouver, Canada. See how she uses this unique monochrome preset to bring out not only the beautiful tones of her photo but also, and more importantly, the message it is trying to convey. She explains why she chose the Vintage BW Lightroom preset and the intention behind her editing:
"My inspiration for editing was really old protest photos. So I wanted something grainy and faded that would feel like it's from a long time ago…and in essence has a heaviness to it, in that it's 2020 yet not much has changed, we are still fighting over the same civil rights issues today."
Here is her compelling photo:
Vintage BW is for Lightroom Mobile, Desktop, and…
Like all our presets, you can absolutely use Vintage BW as is, right out of the box. With any preset, you might need to make adjustments to accommodate your specific camera, settings, lighting, and subject matter.
If you want more presets like this, check out our collection of Lightroom black and white presets.
Entirely Adjustable
Compatible with Lightroom 4, 5, 6, and CC
Performs with both PC, Mac, and Mobile
Applicable to both RAW and JPG images
100% Free
Free Lightroom Preset by PresetLove.com