Warm Memories is a versatile free Lightroom preset that enhances your photo's lighting, color, and tone. All its enhancements are designed to bring out that sentimental heartwarming feel. It also adjusts its custom settings to accentuate both warm and cool hues. As a result, this gives your images a bolder, brighter, vibrant look. 
Warm Memories preset works well on both outdoor and indoor portraits. It helps make portraits and captured moments look as vibrant as they are memorable. Whether you're printing your portraits for display or simply posting your photos on Instagram, this preset is perfect to try to vamp up your photos!
Brings Out Color Vibrance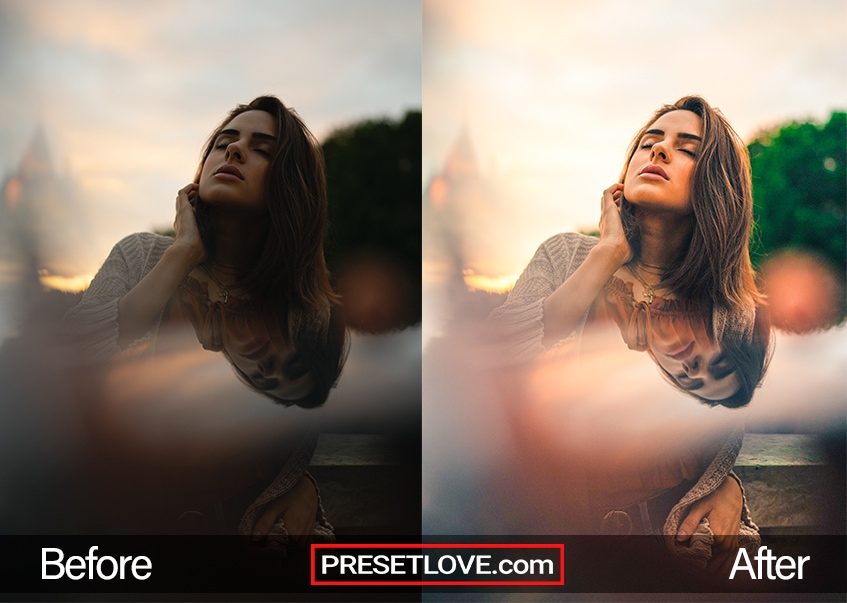 Bright and Colorful. The Warm Memories preset applies its custom light settings to achieve a brighter, colorful look. This process is done through lightening shadows as well as reducing highlights to create an instant bright effect. These settings are seen in the example above, if you compare both Before and After photo, the After photo immediately looks brighter showing more details and elements that were hidden from the underexposed Before photo.
Going back on the After photo, one thing is clear: now there are more vivid colors and some elements are now recognizable: the tree in the background with its lush green color, the woman's hair and skin tone with rich brown tones, and lastly, a gradient of tones in the bottom left of the photo that frames the image's refined look and context. The preset achieves all these by increasing the preset's color contrast and vibrance to make those colors pop and render more distinct elements.
Brightens and Enhances Highlights and Shadows
Warm Gaze. The photo on the left looks dull but sweet yet it is still missing something. The original underexposed image is, after all, concealing the woman's features. Now looking at the image on the right, the After photo instantly creates that warm, vibrant feel, and brings out the tiny details. The custom setting that the Warm Memories preset applies to achieve such a heartwarming photo is to simply add rich brown tones and purple hues to its highlights and shadows. These tones complement any skin tone and dark hues to bring out the brilliance in your image's colors.
Sharpens Subtle Details
Funny Face. The best thing about looking at funny photos is remembering the memories that come with it. The Warm Memories preset fine-tunes some details in your photos to fully bring out that sentimental detail that we all love to see and relive.
The example above shows how the photo in the left seems quite dim. The underexposed lighting covers the man's face, giving attention to his shirt. But now looking at the After photo, the preset instantly brightens up the overall photo and heightens its color tones creating more vibrant details. More importantly, it enhances the lighting on the man's face; you can now appreciate his candid expression fully. See, too, how the preset brings out the subtle elements of his face, such as his stubble, hair and skin texture.
Warm Memories is for Lightroom Mobile, Desktop and...
Like all our presets, you can absolutely use Warm Memories preset as is, right out of the box. With any preset, you might need to make adjustments to accommodate your specific camera, settings, lighting and subject matter.
Entirely Adjustable
Compatible with Lightroom 4, 5, 6 and CC
Performs with both PC, Mac, and Mobile
Applicable to both RAW and JPG images
100% Free
This Free Lightroom Preset was last updated on April 7, 2020
THREE MORE GREAT PRESETS
by Hi-Res Pic
by Forrest Lane
by PresetLove.com