This is the Lightroom preset for you if you're into the film emulations and the classic film look. SX-70 transforms your photos into an old-school Polaroid look. The preset is inspired by the Polaroid SX-70 itself, simulating the classic instant photo colors and texture. To achieve this, the preset uses custom light and color settings playing with highlights, shadows, and cool colors that help enhance the overall look without compromising your image's original elements.
Collection: Film Presets
Best for: Diffused Lighting
Style: Soft, Vintage, Polaroid Aesthetic
If you are looking to add an authentic vintage look to your images, try this preset out! We just love this preset's unique look. You can even download it as one of your Lightroom presets for Instagram or for other social media profiles!
Creates the Light Look of Film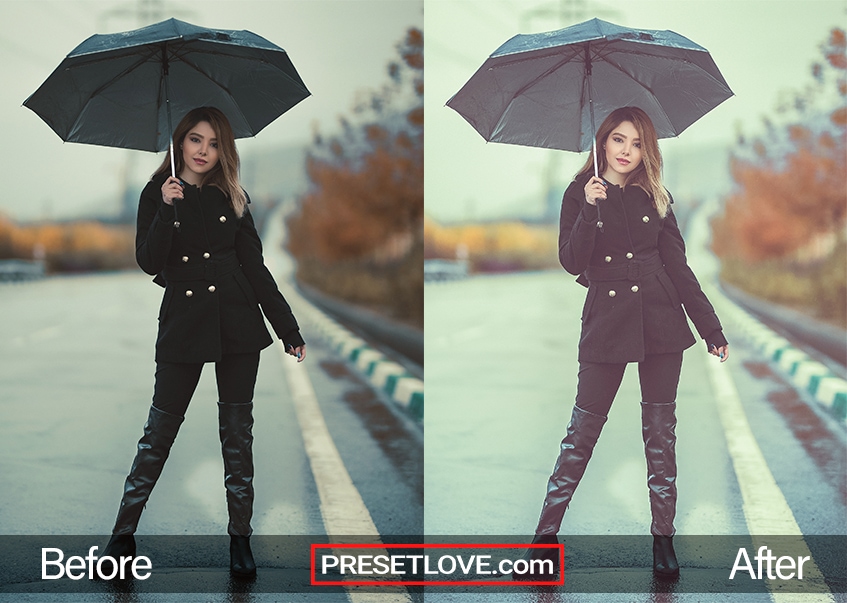 Rainy Day. The SX-70 preset increases overall exposure to bring out more details and creates balanced bright images. The example above shows how this adjustment was able to bring subtle details that were not as noticeable prior to applying the preset.
Looking at the After photo, you can see how the woman's face becomes more evident and seen. Her features, hair, and skin tone are highlighted making the photo look more focused and clean. The colors both whites and darks appear desaturated which completes the image's overall Polaroid look.
If you like this aesthetic, we have several more like it in our film preset collection. We have a lot of free analog presets there for you to try! All are great for beginner and professional photographers.
Applies Green Tones to Simulate the Polaroid Tint
Cool Tones. Just like most Polaroid film prints, cool tones are evident in the processed image. The SX-70 preset incorporates cool tones such as light green tints in its highlights and soft purple hues in its shadows.
The example above shows how the green and purple hues subtly tweak the image for that classic Polaroid look. See how the After image adds a slight green tint on the brighter elements. Here the walls, walkway, even the white linen roof cover gains this light green overlay. The result creates an authentic vintage vibe. The shadows are lightened revealing a subtle purple overlay that also complements the tinted highlights. Lighter shadows and darks are also able to bring out those small details to support that single-lens reflex.
Green Grass. With SX-70 preset adding green tones to its highlights, it works well illuminating natural elements such as trees, bushes, and grass. The photo above is a perfect example of how it performs once applied. In the After image, it is evident how the grass changes its brown color to rich green tones. It is also brighter in appearance, giving the overall image a clear defined look.
If you want the variant with deeper browns and richer magentas, we also highly recommend the SX-7000 Polaroid film preset! That is as versatile as this preset but with a warmer tone.
Adds a Film Fade Effect
Faded Street. The SX-70 polaroid preset for Lightroom fully decreases its highlights. This means having desaturated tones, lighter darks, and darker lights, resulting in an overall faded look. This light adjustment also helps reveal texture and a slight grain to the overall image.
The preset also adds sharpening to its effects for a crisper, textured look. You can see all of this on the After photo above, the overall colors are less pigmented, less vibrant, and saturated. Leaving you with more detail, texture, and a classic Polaroid look.
SX-70 is for Lightroom Mobile, Desktop and…
Like all our Lightroom Presets, you can absolutely use SX-70 as is, right out of the box. With any preset, you might need to make adjustments to accommodate your specific camera, settings, lighting, and subject matter.
Entirely Adjustable
Designed for Adobe Lightroom for PC, Mac, and Mobile
Includes Lrtemplate and XMP preset formats for Lightroom CC and Lightroom Classic desktop apps
Includes DNG preset format for the free Lightroom mobile app
Applicable to both RAW and JPG images
100% Free Preset Download
Need help with the presets? You can visit our guide to learn how to install Lightroom presets.
Free Lightroom Preset by Forrest Lane