Portra 160 gives digital photos the unmistakable and timeless look of the classic Kodak Portra 160. This is one of our most versatile free film Lightroom presets because of its soft cool hues and tempered intensity. This is the one to use if you want subtler tones and matte textures on your pictures. Just like the film effect it replicates, Portra 160 preset can be used in almost any shot, whether taken indoors or outdoors.
Collection: Film Presets
Best for: Versatile, Indoor and Outdoor
Style: Kodak Portra 160 Style, Matte Tones
Use this Portra 160 preset to bring the muted analog film aesthetic to your digital photos. See how this preset produces this enduring vintage look in the examples below.
Softens Tones for a Classic Film Look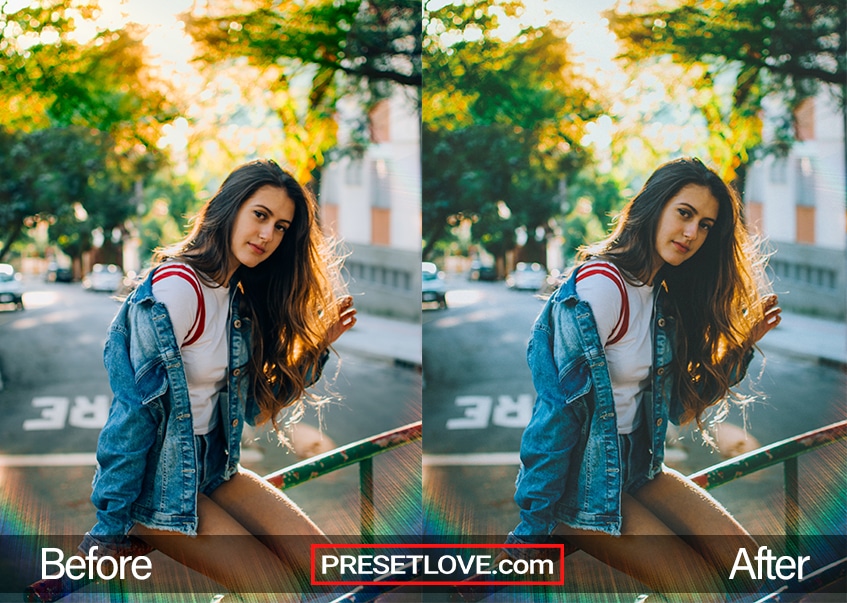 Classic film. The light in the After photo is less intense now, not as harsh as it was. You can notice this mostly around the subject's head. The background is noticeably cooler in color temperature, too, making the result much easier on the eyes. A decrease in the saturation of yellow, green, blue, and some orange hues produces this understated matte look.
Notice how the background remains attractively vivid: there is an increase in the luminance of yellow and aqua colors as well. The tones look beautifully balanced, making the preset ideal for portraits and other professional photography.
Recreates Kodak Portra's Crisp Details
Attention to Detail. This overcast shot looks better in the After photo: the details look crisp and more defined and more defined, while the colors are balanced out. Portra 160, after all, produces images that look subdued but natural; this is reminiscent of editorial or documentary shots, akin to some National Geographic photos in the 90s. You can also try our Kodak Ektar preset for Lightroom if want a vibrant look for your shot instead.
These textures jump out because of a boost in sharpening and some added grain. To add focus to the subject, some vignetting is also applied and can be seen like frames at the edges of the image.
A Matte Retro Look
Uniquely Retro. This Portra 160 preset masterfully tweaks photos through a custom tone curve, with low highlights, lights, darks, and upper shadows. The result that you get will look 100% analog. This is the perfect preset to use if you are going for a retro look, too.
See how the bluish tones uniquely temper the stark colors of the original shot; whites and blacks are stylishly muted, too. The After photo, with the filter applied, looks more unified with an overarching matte effect.
Applies Subtle Film Hues to Highlights and Shadows
Subtle Tints. Notice how the bright and dark tones in the image look tinted somehow. This is because Portra 160 preset adds low-key purple tones in the highlights and some lime tones in the shadows.
Look at the example above: you can more easily notice this effect on the floor edges and railings. This is done to moderate intensity in hues; see how the blacks are less intense. The result is a subdued yet elegant photograph, with the timeless charm of film.
Portra 160 is for Lightroom Mobile, Desktop and…
Like all our Lightroom Presets, you can absolutely use as is, right out of the box. With any preset, you might need to make adjustments to accommodate your specific camera, settings, lighting, and subject matter.
Entirely Adjustable
Designed for Adobe Lightroom for PC, Mac, and Mobile
Includes Lrtemplate and XMP preset formats for Lightroom CC and Lightroom Classic desktop apps
Includes DNG preset format for the free Lightroom mobile app
Applicable to both RAW and JPG images
100% Free Preset Download
Need help with the presets? You can visit our guide to learn how to install Lightroom presets.
Free Lightroom Preset by Forrest Lane