Mono Fade free Lightroom preset converts colored images to soft black and white. Its muted yet accentuated tones give photos a vintage film look. This is a versatile monochrome preset that can be applied to various types of outdoor photography, like portraits, landscapes, and cityscapes.
You can specifically use this preset if you want to underscore details and emotions in a portrait or scene. Instead of colors, this preset creates drama using an augmented grayscale. This filter can be used for prints and even everyday Instagram posts. If you are looking for a classic yet artistic look, this is the one to go for.
Amplifies Tones for Definition
Crisp Tones. The preset applies all its enhancements in black and white mode. When processing in monochrome, the primary concern then becomes the tones.
To offset the image for the softening later on, Mono Fade increases contrast. It also subtly tweaks the tint slider towards magenta; this adds brightening to the corresponding grayed out tones. These effects will then come together when the preset sets up its distinct muted look.
Creates a Muted Gray Look
Soft Charcoal. Mono Fade sets up its distinct look by adjusting the intensity of its light and dark tones. The above photo demonstrates how the preset does this; examine how it transforms the structure into black and white. It now blends with the rest of the image with a soft, grayed out, charcoal look. Try to also observe how the preset softens the bright white snow in this winter scene.
Notice how this aesthetic gives the image an artistic flair. The grays are elegantly nuanced. It is precisely this understated style that makes Mono Fade unique and timeless.
Fine Grays. The preset primarily broadens the range of grays. It softens whites and highlights, and lightens shadows. As a result, there are fewer instances of deep blacks and brilliant whites. It then moderately intensifies blacks to retain some depth and serve as accents. Mono Fade then refines these adjustments further in the tone curve.
As you can see in the urban photo above, the preset does have a distinct vintage black and white charm. Its motif is reminiscent of old film, yet it looks even more attractive because of its charcoal look. It may remind you of some monochrome documentary photos and images published in newsprint.
Applies Custom Luminance Adjustments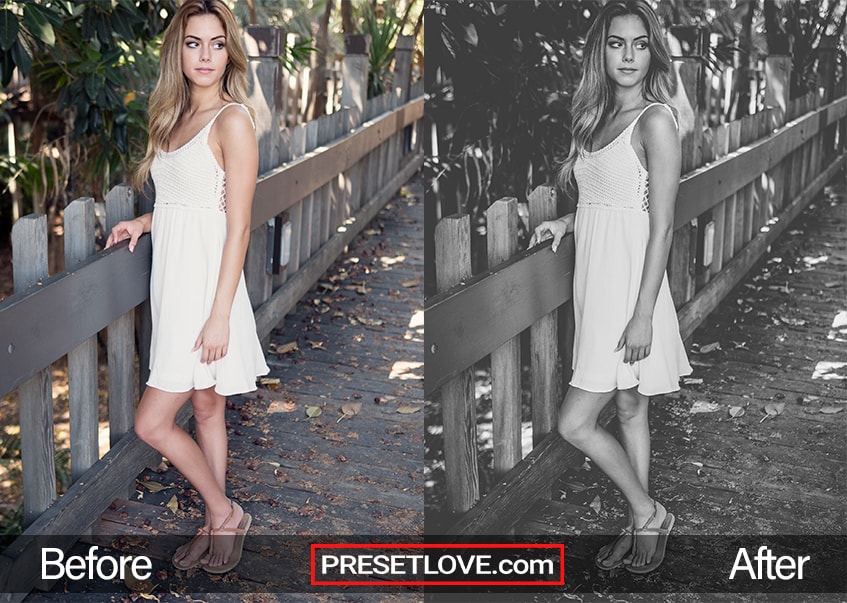 Focused Brilliance. Mono Fade highlights tones that will further contrast and add depth. It increases the luminance of purple, magenta, and blue tones so that they look more brilliant when converted to monochrome. You can primarily notice this on earthy and skin tones, blue skies, and bodies of water.
In contrast, Mono Fade lowers the luminance of other colors, thereby turning them into deeper grays. It does so in varying levels, making sure to blend them well. These, after all, go hand in hand with the softening enhancements mentioned previously.
Let us examine the result in the After photo above. Notice how the dark green plants are now in charcoal grays, and how this darkened look helps draw attention to the subject. Her skin tone is the lightest gray in the image yet it retains the preset's soft matte aesthetic.
Refines Textures and Midtones
Sharp Details. Mono Fade draws out a lot of detail in the image. It expertly draws out and sharpens texture; against the soft tones, these look crisp and finely accentuated.
The preset then complements this enhancement by reinforcing midtones. It does so by amplifying clarity. See how it helps make the elephant in the photo above look more 3-dimensional and stunningly vivid.
Finally, to complete the classic vintage film look, Mono Fade adds vignetting. Not only does it help soften the edges, but also stylistically frame the captured scene.
Mono Fade is for Lightroom Mobile, Desktop and...
Like all of our presets, you can absolutely use Mono Fade preset as is, right out of the box. With any preset, you might need to make adjustments to accommodate your specific camera, settings, lighting and subject matter.
Entirely Adjustable
Compatible with Lightroom 4, 5, 6 and CC
Performs with both PC, Mac, and Mobile
Applicable to both RAW and JPG images
100% Free
This Free Lightroom Preset was last updated on March 8, 2020
THREE MORE GREAT PRESETS
by BeArt
by PresetLove.com
by PresetLove.com