High Fashion B&W is a free Lightroom preset that converts colored images to brilliant black and white. This bright monochrome look produces high-contrast tones and detailed textures. It produces crisp blacks and stunning whites. It works well on outdoor photography, like outdoor portraiture, urbanscapes, and landscapes.
This preset works best on well-lit photos with a lot of natural light. This setting will take advantage of the preset's bold intensity and subtle grays. If you are looking for a captivating yet classic look for your Instagram feed, this is the monochrome film filter to go for.
Creates a Bright Monochrome Look
Stunning B&W. The preset begins its processing by switching to black and white mode. This allows it to apply settings that are particular to monochrome. To set the base for the vibrant tones, High Fashion B&W boosts the exposure. This infuses the image with more light that the preset can later work with.
You can compare the difference in brightness in the above example. It is obvious that the black and white After photo has more light; you can observe it the most on the sky and the surfboards lining the picket fence. Notice, too, how sharp the textures are.
Brightens and Lightens Tones
Brilliant Tones. The preset also refines this added illumination by adjusting the intensity of each tone. It amplifies highlights, blacks, and shadows in the tone curve, then later moderates the most brilliant whites. Its blend allows for intense tones without diffusing much detail.
In the After photo above, examine the woman's jeans, the glare on the sofa, and the lighter yet sharply detailed floor tiles. See how her shirt is now in bright white, too, even if it was not originally white.
Applies Custom Mix Channel Settings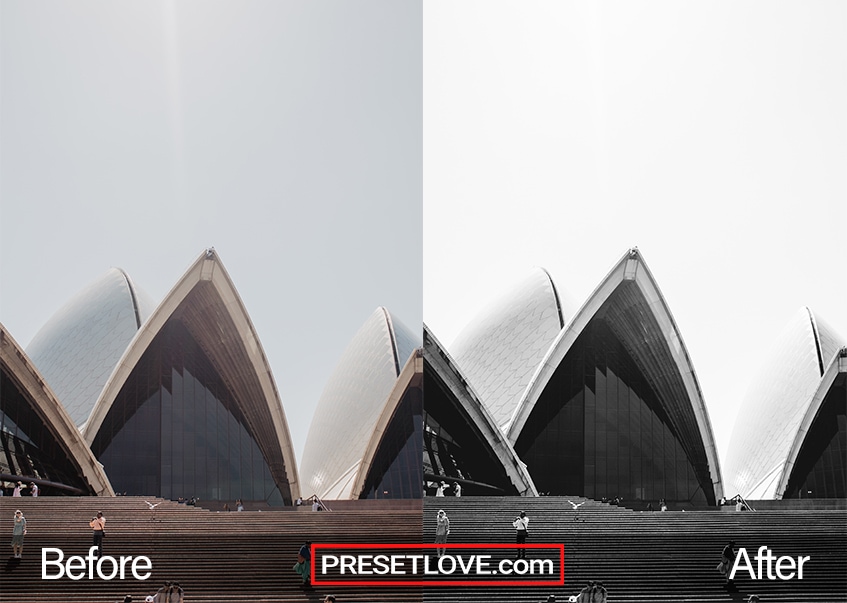 Outdoor Light. High Fashion B&W further refines its monochrome conversion by applying custom settings in the B&W mix channels. These indicate how intense the colors would appear once converted into grays.
With outdoor photography in mind, the preset amplifies the luminance of blue, purple, and magenta at varying levels. This will primarily illuminate midtones and blue elements like bodies of water and blue skies.
Deep Tones. In contrast to the previous adjustment, High Fashion B&W lowers the luminance of orange, yellow, green, aqua, and red. These, again, are set at varying levels to further define the tonal spectrum.
You can examine the results in the After photo above. Notice how the greens are in deep and dark grays, along with other warm colors. Look at the trees, the orange lane, and the brick-red building at the end of the street.
High Fashion B&W is for Lightroom Mobile, Desktop and…
Like all our presets, you can absolutely use High Fashion B&W preset as is, right out of the box. With any preset, you might need to make adjustments to accommodate your specific camera, settings, lighting and subject matter.
Entirely Adjustable
Compatible with Lightroom 4, 5, 6 and CC
Performs with both PC, Mac, and Mobile
Applicable to both RAW and JPG images
100% Free