Cinque Terre is another captivating landscape and travel preset by photographer Eugene Zhyvchik. It brings out the colorful radiance and dynamic atmosphere of coastal areas like Italy's Cinque Terre, the beautiful place that this preset is named after.
Collection: Landscape Presets, Travel Presets, Beach Presets
Best for: Travel Photography, Coasts, Beaches
Style: Vibrant, Film Matte
We love its creative aesthetic because of how it accentuates the photo's elements using warm hues. What's more, it keeps the entire scene looking natural and even more inviting.
This is also exactly why we think the Cinque Terre preset is perfect for outdoor photography. It is easy to imagine it as a cohesive filter for a travel blog or Instagram feed.
Eugene, as a photographer and preset creator, is passionate about visually interpreting his impressions and experience of a locale. You can even read it in his bio. Lucky for us, this is exactly what he does for this professional-looking free preset, as you will see in our examples below.
Best for: Travel Photography, Coasts, Beaches
Style: Vibrant, Film Matte
Makes Travel Photos Warm and Inviting
Warm Radiance. This preset applies a lot of granular settings to create its signature look. Just by looking at the photos, you can tell that various tweaks in Camera Calibration and the HSL panel define its color motif. After a close look, too, we can definitely say that they are expertly done.
It is amazing how all these fine adjustments come together to produce a consistently warm mood or atmosphere. At the base of it all, there are also the usual adjustments in color temperature and tinting. They are set to give a relaxed vacation feel, and to exude the unique atmosphere of Cinque Terre. With this preset, we somehow get a feel of the breathtaking locale.
Rich Vibrance. You get both visual and cultural vibrance with this Cinque Terre preset. As you can observe in the After photo above, it has nice vivid colors. It pulls warm hues towards shades of orange; take a look at the chair cushions, the striped awning, and the flowers in the shopfront.
You can also notice how the colors look deep and rich. We consider this as an important preset feature — hues are so balanced that they are versatile enough. They look spectacular on landscape scenes and quaint urban captures.
Produces Matte Tones for a Relaxed Vacation Feel
Classic Matte. The tones complement the colors well, too. Cinque Terre preset produces a calm matte texture as in softens tones across the board. We love how it isn't overdone. Just look at how much depth it retains even with the light look. The effect is just enough to give the photo a classic matte film look.
Let us try to examine the result even more. In the example above, compare the green structure at the left. It looks brighter and there are no longer harsh shadows. It is as though the street is more illuminated by sunlight. As mentioned, the elements look exquisitely defined. We get to appreciate more of the captured scene now, from the buildings to the people walking along.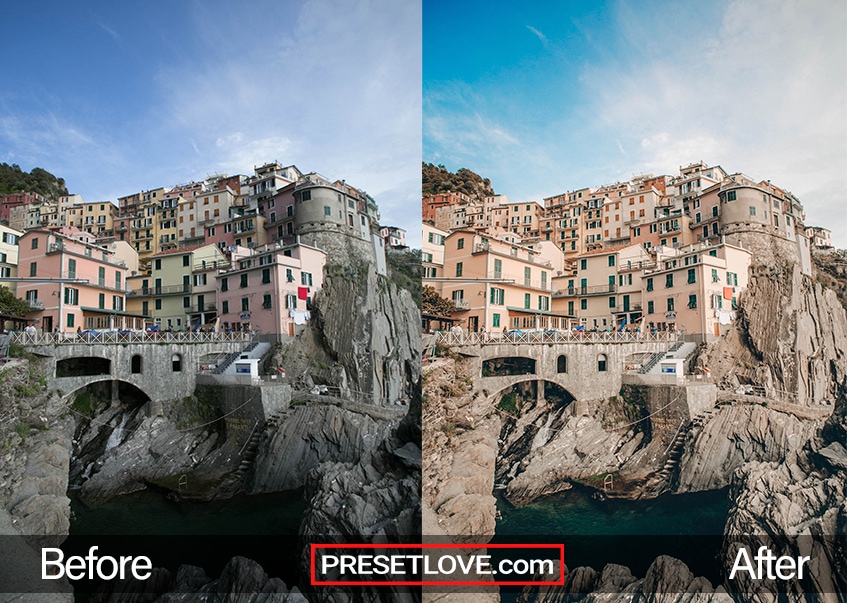 Vivid. What gives this preset a striking look are its adjustments in clarity, saturation, and vibrance. The combination of these parameters, after all, determines the intensity of the preset's aesthetic.
We love how the amplified midtones enhance coastal landscapes and rough terrains. The photo above shows it all: the rocks are so defined that you can easily spot their edges, curves, crevices, and even gritty textures.
The color intensity is boosted as well. Again, this is moderately done, just enough to keep the colors rich and vivid. As a result, the structures and rock formations look exquisite in shades of orange and deep browns.
Refines Landscape Textures
Crisp Details. As you can tell by now, the preset does include improvements in sharpening as well. We think it is necessary for the Cinque Terre preset, as it is trying to achieve a look that's true to the place itself.
Finally, as finishing touches, we get some classic film effects like grain and vignetting. These little details blend with the matte tones and add to the preset's overall look. We especially like how the vignetting acts like a frame that also draws attention to the featured scene.
Cinque Terre preset is for Lightroom Mobile, Desktop, and…
You can absolutely use Cinque Terre preset as is, right out of the box. With any preset, you might need to make adjustments to accommodate your specific camera, settings, lighting, and subject matter. If you want more landscape and travel presets, you can get more from our collection of 300+ presets here.
Entirely Adjustable
Compatible with Lightroom 4, 5, 6 and CC
Performs with both PC, Mac, and Mobile
Applicable to both RAW and JPG images
100% Free
Free Lightroom Preset by Eugene Zhyvchik